30 March 2014 Edition
Martina Anderson – An MEP making a difference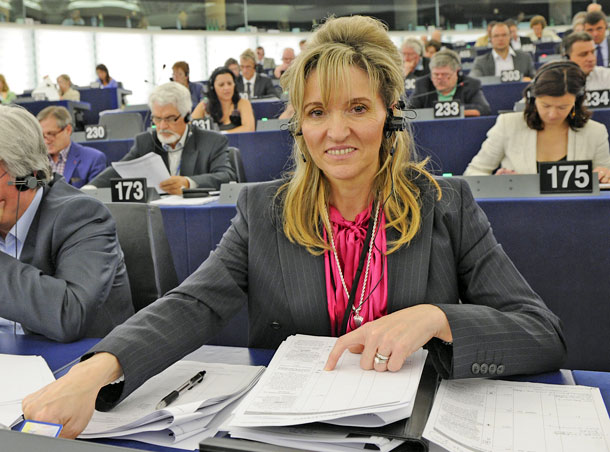 MARTINA ANDERSON is one of the most recognisable female republican
activists in Ireland – and internationally – and rightly so, given her impressive CV.
Martina has held many high profile roles within Sinn Féin since being released from a British prison in 1998 under the terms of the Good Friday Agreement.
Her roles have included All-Ireland Co-ordinator, Unionist Outreach Co-ordinator, MLA for Foyle, Junior Minister in OFMdFM, and now a sitting MEP.
The extensive travelling and workload between Ireland and the European Parliament institutions in Brussels and Strasbourg takes a grueling toll on active MEPs' schedules, so
An Phoblacht considered itself lucky for DALE MOORE to get the opportunity to speak to Martina about herself and her past roles, her current roles and how she views May's European elections.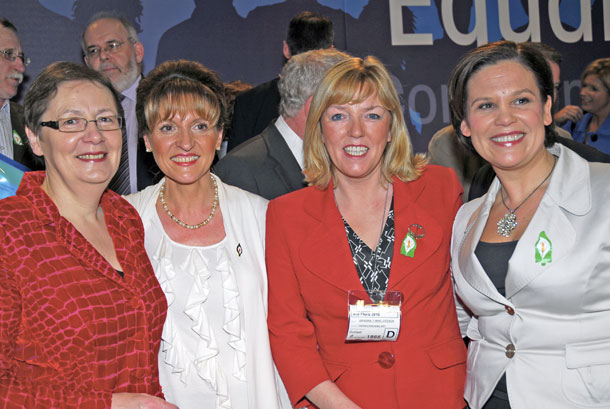 •  Bairbre de Brún, Martina Anderson, Gráinne Mhic Geidigh and Mary Lou McDonald at 2010 Sinn Féin Ard Fheis
How did you get involved in politics?
I was born in the Bogside. My father – a Derry Protestant who converted to Catholicism when he married my mother, Betty McCaul – was opposed to the gerrymandered administration he knew would deny his young family fair employment opportunities.
It was my mother though who was more vocal, active and militant. I am very proud of that, given the fact that in those days women weren't supposed to be political yet she made her mark, not only on the family but on the entire community. I have obviously taken my political activism from them.
They raised our family in the Lecky Road and latterly in Lisfannon Park, in a house where I still live.
Bloody Sunday, even though I was young at the time, made a big impression on me and others in my family.  My brother Peter had joined the Republican Movement and found himself imprisoned; by the time I was in my teens I had also joined the IRA.
Would you get involved in a different way looking back at the time you spent in jail?
The circumstances at the time dictated the decisions people took and – at that time – I don't think there was an alternative that would have delivered the outcomes needed to bring about equality for republicans/nationalists.
Someone once wrote on Derry Walls during the 1980s, "God made the Catholics and the Armalite made us equal". While that is a crude statement of the time, I and many others could understand the sentiments and I believe that the armed struggle was necessary. However, things have thankfully moved on and we now have a peace process where equality has become the watchword in which I judge the political progress which is being made.
Obviously I would change going to jail, especially in Britain, and the trials and tribulations that that brought for my comrades, my family and myself.
The prison authorities showed intense hostility towards me and Ella O'Dwyer, who was captured with me. We were strip-searched, isolated, shared a jail with hundreds of cockroaches, and denied basic rights, like visits being cancelled at the last minute.
Despite the violations and humiliations I was always conscious of protecting my mother from the worst realities of life for an Irish republican prisoner in a British jail.
I also threw myself into education, studying around the clock so by the time of my release I had obtained a First Class Honours Degree.
The British attempted to defeat the republican struggle through the prisons but what they actually did was create a highly-motivated and educated activist base that has brought us to where we are today. I also met all sorts of people from different backgrounds or experiences, which in turn gave me experience in dealing with people in my subsequent role in political life.
Whoever christened prison 'the University of Life' wasn't far off the mark, so although it was tough I came away from it a stronger person.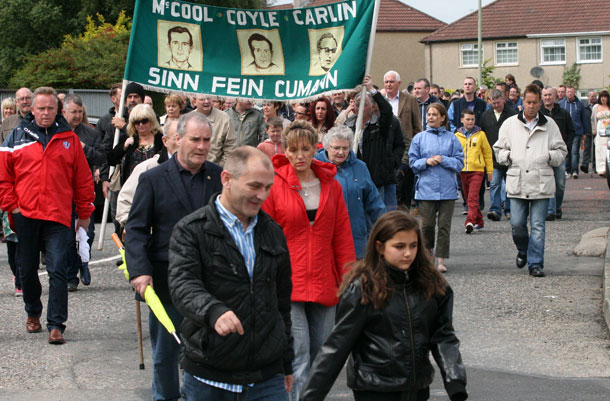 • Martina at the 2013 Derry Volunteers commemoration
Had you any second thoughts about immersing yourself back into political struggle after your release?
None at all – although if someone had told me back then I would be a Member of the European Parliament I would have told them that they were mad!
I had just wanted to remain active and play a role in the party.
I was released at a time of massive political change and election upon election came at us at such a speed I never had time for a breath . . . but it was great as we were going in the right direction.
I found myself every quickly on the Sinn Féin Ard Chomhairle, All-Ireland Co-ordinator and then Unionist Outreach officer for the party. These were important roles that allowed me not only to meet people from across Ireland in the unionist community (many of whom remain friends today) but also to see that the unionist tradition has suffered from the same economic and social problems that nationalists have faced.
As a republican the ultimate goal remains the creation of a unitary state based upon equality so taking on the role of All-Ireland Co-ordinator was a job I really relished.
I helped develop the Sinn Féin programme of work, which was informed by a number of documents that I had overseen, including their development and adoption.
These included Rights for All, Integration Towards Reunification, Green Paper on Irish Unity, an all-Ireland spatial strategy, and expanding the role of implementation bodies. This work continues as we have seen with the 'Uniting Ireland' campaign, which has been a great success
I was then asked to stand for the Assembly election in 2007 and the rest, as they say, is history.
Was it daunting, standing for election and taking on an elected role?
Of course I was nervous not only standing for election but also the fact I was replacing Mitchel McLaughlin, one of the stalwarts of our struggle, made it even more of a challenge.
Going into Stormont was not only an eye-opener but also a major learning curve in how we can bring about change through the democratic process.
The Sinn Féin team hit the floor running, proving to the electorate we could improve their lives – and we were rewarded with an increased mandate during the last election.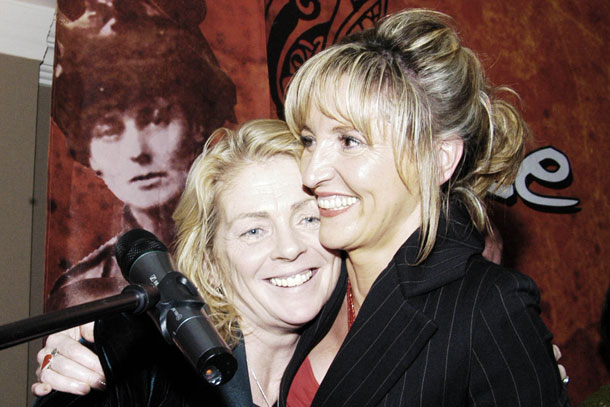 •  Martina in 2008 with her comrade Ella O'Dwyer who was captured with her
What was your favourite political role?
Working with Martin McGuinness was a gift as he is so energetic, forward-thinking and passionate about making the Peace Process and republican project work yet always made time to pass on his knowledge. It was through this experience that I developed the confidence to take on the position as MEP.
As Junior Minister I was centrally involved in driving the historical institutional abuse inquiry and co-chaired the EU Barosso task force.
The Office of the First and deputy First Minister also dealt with issues like equality and the eradication of poverty, something that I campaign on day and daily.
Your role in Europe – do you feel you can make a difference?
When the party asked me to put my name forward to take on the role of MEP I was honoured but again apprehensive in that I was following Bairbre de Brún, who pioneered our European operation and made a major impact in making it relevant to people on the ground.
The scale of the European Parliament is staggering, especially coming from an Assembly of 108 representatives to one of 751. This term, Ireland will have 14 MEPs (3 from the North and 11 from the South), so achieving even one more seat will be a major boost for the party.
It is impossible to cover every topic in Europe so it is crucial that we make alliances so that we have influence across the board. Sinn Féin has teamed up with GUE/NGL in a partnership that has served both of us well. [The European United Left/Nordic Green Left is a group of 35 MEPs from 13 member states and 18 political parties.]
I did not realise just how much of a difference an MEP can make and the impact it can have in creating a better society for everyone.
As tobacco kills millions each year, I am proud that I was centrally involved in making legislation that will control the sale of tobacco, including removing chocolate and strawberry flavour cigarettes from the market and having images on packs and pouches.
The aim is to stop children starting to smoke and therefore protect their health but this example is only a small part of the work we have done over the past five years.
European law now accounts for the majority of standards and laws that affect our society. It is also a major funder of projects in our communities and is essential to our fishing and farming industries.
One of the outlining principles of Sinn Féin's strategy in Europe is making it accessible to as many people and different sectors as possible.
During my term I have visited every constituency in the North several times, from meeting farmers in rural Ireland and hosting seminars in city centres to taking part in campaigns and protests.
Companies, charities, campaigning groups and local government have traditionally been slow to access the many funding streams in Europe, therefore losing out on millions of pounds that could have been invested in our communities. One of my intentions was to make it easier for people to see what funding was available and how to successfully apply for it.  I have held several seminars across the North, bringing together European officials, business people and statutory agencies to allow people to better access to these funds.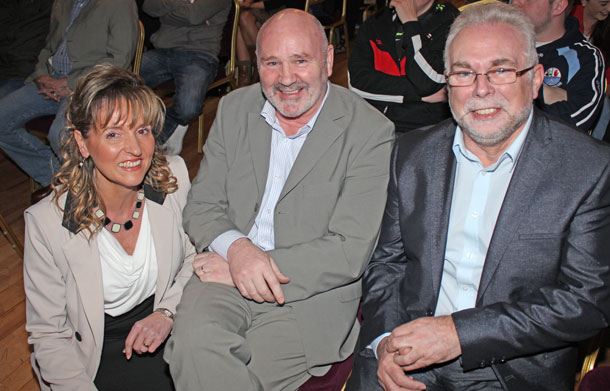 • Martina with Alex Maskey and her husband Paul Kavanagh
Agriculture is always on top of the European agenda and I have recently held three meetings across the North. In Ballymena, over 200 local farmers turned out to listen. In the Sperrins we had to get an overflow room due to the turn-out and the Clogher Valley centre was filled to the brim.  We discussed the Common Agriculture Policy, Single Farm Payments and the needs of the local farming industry and how we could influence European policy.
It is also important that people are brought to the heart of the European Parliament to have their point heard and ensure that they realise that, like all parliaments, it is there to serve the people. I am committed to bringing people to Europe and Europe to them.
I have taken many groups to mainland Europe – from victims and survivors, sports associations, health groups to young people looking to explore educational and employment opportunities. This helps dispel the perception that the European Parliament is just a red tape bureaucratic talking shop and it allows our community to see the importance of electing strong representatives.
How do you relax?
Although I have a hectic schedule, the main chance I get to relax is when I sleep!
My husband Paul is my rock and greatest support and we try to get away for a holiday once a year where we can switch off and spend some time together. It is also good to open the door of my home in the Bogside and see my mum after a long week in Europe.
Sinn Féin is the only party standing European Parliament candidates on an all-Ireland basis: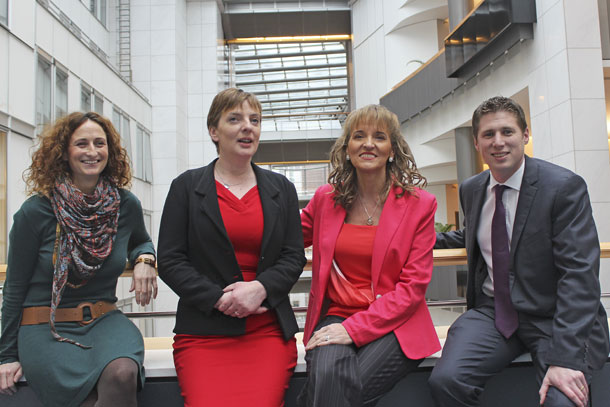 • Lynn Boylan (Dublin), Liadh Ní Riada (South), Martina Anderson MEP (Six Counties) and Matt Carthy (Midlands-North-West)