30 March 2014 Edition
BELFAST: Sinn Féin making it a City Hall for all
We believe dedicated public servants, with the maximum democratic oversight, are best placed to manage public services
OVER the past year, Sinn Féin in Belfast City Council have been pushing the Council to invest £105million in new leisure facilities across Belfast.
In west Belfast, this means that the Council stands ready to build a brand new £19million facility in Andersonstown and a brand new £10million facility in Twinbrook.
We have pushed for this investment because we believe our communities deserve top-class leisure facilities. We have also been keen to do whatever we can to boost our construction industry and to provide much-needed jobs. That is why we have also insisted that all of these large capital projects must have strong social clauses attached, ensuring that local people – particularly our long-term unemployed – have access to apprenticeships and the opportunity to work and learn a trade.
We believe that Belfast City Council should provide top-class public services, but we also believe that public facilities should be managed by the Council. That is why Sinn Féin has consistently opposed privatisation or indeed the establishment of a not-for-profit Trust to manage our facilities. We believe dedicated public servants, with the maximum democratic oversight, are best placed to manage public services.
On Friday 21 February, at our Strategic Policy and Resources Committee meeting, Sinn Féin was the only party to vote against the establishment of a not-for-profit trust that will in the future manage our facilities. Every other party voted in favour of such a proposal.
We have consistently opposed the introduction of such a management model because we share the concerns of our hard-working staff and the trade unions that such an arm's-length structure could lead in the future to a loss of democratic control and might undermine the public influence over future decisions in relation to our leisure services.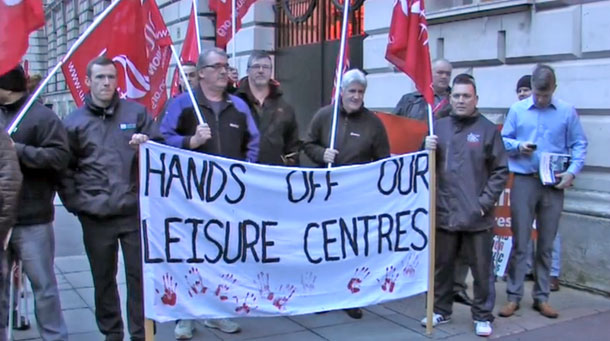 Despite these concerns we have made sure that this substantial investment will secure the jobs of our staff, create new jobs and, most importantly, deliver first-class facilities for the communities we represent.
There is no question of job losses – quite the contrary. This investment will secure the long-term future of jobs within our leisure facilities. At a time of economic crisis, this £105million investment right across Belfast, on top of our £150million investment already announced early last year, will provide a much-needed shot in the arm for our economy.
In addition, we have also supported the introduction of a living wage within Belfast City Council. We believe the Council should give leadership and adopt a policy of paying the living wage to our employees. Thankfully, most of our 2,600 employees already receive above the living wage, but for those that do not, it is time that the Council gave an example to other employers right across the city.
Belfast Council now has an exemplary record of investment in communities and active support for the most deprived and marginalised in this city. This significant investment will go where it is needed most and will go a long way in assisting the battle against poor health and health inequalities.
Last year we were the first council in Ireland and Britain to pass a motion in support of marriage equality. In August of last year we lit the City Hall up the colours of the rainbow in support of Gay Pride, as well as green on St Patrick's Day and orange on the Twelfth.
We introduced the Irish language into the City Hall, and in 2016 the city will host a civic dinner to remember the Easter Rising of 1916.
We have shown the way by investing £255million in our city economy in a way that is fair and equitable. Few would have believed that these changes were possible.
Sinn Féin has helped make Belfast City Hall a symbol of a better Belfast, a more equal, inclusive and tolerant place – a City Hall for all.