30 March 2014 Edition
Using smartphones for campaign video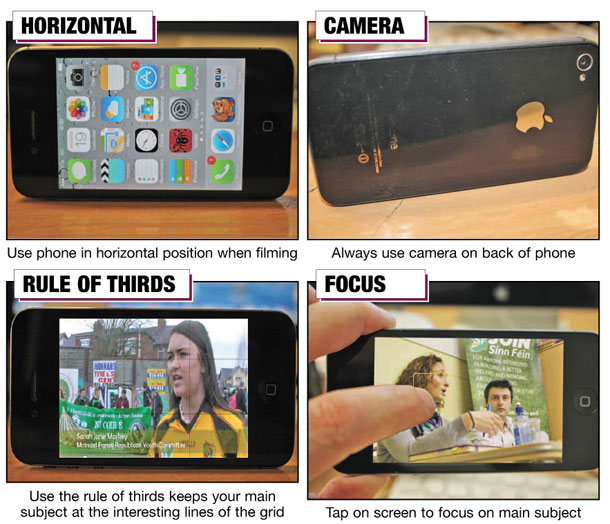 MOST modern smartphones can now record high-quality video and audio for uploading to social media networks like Youtube and Vimeo.
Here are a few tips for making the best use of them.
Always record video using your phone in the horizontal position - never vertical.  (Think of the shape of your TV.)
If your phone has two cameras, use the primary camera, which is usually located on the back of the phone. Give the lens a wipe with a soft dry cloth (or your T-shirt) before recording.
Hold the camera as steady as possible (use a tripod if possible). Get close to the main subject, especially if you are depending on the built-in microphone for recording audio.
Follow the 'rule of thirds' when filming. (You will create a far more interesting shot if you position your subject using the rule of thirds. So essentially in an interview situation your main subject will be to the left or right of centre. For scenery or cityscapes you will be using the horizontal lines to position your horizon line. 
On the screen, tap on the main subject of the shot to ensure it is properly focused.
When panning camera (moving across a subject or moving from one subject to another), do it in a slow and deliberate movement, pausing for a few seconds at start and finish of shot.
Use your phone's video editing software to crop the video to the actual length of piece that you want to use.  Try to keep your entire video under 3 minutes.
Upload it to your YouTube, Vimeo, Facebook or Twitter platform, ensuring that you give the video a suitable and understandable title as well as a brief explanation of its content.
If you believe your video is newsworthy for use by An Phoblacht then you should use a free large file transfer website like Wetransfer.com to send us a copy of the original recording.
DO NOT SEND AS AN EMAIL ATTACHMENT as the quality of the video will be reduced.
Please include in message your name and a contact number as well as a brief description of what is happening in the video, who is involved and when and where it was filmed.
Send to: [email protected] with the tag VIDEO in subject line and brief (four or five words) title.