2 March 2014 Edition
James Connolly made accessible and a British Army record just incredible
BOOK REVIEWS BY MICHAEL MANNION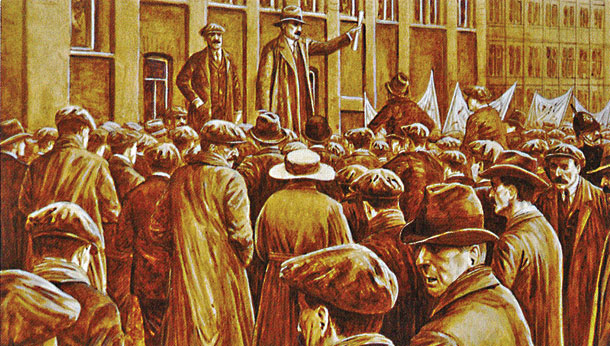 James Connolly and the Reconquest of Ireland
By Dr John Callow, Evans Mitchell Books, Sponsored by GMB, RMT, Jim Connell Society, SIPTU, Marx Library, TU Link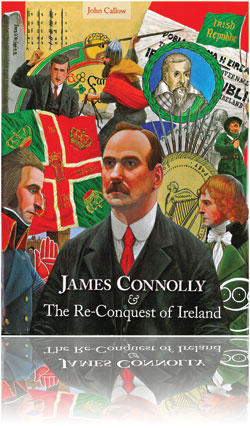 THIS is a really spectacular book. At first glance it looks like one of those glossy 'coffee table books' that are very pretty but with no substance. Nothing could be further from the truth.
This book has everything: lavishly produced but with a core of detailed historical research presented in a superbly readable prose, it is probably the most accessible book on James Connolly available to the general reader that would also serve as a research volume for students and historians.
The Reconquest of Ireland was James Connolly's last major work, tracing the past history of Ireland and setting out his vision of what needed to be done to win back the nation. It merged the legacy of Jacobin and nationalist revolution with the vision of a socialist republic. The work stressed the need for the survival of Gaelic culture, language, songs and poetry for a national revolution to be successful.
The original manuscript of this important work was lost for many years, languishing in the archives of the London Marx Library as a result of the interminable internecine strife endemic in the British far Left. Historian John Callow unearthed it whilst working in the library and has used it as the nucleus of this absolutely stunning volume.
This book is a treasure trove of original documents, photographs, artworks and insightful analysis.
Sponsored by some of the larger trade unions, it might provoke an apprehension in the minds of some republicans that this is yet another revisionist volume denigrating Connolly and accusing him of betraying the socialist cause by embracing nationalism. The opposite is true. This book is a celebration of both the nationalist and socialist philosophies that Connolly embodied. It is a tour de force demolition of the trendy establishment revisionist view of Connolly, putting the nationalist agenda firmly centre stage.
For anyone looking to own a book on James Connolly that is not simply a chronological recitation, this has to be number one. Very highly recommended.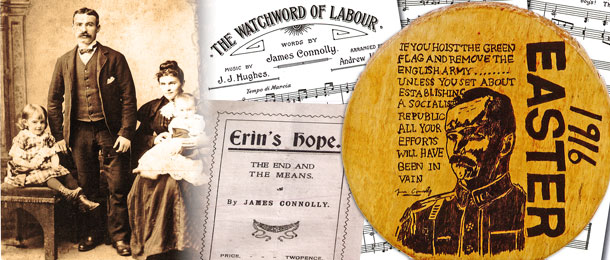 Ground Truths: British Army Operations in the Irish War of Independence
By W. H. Kautt, Irish Academic Press
THIS is an analysis of a previously restricted British Army publication. The original document was prepared by a team of staff officers in 1923, after their departure from Ireland, with the ostensible purpose of establishing what "lessons had been learned" from the conflict and to serve as an instructional text to be considered in future operations.  In fact there is very little attempt made to fulfill this brief.
The authors of the original text come across as petulant and self-serving. Their entire narrative is full of bitterness, bile and self-justification of the 'We was robbed' variety.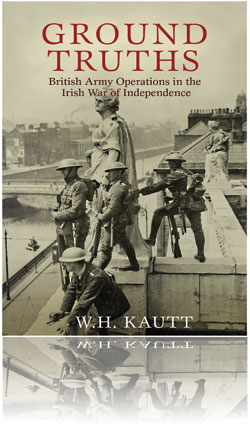 They knew that they appeared to have lost the conflict but they couldn't quite understand why. This document then became an exercise in apportioning all blame to others and seeking to explain that they could have won if only they hadn't been stopped by politicians and a biased press.  
As an example of their delusional resentment, the authors at one point complain that William Martin Murphy and the Irish Independent were nothing but republican propagandists and as such should have been suppressed!
The document also trots out the old Establishment lie (repeated endlessly in more recent conflicts) that the only support for independence came from common murderers, fanatics, or a cowardly and supine population intimidated into acquiescence or submission by republicans.
The litany of propagandist lies reiterated as fact in a confidential document is staggering. Apparently, Thomas MacCurtain was murdered by republicans for being too moderate and it wasn't Black and Tans responsible after all. And it seems that the crowd in Croke Park opened fire on peaceful Auxiliaries and 40 revolvers were later found, discarded by the fleeing mob. Prisoners were ordered to go on hunger strike by sinister external forces and only did so in fear of execution on their release if they failed to obey (a line used again in the H-Blocks Hunger Strikes). And . . . Kilmallock RIC Barracks was attacked by a force of 2,300 IRA men who were driven off by the gallant 10 Royal Irish Constabulary defenders. The authors may have been confusing Kilmallock with Rorke's Drift but just about resisted suggesting a Zulu Flying Column was operating in the Limerick area.
W. H. Kautt has undertaken a painstakingly detailed analysis of the original document with informative commentary interspersed with the 1923 text. This is a good source book for historians but not for the casual reader – unless you really need to raise your blood pressure.