2 March 2014 Edition
Home is where the hurl is
Between the Posts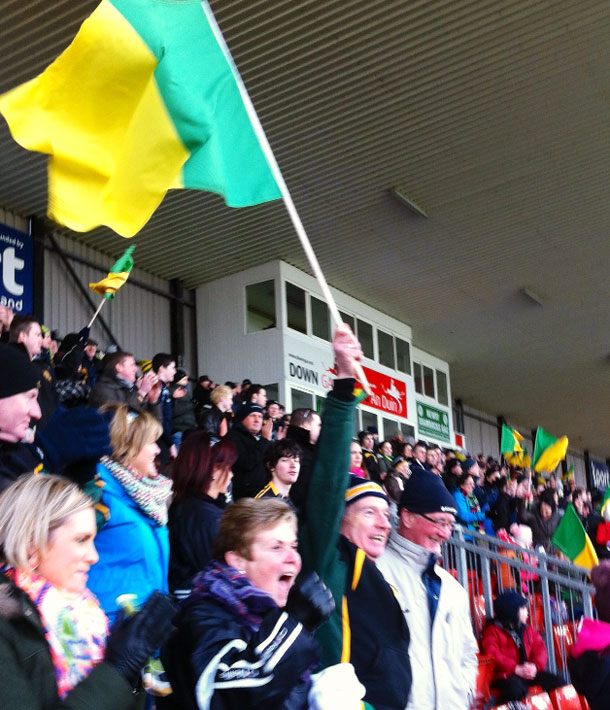 Here was a man who grew up in the New Lodge in north Belfast, down in Newry to support his nephews playing hurling for a team from England
JUST before 8pm one Saturday night, the phone rang. It was west Belfast MP Paul Maskey calling to talk about the redevelopment of Casement Park.
The next day I bumped into Paul again in Newry. This time he was with his brother, Frank, and his sister-in-law, Ann. I was surprised to see him so soon and we joked about saving time and money on phone calls in future. Paul's nephews play on the Fullen Gaels hurling team from England. They had just been beaten in the All-Ireland Semi-Final of the club junior championship. But the Baltic weather that day in Newry's Pairc Esler couldn't freeze the smile off my face though – the victorious team had been my own Creggan Kickhams, who had now won a place in the All-Ireland Final in Croke Park.
Sitting in the stand beside my uncles and aunts, cousins and former teammates from Creggan, cheering on the team in green and gold, I had no idea that our opponents on the pitch were relations of my friends and comrades. Until chatting with Paul and his family after the match, I hadn't realised that this was the third year in a row the team from England had met disappointment in the latter stages of the competition.
Driving home, the historic achievement by Creggan's hurlers reaching the All-Ireland Final was the main matter on my mind. But I couldn't help thinking about the way lives and connections are woven together through our involvement in Gaelic games. Paul and I have known each other for 20 years. We've worked together for most of that time. Today, we both live in Andersonstown. But here was a man who grew up in the New Lodge district of north Belfast, down in Newry to support his nephews playing hurling for a team from England. Whilst here was I . . . born in Antrim town, having lived 25 years in west Belfast, cheering on the team I had played with in my prime. What is it, I wondered, about community and a sense of belonging which Gaelic games touches?
No townland is complete without a Gaelic club.

Former Antrim hurling star and Cushendall Gael 'Sambo' McNaughton said: "The GAA is like having a family and the heart of the family is the club. It's like a home. You make friends and you make foes. It is all part of life."
So it was that the Creggan family journeyed to Croke Park. Cars loaded with sandwiches, flasks of tea and green and gold flags. On the way into the stadium, a supporter from the Waterford team who were our opponents opined that it had all come down to this. His team were in their first All-Ireland Final too. He was sorry it had to be against an Antrim team. For there is a kindred spirit, an unspoken empathy, between those playing hurling in the less illustrious counties in Ireland. We cheer for each other when the championship comes except when we have to play each other, like this day.
As the floodlights came on, and rain poured down, nothing could separate Creggan hurlers from their Waterford rivals, Ballysaggart. Blow for blow, score for score. Hurling on the edge. The tension was palpable. It extended to extra time: as agonising as it was exciting. Then, after almost 90 minutes in Croke Park, the match went to a replay. But this is not a match report. This is a story of how Creggan became the first Ulster club to ever claim the All-Ireland Junior Hurling Championship.
This is a club that began in the 1920s as a hurling club. In the 1943 All-Ireland Final, three Creggan players were on the Antrim hurling team. Yet, for four decades, the sport had been dormant. Creggan had no hurling team when I was playing for my county in the late 1980s. Now a crop of young hurlers had grown up who have become the best in Ireland. The pride and determination among these young Gaels inspired a whole community to believe in achieving more. All this from a tiny place along the north shore of Lough Neagh; a place with barely enough inhabitants to acquire 'hamlet' status; a network of homes and a small school without even a local shop. With a Gaelic club and goalposts at its heart.
For some of the Creggan hurlers, their days in competitive hurling may be numbered. In the years ahead, who knows where they'll end up. But one thing is for sure: they'll always remember who they are and where they come from. For home is where the hurl is.