2 March 2014 Edition
Bad politics
IN THE WAKE of the Haass/O'Sullivan Talks, I argued in February's An Phoblacht that the unionist parties were not serious about the process.
Reaching agreement on flags, marches and the past was too big a mountain for them to climb, I said. In unionist circles, compromise is a dirty word, something amounting to surrender and defeat at the hands of their republican enemy.
If it is unionists' belief that republicans are, on the one hand, an enemy to be defeated while, on the other, they are entrenched in their 'No Surrender' ideology, then Haass/O'Sullivan could not have succeeded.
To get some understanding as to where unionism is at this present juncture, we need to go beyond the fall-out from Haass/O'Sullivan.
We need to look at the inherent negativity of unionist politics and the myopic political thinking of its leaders.
It is still difficult for many unionist political figures to envisage a world beyond the laager.
Rather than build on the political compromise that the Good Friday Agreement is, unionists have, over the years, tried to undermine the political institutions.
The unionist parties, but especially the DUP, have deliberately set out to frustrate Sinn Féin's ministers and their initiatives.
Education has been a particular battleground for the DUP.
When Martin McGuinness took the Education portfolio after the 1999 Assembly elections and abolished the 11-Plus transfer test for the North's grammar schools, the DUP constantly attacked Sinn Féin and defended academic selection.
The incumbent Sinn Féin Education Minister, John O'Dowd, in attempting to redistribute funds to schools in areas of high social deprivation (measured by levels of Free School Meals), has come under fire from Mervyn Storey of the DUP.
The North Antrim DUP man, Chair of Stormont's Education Committee, exposed his sectarian mindset when, last September, he said "a greater proportion of controlled state primaries [Protestant schools] would lose funding than Catholic schools.
"I am very disappointed that the minister and his department have stooped to this level of social engineering," he said.
It is worth noting that sections of the Catholic middle class sided with the DUP on both issues.
Health Minister's fundamental issues
A further example of the DUP strategy to sabotage Sinn Féin's policies came when Finance Minister Simon Hamilton took Agriculture Minister Michelle O'Neill to court over her planned distribution of £100million (€137million) European money into rural development funding ear-marked to tackle rural poverty and provide broadband as well as other community facilities.
Sinn Féin East Antrim MLA Oliver McMullan reacted to Hamilton's challenge by saying:
"The decision to challenge the Agriculture Minister's decision to balance the needs of our farming sector with the needs of the environment as well as rural people in general flies in the face of the fact rural people need services and government resources to improve the quality of their lives."
Judge Declan Morgan upheld Hamilton's challenge, saying O'Neill breached the ministerial code.
This adds weight to the view that Hamilton's intervention was 'retaliation' after Maeve McLaughlin exposed Health Minister Edwin Poots's blundering in a Sinn Féin-sponsored Assembly debate on 6 November last year.
• (Clockwise) The DUP's Peter Robinson, Simon Hamilton, Edwin Poots and Nelson McCausland
A month earlier, the High Court in Belfast ruled that Poots's unilateral decision to maintain a lifetime ban on gay men giving blood was "irrational" and he was adjudged to have breached the ministerial code.
Maeve McLaughlin, Chair of Stormont's Health Committee, said:
"The decision raises in many people's minds serious questions as to whether Edwin Poots has the ability to carry out his duties as Health Minister for all."
She added:
"It goes without saying that we need to have robust screening of blood, whoever it comes from. Discriminating against people from within our community who are prepared to give blood needs to be reversed immediately."
Incandescent at the Sinn Féin MLA's scrutiny during the debate, Health Minister Poots accused Sinn Féin of being "more interested in covering up for its paedophile-protecting President" than in serving the public.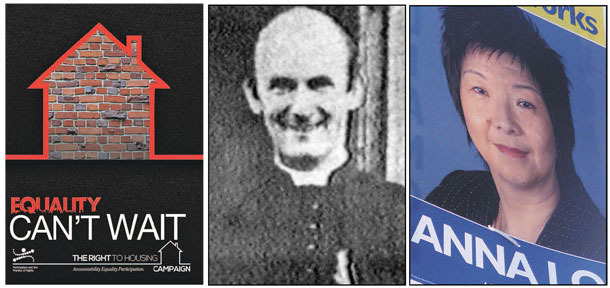 • North Belfast housing campaign,  Ballymurphy priest Fr Hugh Mullan and Alliance MLA Anna Lo
He also hit out at judges over the ruling, accusing them of taking power away from elected representatives and 'attacking Christianity', adding to the belief that his attempt to ban gay blood donors was based on his fundamentalist religious outlook.
The Assembly passed the Sinn Féin motion, prompting DUP Speaker William Hay to say: "Sinn Féin failed to realise the problems the court judgment would cause for their own ministers."
This, it seems, was laying the ground for the Hamilton case.
North Belfast housing
The reluctance, or downright refusal, of DUP ministers to govern in the interests of the people was brought into sharp focus when Social Development Minister Nelson McCausland, the minister with responsibility for housing, wrote on his blog on 1 February:
"The truth is that there is no discrimination against Roman Catholics in housing in north Belfast. The number of Protestants on the waiting list is roughly the same as the number of Roman Catholics but the myth of discrimination is so deeply embedded in the nationalist and republican narrative that it will take some time for the truth to prevail."
McCausland's stance flies in the face of research gathered by residents which reveals over a decade's worth of "ministerial, statutory and council failures" which have compounded religious inequality in north Belfast.
The 'Equality Can't Wait' group point to Housing Executive figures which show the inequality experienced by Catholics in need of social housing in Belfast who wait on average 23 months whilst the average wait for Protestants is 12.
In north Belfast specifically, it was further recognised by the Department of Social Development that, based on Housing Executive figures from 2008, 95% of the projected need for new homes in north Belfast by 2012 would be in the Catholic community.
The residents' campaign is backed by the UN Committee on Economic, Social and Cultural Rights, who called for social housing inequality impacting Catholics in north Belfast to be tackled.
The residents, whose research was compiled over a 12-month period, was published in January 2013.
A subsequent meeting between residents and the Department of Social Development was cancelled following a letter sent by the minister to residents stating that his department did "not accept" the existence of religious inequality in North Belfast.
Robinson's 'Letter from America'
First Minister and DUP leader Peter Robinson's 'Letter from America' in August last year in which he withdrew his and his party's support for the development of the Conflict Transformation Centre (or 'peace centre') at Long Kesh was a U-turn that exposed the degree to which unionist politics are defined by a negativity bordering on nihilism.
The DUP leader, writing from his Florida holiday retreat, had succumbed to pressure from the Orange Order, Jim Allister's rejectionist Traditional Unionist Voice and the more rabid unionist elements such as Willie Frazer and their reactionary, fundamentalist philosophy.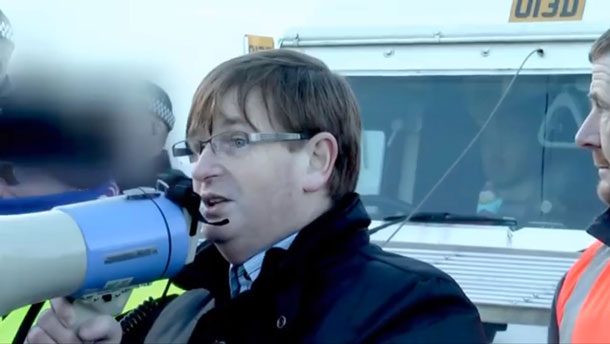 • Fundamentalist fringe loyalist Willie Frazer
Robinson cited Sinn Féin actions and, in particular, the party's involvement in that month's Tyrone Volunteers Commemoration parade in Castlederg as the reason for his volte-face.
Needless to say, this was the smokescreen that a weak Robinson chose to hide behind.
Unionists' preferred option was to see Long Kesh razed to the ground. Were it not for Sinn Féin, it more than likely would have been bulldozed.
So when the plans to develop the Conflict Transformation Centre were made public, on 24 April 2013, anti-agreement unionists went into overdrive, attacking the DUP.
Their 'cause' (articulated by Jim Allister and supported by Willie Frazer and every so-called 'victims' group, including ex-RUC, ex-UDR and former prison officers) demanded the listed H-Block, Prison Hospital and other listed buildings be de-listed and destroyed.
Re-running criminalisation
In effect, these extreme elements are re-running the British criminalisation policy of the 1970s and 1980s, the very policy that led to the prison protest and 1980/1981 Hunger Strikes in the first place.
This reinforces the unionist attitude that there is a 'hierarchy of victims', where republicans and nationalists are on the bottom rungs.
Union flag protest leader and 'unionist victims campaigner' Willie Frazer (quoted in the 15 February edition of the Andersonstown News) said in reference to Fr Hugh Mullan, shot dead by British Army paratroopers in the Ballymurphy Massacre in 1971:
"Priests have been heavily involved in terrorism and paedophile rings for years. I don't know if this one was innocent or guilty or if he was stoking a riot or not."
This opens a window into a unionist worldview that knows only bigotry.
This is the same Willie Frazer who was personally briefed by senior DUP MP Jeffrey Donaldson during the Haass/O'Sullivan talks.
DUP leader Peter Robinson's refusal to lead from the front has exposed a unionism that is blinkered to the point where a young teacher can be hounded out of her job, Protestants are publicly warned off by the Belfast Grand Master of the Orange Order from speaking Irish, and loyalist thugs can attack their nationalist neighbours and create havoc and fear in Union flag protests, and the UVF can shoot Jemma McGrath in east Belfast and two men in Bangor with hardly a word of condemnation from mainstream unionism.
And when the Chinese-born Alliance MLA Anna Lo suffers racial abuse when she calls for murals to be removed from the route of the Giro d'Italia, the DUP's Sammy Wilson responds by claiming that anti-racism campaigners talk up the level of racism to get funding.
This lack of leadership from the DUP has created a vacuum that is being filled by the nay-sayers. By pandering to them they are encouraging them.
That's bad politics.