2 March 2014 Edition
'Water Meter Man'
One man's stand against the new water tax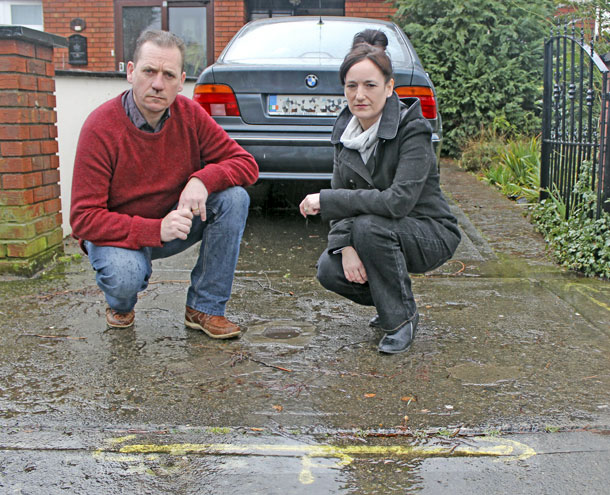 "They are trying to make us pay for water twice and developing a company, using taxpayers' money, ready for privatisation"
THERE'S a quiet revolution going on in the large west County Dublin suburb of Clonsilla.
As Irish Water installs water meters as part of the Irish Government's roll-out of water charges across the state, some residents are fighting back and refusing to allow contractors on to their property.
Local resident, Sinn Féin activist and father-of-three Alain Ó Donaile has been dubbed 'Water Meter Man' for his one-man stand against the installation of a meter at his home. As An Phoblacht goes to press, 70 days have passed since Alan was given a deadline that the meter would be installed. Despite threats of fines, 12 separate meetings with Irish Water representatives, a dozen separate notices that work is to commence, and threats of arrest – still no water meter has been installed.
I meet Alain in as his home in the middle of February as a massive storm is bearing down across Ireland: "I see we're running low on water," he jokes, looking out at the driving rain.
A member of Sinn Féin since 1979, Alain says he has no objection to paying for water but that this is a form of double-taxation:
"If I lived in the Sahara desert I could see how water would be a precious commodity and a scarce resource. It isn't in Ireland. Just look out the window. I don't mind paying for water to be delivered to my home – I already do that through my taxes.
"I cannot understand why they are trying to make us pay for it twice. They are developing a company, using taxpayers' money, ready for privatisation."
On 7 December, Irish Water began installing water meters in his estate. He immediately went out to speak with staff and raise his objection:
"I went down and asked to speak to the foreman," he said. "I told them to knock into my house before any work began on my property and when they did I said quite firmly but politely: 'I object to water charges and you are not fitting a water meter in my house'."
The foreman told Alain that everyone has to get one. It is not a choice.
"Well, I'm not," he replied. "They didn't seem to know what to do. They just kind of stared at each other blankly. Later, two officials showed up and repeated again that I had no choice in the matter. I told them they had no permission to block access to my property. They even threatened to call the gardaí."
Alain, who worked in the building trade, also frustrated Irish Water by asking for numerous types of documentation regarding health and safety and permission to block off access to his property.
He says other residents who objected to the installation of meters on their property were threatened with arrest by gardaí under public order offences. The gardaí claimed they were there to 'protect workers' despite all opposition being peaceful. In one instance, a householder was threatened with arrest for asking the workers to leave his property. Other locals confirmed gardaí had been aggressive and threatening when dealing with their concerns.
Complaints about Garda behaviour have also been raised through the local policing forum by local Sinn Féin representatives Natalie Treacy and Paul Donnelly. The fact that gardaí spent four hours sitting on the street 'protecting workers' was heavily criticised by local residents who would much rather have them out tackling crime and anti-social behaviour.
So far, Alain's one-man stand appears to have worked. The installers have moved out of his estate and on to Corduff, where they are facing similar resistance from residents.
"At 8 o'clock in the morning a woman over there went out and stood on the stop-cock, which is on her private property," says Alain. "While she was standing on it they actually marked out the guides for digging around her!"
The woman was determined not to allow the meter to be installed and eventually, due to her objection, the workers left.
Alain says this and a dozen similar objections from residents in his area shows the huge opposition to water charges on the ground. And Alain says he is prepared to be arrested if it comes down to it as an act of peaceful disobedience.
Alain's story was picked up by the news website TheJournal.ie and garned more than 61,000 views and 400 comments.
"That's what I wanted," says Alain, "to get people talking about it and have their say about what's really behind this water metering. And I wanted people already squeezed for money to see that they can take a stand, even just to make a gesture, to say: 'This is wrong.'"