2 March 2014 Edition
Working for Ireland – not mouthpieces for austerity
Sinn Féin's Midlands North West EU candidate MATT CARTHY talks to MARK MOLONEY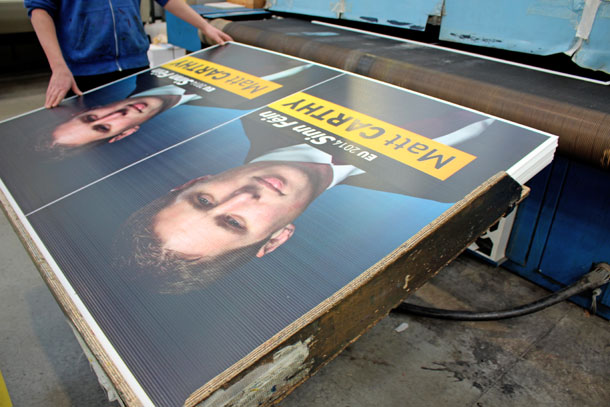 After his barnstorming speech at the Sinn Féin Ard Fheis last month, mainstream political pundits and the media are sitting up and taking notice of Matt Carthy
"THERE was a lot of anti-Irish sentiment, verging on bullying, by teachers as well as students in the school I was attending," Matt says about his brief time living in the Welsh border town of Holywell when he was 11. "There was just three Irish students at the school and we got hell. I wasn't from a republican family so I hadn't really much sense of the situation."
That was in 1988. Now living in Carrickmacross in County Monaghan, married to Lynn and with four young children (Seán, Mairéad, Aoife and Niamh) the 36-year-old  Sinn Féin councillor is seen as a strong contender to take a seat in the European constituency of Midlands North West.
The son of Irish emigrants, and born in Birmingham, England, he moved back to Ireland at a young age and spent most of his childhood in Strokestown, County Roscommon. When he was eleven he moved to Holywell for a brief period when the IRA's bombing campaign in England was underway – and he and other Irish students came face-to-face with anti-Irish racism.
He says it was when his family settled in Carrickmacross in Monaghan a year later that he began taking an interest in republicanism:
"The first thing I did was join the library and start reading about Irish politics and Irish history. Basically I wanted to understand why Irish men and women were going over to England to plant bombs."
Back in Ireland and living within ten miles of the Border also influenced his outlook.
"I remember being in south Armagh and it was just like a fortress. That certainly shaped my view as to what British occupation meant. As I grew up I also became more aware of the impact of partition on my own town and others along the Border."
Going on to study marketing at Dublin Institute of Technology (DIT) in 1996, Matt says it was the first real opportunity he had to get involved with Sinn Féin.
"I spent about a fortnight knocking at the door of the Blessington Street cúige office but with no answer. It still had a big Sinn Féin sign outside it but it turned out it had been closed for a while," he laughs. "I was cursing them, saying 'Would you ever bother to answer the fecking door!'. He was determined, though. "I eventually found the Parnell Square Head Office and that's how I got involved."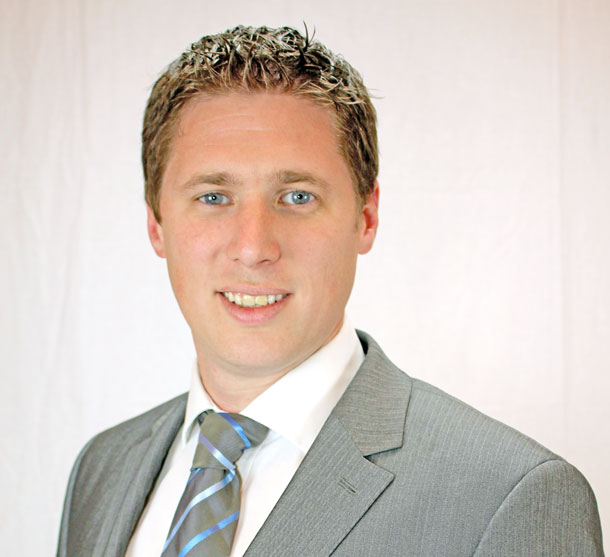 Within a year Matt was working full-time for Sinn Féin. Along with activists like Pearse Doherty, Eoin Ó Broin and Toiréasa Ferris, he was heavily involved in setting up Sinn Féin Youth and went on to become its second National Organiser from 1998 to 2000.
"I barely ever attended college. We were too busy campaigning on issues. I'd say we'd chained ourselves to almost every building in Dublin," he laughs loudly.
Ógra Shinn Féin, as it became known, was active campaigning for the release of political prisoners as part of the 'Saoirse' campaign and there was militant demonstrations demanding the release of Róisín McAliskey. Matt became centrally involved in setting up cumainn on college campuses across the city.
He says the Garda Special Branch harassment of young republicans at the time was astonishing.
"You couldn't walk out of the office without being stopped and having your bag or whatever you were carrying searched and spilled across the street. It was intense. They called to members' work, they called to their homes. It was constant."
His involvement at this time also opened his eyes to the media campaign against republicans.
• Gerry Adams TD and Matt Carthy at the National Ploughing Championships last year
Following a protest against Special Branch harassment during the first Ógra Congress in 1997 on Abbey Street, a story appeared in The Irish Times by Jim Cusack.
"It was a verbatim report by the Garda basically calling us a bunch of thugs. But journalist Niall Stanage attended the conference and he wrote a response piece for Hot Press magazine with the headline 'I read the news today, oh boy' which explained what actually happened. It really showed me what the media are like when dealing with us."
From 1999 until 2002, Matt worked in the Sinn Féin Press Office as well as being elected to Carrickmaross Town Council in 1999. He went on to be elected to Monaghan County Council in 2004.
He says it's his involvement in previous EU elections and the increasing influence of European decisions on Ireland that spurred him on to put his name forward for EU elections.
"I decided it was time to take the European elections seriously following the Austerity Treaty. We have four MEPs in the counties that now make up the Midlands North West constituency and all of them are mouthpieces for austerity – parroting the Government line. There isn't one alternative voice even though 40% of the electorate of those counties supported Sinn Féin's analysis and opposed the Treaty."
He is critical of the Irish Government and Irish MEPs who are telling others in Europe that everything is fine back in Ireland.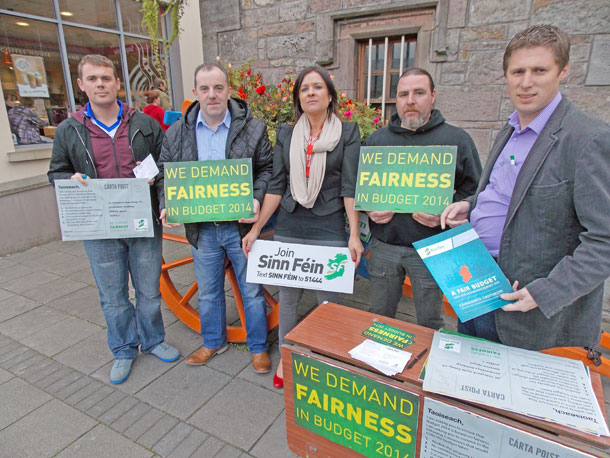 •  Matt Carthy and activists help launch Sinn Féin's 'Alternative Budget'
"We need a republican voice there to tell it as it is, but also to bring forward solutions that require a European dimension. We need to argue that decisions affecting communities on the ground should be made as close to those communities as possible. Instead of handing power over to Europe we should be devolving power to local government."
The Midlands North West constituency is the largest of the four in Ireland. It covers the counties of Cavan, Donegal, Galway, Kildare, Laois, Leitrim, Longford, Louth, Mayo, Meath, Monaghan, Offaly, Roscommon, Sligo and Westmeath.
"The constituency has 15 counties; the one next door, Dublin, has just one county," Matt says. "That sets out in very stark terms to me the regional imbalance that has been allowed to evolve – and one that is getting worse and more stark every year."
He says the root cause of much of the difficulties faced in these counties is the simple fact that rural communities have been neglected.
"We're expected to allow our landscape be blighted by pylons, we're expected to allow our traditional rights such as turf cutting be taken away from us yet at the same time there is no investment. Since the foundation of the state there has been very little meaningful investment. Even in very recent times, broadband acces, key to most businesses nowadays, is abysmal and an absolute joke in a lot of these counties."
Following his barnstorming speech at the Sinn Féin Ard Fheis last month, mainstream political pundits and media outlets, including RTÉ, are sitting up and taking notice of Matt.
"If we're given an opportunity to articulate Sinn Féin politics then the people will respond. The media are saying that the only people who can win are celebrity candidates or former TDs. They're happy to play along with these mock battles between Fianna Fáil and Fine Gael candidates. They are too willing to focus on silly personality games than the actual politics. Our job is to bring the policies and politics to the fore."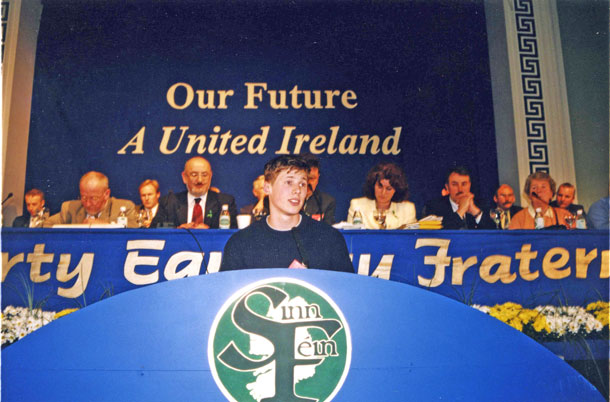 • 1998: Matt speaks at the Sinn Féin Ard Fheis in Dublin
The EU elections are being held on the same day as the local elections (in the North on 22 May and the South on 23 May).
At both the local and EU levels, constiteuncy boundaries have received a major shake-up.
"It's highly conceivable that there will be a Sinn Féin councillor elected to every local authority in Ireland. That's something that has never been done before by any party."
I ask if a team of four Sinn Féin MEPs elected to the European Parliament can really make a difference.
"Look at the Dáil," Matt says, leaning forward, pushing his finger into his hand to emphasise the point. "Nobody can tell us politics isn't better because Pearse Doherty is in there. He's been the voice of hundreds of thousands of people in this state. Look at our councillors. They're renowned as being the hardest-working across the island, as people who get things done. So at a European level we want to bring that same voice and vigour by electing four MEPs. And it will also mean that there won't be a single citizen in Ireland that doesn't have Sinn Féin representing them at some level.
"I think that's what's frightening our opponents. I think that's where all the attacks are coming from with Fine Gael, Fianna Fáil and Labour joining their pals in the media to try and stymie our growth. They know that Sinn Féin growing in strength equates to the ordinary working people of Ireland taking power – and the Establishment don't want to see that."
Sinn Féin is the only party standing European Parliament candidates on an all-Ireland basis:
Lynn Boylan (Dublin),
Liadh Ní Riada (South),
Martina Anderson MEP (Six Counties) and
Matt Carthy (Midlands North West)