2 March 2014 Edition
Seachtain na Gaeilge 1 – 17 March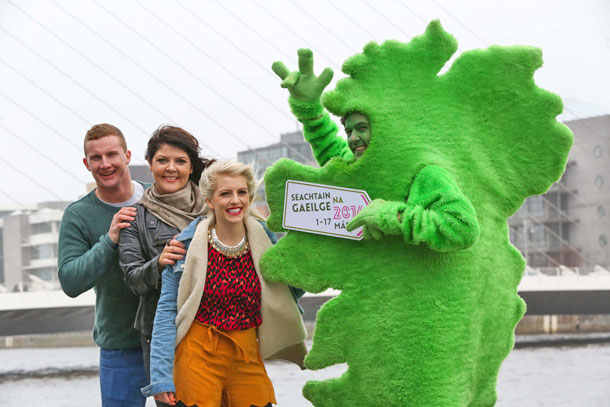 FOOTBALLER Ciarán Kilkenny and presenters Máire Treasa Ní Dhubhghaill and Lynette Fay are this year's ambassadors for Seachtain na Gaeilge. Seachtain na Gaeilge 2014 will run from 1 - 17 March and there will be thousands of events running in Ireland and abroad to celebrate the Irish language and culture.
Among the main events of Seachtain na Gaeilge 2014, the national opening will take place in Killarney on Saturday, 1 March, from 2.30 – 4.30pm. There will be a street festival with free open-air concert with the well-known band Seo Linn, who were seen in Coláiste Lurgan's music videos last summer. Rith 2014, the national relay run from Baile Bhúirne in Cork to Belfast will take place from 7 – 15 March and there will be many more events covering every county in the country. With thousands of events running from 1 – 17 March, everyone will have the opportunity to enjoy the festival and the Irish language, whether you have a cúpla focal or a lot
IS IAD AN peileadóir Ciarán Kilkenny agus láithreoirí Máire Treasa Ní Dhubhghaill agus Lynette Fay ambasadóirí Sheachtain na Gaeilge 2014. Beidh Seachtain na Gaeilge ar siúl ó 1 – 17 Márta agus beidh na mílte imeacht ar siúl in Éirinn agus thar lear chun an Ghaeilge agus an cultúr Gaelach a cheiliúradh.
I measc phríomhimeachtaí Sheachtain na Gaeilge, beidh oscailt na féile i gCill Airne Dé Sathairn, 1 Márta ó 2.30 – 4.30in. Beidh féile sráide le ceolchoirm saor in aisce ón mbanna ceoil aitheanta, Seo Linn, a bhí le feiceáil sna físeáin de chuid Choláiste Lurgan i rith an tsamhraidh. Beidh Rith 2014, an
t-ollrith náisiúnta ó Bhaile Bhúirne go Béal Feirste, ar siúl ó 7 – 15 Márta agus beidh go leor imeachtaí eile i ngach contae sa tír. Agus na mílte imeacht ar siúl idir 1 – 17 Márta, beidh deis ag an bpobal ar fad sult a bhaint as an bhféile agus as an nGaeilge, is cuma má tá cúpla focal agat nó a lán.