2 March 2014 Edition
Some way to go
International Women's Day – Saturday 8 March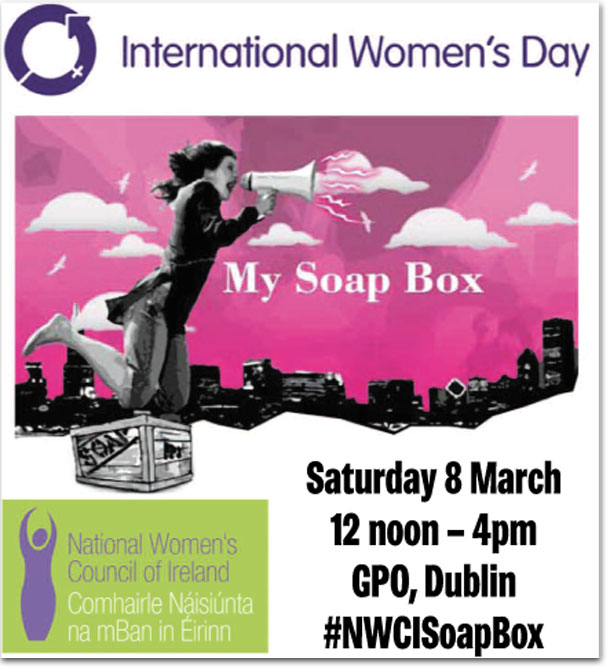 The 1916 Proclamation referred to the equal rights of men and women
INTERNATIONAL WOMEN'S DAY is always a good time to reflect on the advances that women have made in Irish society but also to take a critical look at what we have still to achieve. 
International Women's Day was 100 years old in 2011 and in Ireland we started off quite well on the road to equality.
The 1916 Proclamation referred to the equal rights of men and women, and women in Ireland  gained the right to vote (albeit limited to some women) in 1918.
New Zealand led the way on suffrage but Ireland was not too far behind considering it was 1944 before it was granted in France and 1976 before women in Portugal had their say.
We were also first to appoint a female Cabinet minister when Constance Markievicz became Minister for Labour in 1919.
So Ireland was fast out of the traps but somehow along the way it lost that pioneering spirit in terms of women's rights.
We have elected only 92 female TDs to the Dáil since Markievicz in 1918. We are ranked 24th out of 28th in the EU in terms of female representation. That translates to 85% men in the Dáil with the Stormont Assembly not doing much better with 80% men. 
Sinn Féin have always held a strong view on the importance of gender equality. To create policy that is beneficial to the whole society, the decision-makers must be reflective of the society they govern.  It is no surprise that maternity benefit was one of the first items to come under the axe in the Fine Gael/Labour austerity budgets when the four-man Economic Management Council has an average age of 63.
In the elections in May, Sinn Féin will field a team of candidates that is over 30% women (streets ahead of Fianna Fáil's 17%).
It is not just in political representation that Ireland is failing its women. Women are also losing out in the workplace.
International Women's Day has its origins in the fight for better working conditions for women yet here we are over 100 years later and women earn less (a 14% pay gap), work less and are far more likely to be living in poverty or at risk of poverty.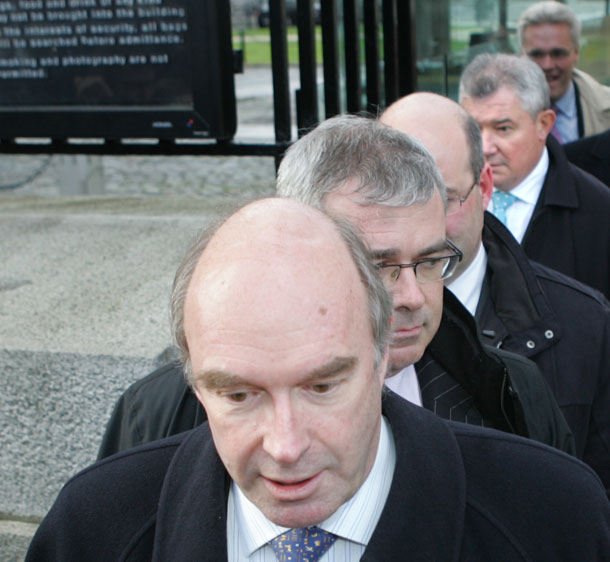 • The all-male bank chiefs leave Leinster House after a meeting with the all-male Economic Management Council of Howlin, Kenny, Gilmore and Noonan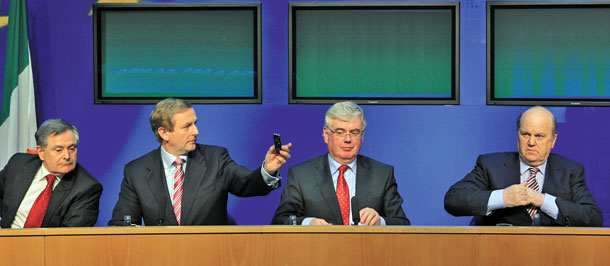 In employment, women make up a large chunk of the 'precariat' — those employed in uncertain, unpredictable work. These jobs often make high flexibility demands on employees with no remuneration for that flexibility: zero-hour contracts and spreading part-time hours over a full week – locking employees out of social welfare protection – are common practices.
Protecting Workers' Rights is a Sinn Féin policy document proposing changes that would strengthen workers' rights and ensure that all workers receive a living wage. It would go a long way to addressing the working conditions of women across the state.
Another area that needs attention is society's protection of women from violence.  One in 7 women in Ireland will experience domestic violence and 1 in 5 women have experienced a sexual assault in adulthood. While I am not ignoring that there are many men who also suffer from domestic and sexual violence, it is far more prevalent among women.
A quarter of all violent crimes reported involved a man assaulting his wife or partner.
It was 1990 before it was made illegal for a man to rape his wife.
The South has 136 refuge places; to bring it up to the Council of Europe standards it would need to be 458.
One very positive step that can be taken to address this issue is for Ireland to sign up to the Istanbul Convention, which sets a benchmark for countries to reach.
So while we have come a long way we still have some way to go to achieving full equality.
On 8 March, Sinn Féin's female local election candidates will join feminists from across the island in taking part in the National Women's Council of Ireland 'Soapbox' event on O'Connell Street in Dublin.
From 12 noon to 4pm, women will be given the opportunity to stand on a specially-designed soapbox and speak on the issues that they would like to see addressed to achieve full gender equality. I hope to see you all there.