2 March 2014 Edition
Shatter must go – but so must Callinan too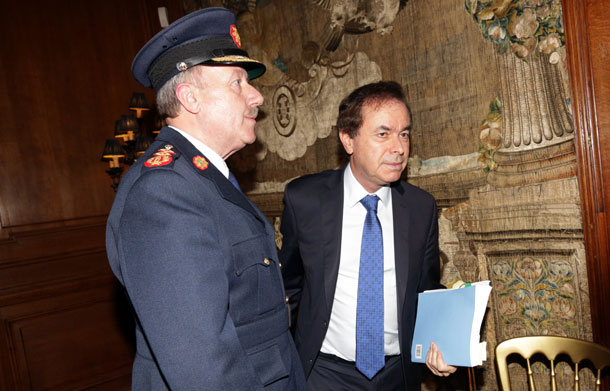 The political choice we have is either to accept that An Garda Síochána is above oversight, that it is unaccountable to the Irish people and is a law unto itself or to insist upon a genuine democratisation of policing in the 26 Counties
THE significant thing about the Shatter and bugging controversies is not the facts themelves – distorted, proven or alleged – but how the Government and the majority of the Establishment have reacted to them.
In any normal society the suggestion that an agency (a 'police watchdog' no less) like the Garda Síochána Ombudsman Commission (GSOC) had been bugged by the force over which it technically has oversight would be a matter of grave concern.
It would be taken most seriously, with every support needed to ascertain whether such suggestions were well-based, had an innocent explanation or just couldn't be definitely established.
The response of the Minister for Justice and Law Reform, Alan Shatter, supported by the entire Government, was to explode in outrage that any such suggestion could be made. It was, as it were, 'subversive' to even suggest that the Garda could have been engaged in such activity, and demands from top gardaí for GSOC to have its wings clipped went unchallenged.
The Government and the Garda also moved their media friends into action. RTÉ repeatedly dismissed the issue as "a puff of smoke", the Independent Group published article after article rubbishing the suggestions, and Shatter serenely misled the Dáil ('by accident', as Pat Rabbitte suggests, or by design as many others believe).
Remember too that this affair does not exist in isolation.
The suspicions about bugging came about during GSOC's investigation into convicted drug dealer Kieran Boylan, who was given Garda protection in return for information.
GSOC was forced to take the unprecedented step of publicly complaining that the Garda wasn't co-operating in their inquiry. When it concluded, Garda Commissioner Martin Callinan simply refused to carry out the recommendation of disciplinary action against named gardaí.
In this period too, Garda Sergeant Maurice McCabe compiled a dossier of cases where investigations had not, in his opinion, been handled properly. These were similar to the Boylan issue and included the premature release of Jerry McGrath, who had seriously assaulted a woman taxi driver but on release went on to kill another woman.
When the assault victim complained, she was told that Sergeant McCabe was the man who authorised the premature release and was also responsible for a phone call telling her not to bother to turn up in court. This was a direct lie, as McCabe was not even on duty when McGrath was arrested and subsequently released and had nothing to do with the telephone call which played such a crucial part in minimising the evidence against McGrath for the assault and thus ensuring his full release — a release that allowed him to kill another woman.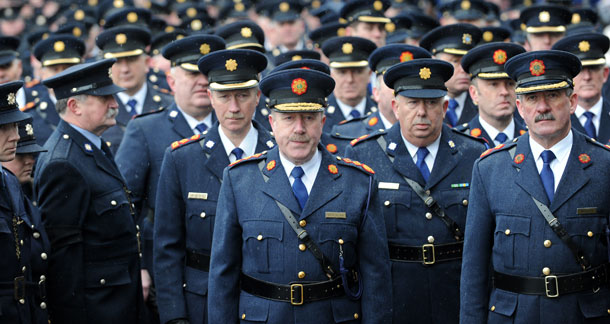 What is evident in all this murky saga is that leading elements of An Garda Síochána consider themselves to be the law and not subject to it. And anyone who breaks ranks to shine a light on what is really happening is to be demeaned and have their character impugned.
Garda Commissioner Callinan, for example (without reproof from Justice Minister Shatter) described Maurice McCabe's whistleblowing actions as "disgusting".
And remember again that GSOC itself came about after the Morris inquiry into the perversions of justice in Donegal found systematic abuses of the system. Remember Frank McBrearty and Frank Short?
The political choice we have is either to accept that An Garda Síochána is above oversight, that it is unaccountable to the Irish people and is a law unto itself or to insist upon a genuine democratisation of policing in the 26 Counties.
That is a police force which will merit the support of the public because it too obeys the law, a police force that doesn't police the people but polices on behalf of the people.
In this context it isn't just Alan Shatter who has manifestly shown himself unfit to hold his position (though don't hold your breath for the Labour Party to insist on his removal).
Garda Commissioner Martin Callinan must go also. We need a clear message to the top ranks of the Garda that they are public servants who must co-operate in GSOC's oversight of their actions. And we need a clear message to younger gardaí that the attitudes and behaviour of Callinan and his ilk have no place in a democratic police force.
Shatter indeed must go . . . but Callinan must go with him.