1 September 2013 Edition
Tackling the core question
Between the Posts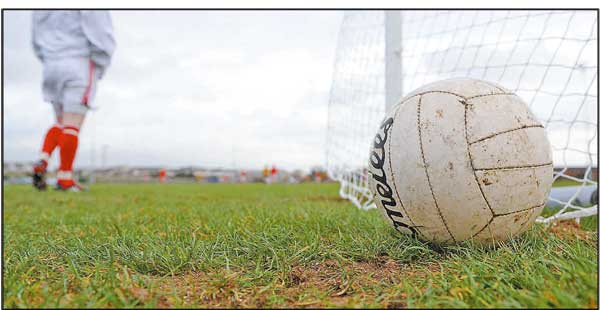 There is more to change in Gaelic games than the rules
QUESTIONS are asked of us all in life. Everyone has to answer. With the gaze of more than 83,000 spectators fixed upon you, millions more viewing on TV, the answer you give is not easily going to be forgotten. Every player in Croke Park this September knows this.
Difficult questions have been asked of Gaelic games this year. The answers may not have been popular but who could have missed the ensuing debate? Ignited by a foul against Monaghan's Conor McManus; fuelled by the impassioned response of Joe Brolly; and climaxing in wall-to-wall news comment about rules in Gaelic games.
One newspaper headline stands out: "Difficult to tackle issue of cynicism under current rules of the game."
The headline referred to remarks by Tony Scullion, former Derry defender and member of the Football Review Committee:
"Any player that wouldn't take a yellow card for their team is not playing as a team member. It's as simple as that."
Most prescient about this view is that it appeared in The Irish Times on Saturday 3 August. That evening, McManus was pulled to the ground. It was the accelerant for an inferno of opinion.
Enough has been written about what Seán Cavanagh did and what Joe Brolly said. Here's my brief epilogue.
I know Joe Brolly and his family. They are Gaels of the greatest integrity. The passion, service and sincerity Joe has brought to Gaelic games and in his other endeavours in life is unimpeachable and indisputable. I don't know Seán Cavanagh, except through his superb playing career. At half-time against Monaghan, he was compared to Jack O'Shea — he can't then be recast as 'Jack the Ripper'. In fact, Seán's midfield style is one I've commended to my nephews in Tyrone and my own Antrim offspring. He ought to be a role model for others.
But when a 13-year-old dual player from Ardoyne asks his father "What's a cynical foul?" it's time to think. That's why the remarks of Tony Scullion, and the many county players who have commented since then count. Many have condoned intentional fouling. Tacitly, the physical contact, even assault, necessary to bring down your opponent is being legitimised. Where then does this end?
As the rain blew sideways through An Ghaeltacht one afternoon in August, my family and I visited the public library in Dungloe while on holidays. I found a copy of a doctoral thesis, 'Towards a philosophy for legislation in Gaelic games', by Dr Joe Lennon. He wrote that players are moulded by their games: they don't just play them. Games form an intrinsic part of the socialisation and enculteration of people. No more so than in efforts by Michael Cusack and the founding members of Cumann Luthchleas Gael to define and distinguish Gaelic football and hurling: "They were designed to serve national ideals as much, if not more than, to provide competitions and the opportunities to be winners."
Much attention is given to how Gaelic games are played and the adequacy of existing rules. That is not the core question. The question is whether the games we play are part of what we are; or we are part of the games we play. Gaelic coaches now receive training and accreditation with follow-up workshops. But there is a gaping hole concerning the ethics, ethos and intrinsic values of Gaelic games. As for players, training regimes focus on physical attributes and aptitudes, but what about attitudes and beliefs?
Recently, another good Gael, Jarlath Burns, reflectively wrote that change in Gaelic games needs to happen: "If I had my way, the sin bin would have been kept." I agree with Jarlath. There's a lot men can and should learn from women's Gaelic football, which still has a 'sin-bin'.
Other ideas are worthy of consideration by those who write the rules, including the penalty try/goal which is used in rugby and the significance of the captain in marshalling the discipline of players within the sport.
But there is more to change than amending rules.
It would be good to think that those who take to the field in Croke Park could and would be able to sing our national anthem. It would be nice to hear the chorus in the crowd continue to the very end of the song. How much would it say for our games if the team which is defeated gave a guard of honour to the victors on the day. Unthinkable?
When Antrim prevailed against Offaly in the All-Ireland hurling semi-final in 1989, Offaly's hurlers provided a guard of honour in Croke Park at the final whistle.
The rules may define the games but the games must be more than the rules, especially our national games.
In the film Invictus, Nelson Mandela meets Springboks captain Francois Pienaar before the 1995 Rugby World Cup in South Africa to say: "This country is hungry for greatness." So is ours.