1 September 2013 Edition
Irish fishing industry must be supported by the EU
This is funded by the European United Left/ Nordic Green Left (GUE/NGL)
Martina Anderson MEP is a member of the GUE/NGL Group in the European Parliament
DURING a visit to South Down in the past few weeks I heard first-hand the concerns of our fishing community. It is important that our traditional fishing industry is protected from further decline.
In my meeting with the fishermen's representatives in Ardglass, I was pleased to have the opportunity to discuss how best I could assist them in their efforts to increase quotas and make the industry more sustainable in the longer term to protect jobs and family incomes.
The rising cost of fuel, an ageing fishing fleet, quotas and the number of days allowed at sea – as well as the conservation of stocks – were all topics which were discussed at length. We are very proud of our hospitality industry and the wide range of seafood options on offer in local restaurants therefore it is imperative that we ensure that the Irish fishing industry remains vibrant and sustainable. When we defend our fishing industry we are not just protecting fishermen and their families — we are also protecting jobs and product source for our hospitality industry.
Urgent action is required to tackle the growing poverty experienced by our fishing communities throughout the island.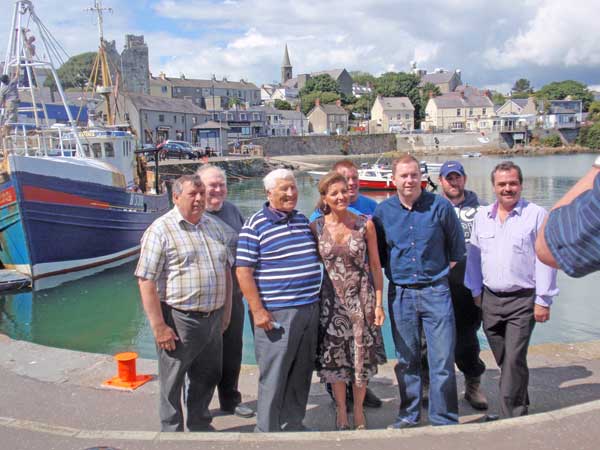 Martina Anderson MEP meets with fishermen in Ardglass to discuss quotas, sustainability and job protection
Agriculture Minister Michelle O'Neill recently announced a range of measures worth some £740,000 to help the fishing industry adapt to the new challenges that will flow from the reformed Common Fisheries Policy.
She additionally announced a package in the region of £500,000 to address immediate needs and help the industry with the cash problems that are inhibiting some vessels from getting to sea.
Our fishing communities are really struggling at present.
We must tackle the underlying issues in order to ensure that the long-term cycle of multi-generational problems are addressed now. Fishermen have raised a number of issues with me during my visit and I have committed to assisting them as best I can in Europe. Minister Michelle O'Neill is playing her part; Europe needs to step up to the mark and match her efforts in protecting the livelihoods of fishing communities.
Discussions with the EU Parliament will take place in the autumn to reach an agreement on the funding instrument by the end of the year. Under the current EU Fisheries Fund, the allocation distributed followed a cohesion approach which took into account the GDP of each member state. The Commission wants to move from a regional development approach to a sectoral approach.
December 2013 will see negotiation for the 2014 Fishing Quota determined and Minister Michelle O'Neill will again be putting up a strong fight for the fishing industry in the North. Whilst there has been progress made regarding discards so that fishermen will not be penalised for accidental catch, the big issue for quotas is that they are too low, making it extremely difficult to make a decent living income. That is one of the issues which Minister O'Neill will be concentrating on in her discussions with EU Commissioner Maria Damanaki.