1 September 2013 Edition
Learning from teaching in Palestine
Belfast teacher and Sinn Féin Councillor David Bell on his time in the education frontline
One in three Palestinians living in the West Bank are refugees with the figure being higher than seven out of ten in the Gaza Strip
THE cause of the people of Palestine is dear to the heart of teacher and Belfast Sinn Féin Councillor DAVID BELL. As well as campaigning at home in Ireland, David has been working on the ground in Gaza and the West Bank. He recently spent a month living and working in Fawwar Refugee camp, just outside of Hebron, with several other volunteers from Ireland, Scotland, England and Wales for the London-based charity, UNIPAL (Universities' Trust for Educational Exchange with Palestinians).
UNIPAL provides English-language teaching in Palestinian refugee camps in the West Bank, Gaza and Lebanon while giving teachers direct knowledge and understanding of the situation and daily lives of refugees in exchange.
The people of Gaza are still struggling to recover from the Israeli military onslaught and air raids of last November while the West's favourite friend in the Middle East maintains a stranglehold on their economy and basic services through an illegal blockade.
David told An Phoblacht something of his experiences.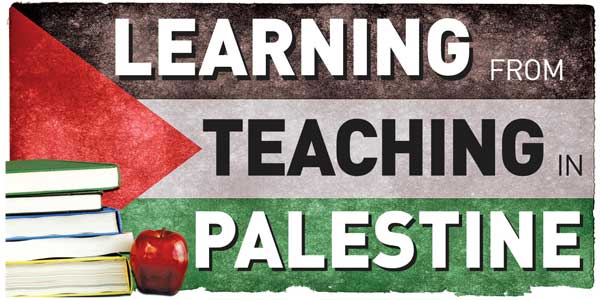 I WAS TEACHING English to the children in the morning from 8:30am to 12noon in the United Nations school and in the afternoon I was teaching university students in Hebron City. I also taught classes in drama and art.
I felt a wide range of emotions throughout my stay.
It was amazing and so encouraging to see how the people were not down in spirits despite their circumstances. The children's eagerness to learn, their love of life and the hospitality of the people there was an amazing thing to see and experience.
The living conditions, however – poverty, discrimination from the occupying forces, and the heartbreak of those who have lost loved ones through the conflict – were at times soul destroying.
Through teaching in the schools and university I encountered pupils with so much talent and ability. There was no shortage of artistic flair, ambition or want of an education. I was privileged to be allowed to paint a mural in the boys' school with the students.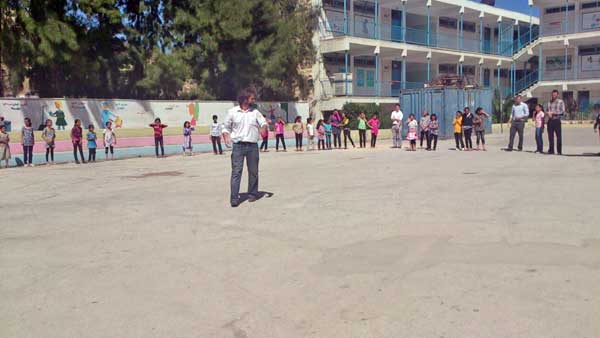 Unfortunately, given the circumstances of occupation, many of these children and students will not have the same opportunities as young people in other places do.
Our group's own living conditions were the same as those of the refugees in the camp. We had the basics, such as a mattress on the floor to sleep on, a fridge, a few chairs and a hole in the ground for a toilet, and a shower.
These are the conditions people are forced to live in topped off with water shortages and power cuts on a regular basis.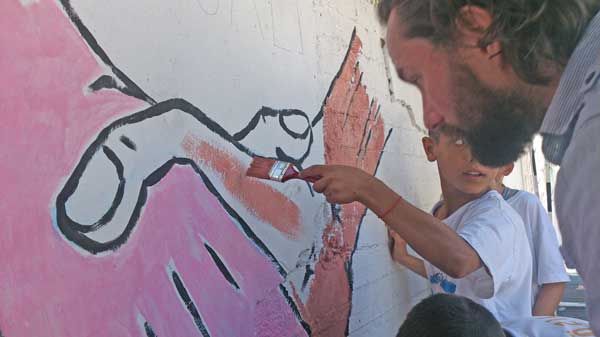 The Israeli military (IDF – Israeli Defence Forces) and Israeli settlers live in close proximity to the refugees. Around one in three Palestinians living in the West Bank are refugees with the figure being higher than seven out of ten in the Gaza Strip.
There are confrontations between the IDF, settlers and Palestinians on a regular basis due to continued Israeli raids in areas that are supposed to be under the control of the Palestinian Authority. As a result, while we were in the region, three Palestinians lost their lives.
One young man who lived in the town of Dura, next to our camp, was shot dead. As a result, the community in our camp, where much of the young man's family live, was devastated. The young man engaged in stone throwing after the IDF raided his family home. The soldiers then opened fire with live ammunition, justifying this act of brutality and murder as a 'crowd control' measure. Actions like this happen on a regular basis and are rarely reported on by the Western media.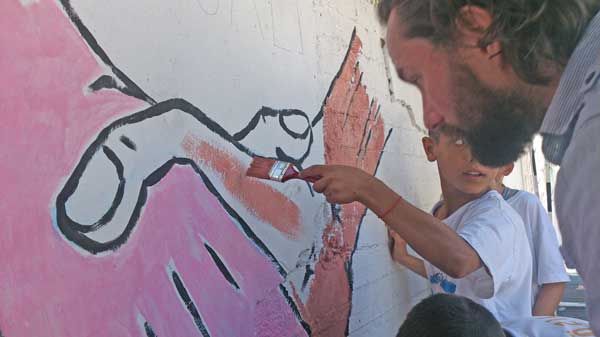 The effect that 'the Wall' (the infamous 'Separation Wall' or 'Apartheid Wall') the Israelis have constructed is also clear to see.
We visited Bethlehem where we saw first-hand the division created.
A Palestinian ambulance driver told us of how on a number of emergency calls it took them over an hour to reach a destination to treat someone when previously it had only taken five to ten minutes.
This is also as a result of the numerous IDF checkpoints where, on more than one occasion, soldiers took over a half an hour to search the ambulance. Lives have been lost because of these reckless and callous actions.
On another occasion we spoke to a Palestinian ex-prisoner who spent 17 years interned in an Israeli prison. He was arrested solely on 'suspicion' and never charged. We here in Ireland know what actions such as internment cause and this is unfortunately still happening in Palestine on a huge scale. Many political prisoners are now on hunger strike, being force fed and abused by their captors.
As an activist I believe I have a responsibility to highlight such injustices to the world and to my community when they happen. The world needs to open its eyes if we are to make a positive change in Palestine and to make equality a reality.
These are just a few of the injustices I witnessed in Palestine in both Gaza and the West Bank. It was when the international community took action that the apartheid regime in South Africa was broken. This is what needs to happen in Palestine and it needs to happen sooner rather than later.
"Be the change that you want to see in the world" –  Ghandi