1 September 2013 Edition
Fish and Polemics
IRELAND'S FISHING INDUSTRY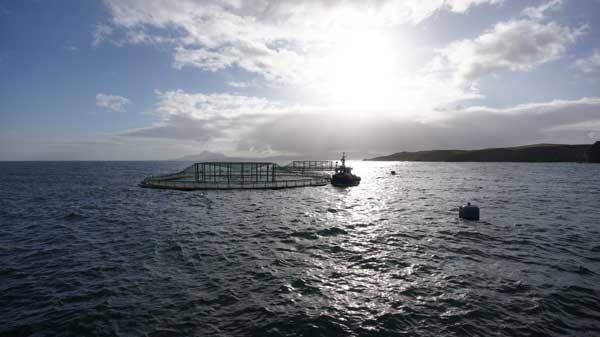 A FISHY STORY has amused the media these past weeks.
It is fishy because it should be about fish. Instead it is about the truth, the damned truth and statistics. It is also about the slant media put on current affairs.
The truth is no longer absolute, it is the truth we desire, not the truth that exists.
Ireland's elite media has been a tool of industry since the 1970s. Despite concern by journalists like Vincent Browne about media manipulation, a newspaper of standing can do more damage in the public domain than the left-libertarian media with its advocacy stance and limited exposure.
Who to believe?
Those opposed to salmon farms insist the truth about the impact of sea lice on wild salmon stocks is out there and is damning. Bord Iascaigh Mhara (BIM), the Marine Institute, the aquaculture industry and The Irish Times insist that the statistical truth is still being debated.
Such a stance always benefits developers because it can be argued there is no absolute truth and it becomes a game of risk.
BIM — an agency under the auspices of the Department of Agriculture, Food and the Marine, headed by Simon Coveney — wants to establish three giant salmon farms along the Atlantic shore. Opposition is fierce.
When the agency was established under the 1952 Sea Fisheries Act it was granted wide-ranging powers "conducive to the development of the sea-fishing industry or to the interests or convenience of sea-fishermen". Its critics claim aquaculture should not be one of them because it is not fishing: it is farming at sea and detrimental to fishers.
Donal Maguire, Aquaculture Development Manager at BIM, does not see a contradiction. BIM's mission extends to all types of seafood: "There is a tsunami of demand for fish and the only way to supply this demand is through fish farming. Farmed Atlantic salmon, Irish farmed salmon, can fulfil this demand and create jobs and wealth."
BIM has been promoting aquaculture since the 1970s when Dr Tony Meany experimented with a salmon farm in Little Killary in Connemara. Unlike the Norwegians and Scottish, who managed to establish the industry, Irish fish farming ran into difficulties.
Parasites destroyed 95% of salmon smolt in the hatcheries. Bathing the fish in a brine bath solved this particular problem. But the real problem lay at sea where escaping lice from salmon farms were taken up by wild salmon and sea trout. Anglers accused the aquaculture industry over the collapse of sea trout during the rod licence dispute in the early 1980s.
This contentious opposition resulted in a European Court of Justice ruling in December 2007 when Ireland was told it was in breach of the Birds and Habitats directives. The state had to prove there was no significant impact from aquaculture on protected areas and species.
The BIM application for a 'super fish farm' off Galway Bay is the consequence. "The major players were avoiding Ireland because of the difficulty of getting an aquaculture licence," said Maguire. "With our difficult history, it was decided to use our technical expertise and start an advance factory with the state making the investment, then seek tenders from qualified operators to operate it, putting in place conditions for processing near the source."
Maguire accepts the challenges from angling, conservation and environmental groups, and he acknowledges the concerns from anglers, but he also believes there is a lot of noise and no substance to many of the arguments.
"We are not going to put anything out that we can't stand over. Their sport is not threatened by this but it is difficult for them to see that. Salmon angling is only a fraction of the total and I'm expecting there will be no impact on wild salmon stocks."
Aquaculture or politics?
In a way this issue is not about aquaculture. It is about politics, specifically the politics of government. Ministers of state are elected to make informed decisions and bureaucrats are mandated to implement them. Instead, a crazy political scenario has evolved.
For the indigenous groups opposed to the salmon farms the real issue is obvious. To readers of The Irish Times and other elite media it is being presented as the politics of conflict, one belief system against another, one ideology against another, one political paradigm against another, one set of statistics against another. The truth is simpler.
Inland Fisheries Ireland are a division in the Department of Communications, Energy and Natural Resources, headed by Fergus O'Dowd. They take conservation very seriously. Harvest of wild salmon is only allowed on fisheries with a surplus of fish over a specified conservation limit. This year, 58 rivers are open for salmon (and sea trout), 33 are open for catch and release, and 59 are closed.
The fear is that Ireland will go down in history as the nation that wiped out all the wild salmon in Europe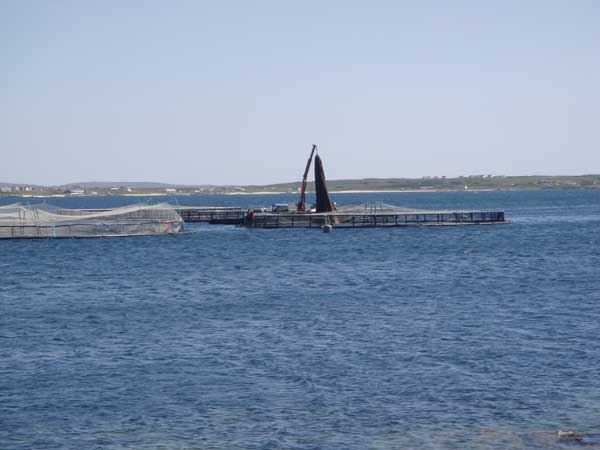 Careful management has reversed the decline in salmon stocks. Recent reports indicate that salmon returning to Irish waters are in very good condition and range in size from one to twelve kilos with an average weight of around 2.7kg. Suzanne Campion, Head of Business Development at IFI, is adamant that "survival at sea remains the greatest threat to [wild] salmon today".
IFI support sustainable aquaculture but it is their role to conserve and protect wild salmon and sea trout and, if necessary, prosecute anyone, including state agencies, who transgresses. Their submission to the environmental impact statement for BIM's Galway farm effectively said 'start smaller, be prudent, and look at all the science'.
The real fear is that Ireland will go down in history as the nation that wiped out all the wild salmon in Europe if these giant farms are built and the worst scenarios occur. A 1% escape of farm salmon from the Galway farm would devastate wild salmon already affected by sea lice. A precautionary approach and a sustainable policy would allay that fear.
The aquaculture industry appears to share that belief. In August, 15 companies who farm salmon launched the Global Salmon Initiative. This will focus on biosecurity (the impact of sea lice), sourcing sustainable feed and meeting industry standards. Marine Harvest, who are expected to tender for the Galway farm, are among the 15.
Within days of each other in July, BIM and IFI published reports.
BIM announced a five-year strategy to deliver 1,200 jobs and €1billion seafood sales in the aquaculture industry. BIM Chair Kieran Calnan said farmed salmon was the key growth area: "Sustainable fish farming, when regulated and managed correctly, provides valuable employment, investment and revenue."
IFI announced that angling was worth €750million to the economy and supported 10,000 existing jobs in peripheral coastal and rural areas. Fergus O'Dowd said the protection of this resource was essential. Dr Ciarán Byrne, CEO of IFI, said: "Clearly, fish stocks and fish habitat must be conserved, protected and developed. Angling businesses must be given every opportunity to win business and secure and grow the jobs within the sector. IFI is committed to these goals and together with our stakeholders and the support of government, state agencies and a new angling marketing and development plan we will achieve them."
Internecine issues
Following these reports and the ongoing controversy about sea lice, the internecine issues between BIM and IFI have come into the open, not least because the elite media has highlighted the potential conflict. Certain media find it amusing to drive a wedge between the two agencies when ultimately all that will do is confuse the issue until someone sits everyone down and plots a happy political compromise.
No one is holding their breath because no quarter is being given.
Fisher Kieran O'Shea, Chair of Save Bantry Bay, said it was a nonsense to suggest that BIM's strategy is sustainable environmentally or economically.
"The detriment to the environment caused by salmon farming is well known, and putting small locally-owned businesses at risk to benefit a single multinational is ludicrous. Remote communities that rely on inshore fishing and tourism could be destroyed. I am a third-generation fisherman, currently awaiting a decision on a proposed salmon farm that would certainly affect my business. It is not just my living at risk but my heritage."
This is the risk the Government is being asked to take. Twenty years ago, the people of the West besieged their bishops, demanding something be done to prevent the collapse of their communities. 'Saving the West' shamed the politicians into action. One of the consequences of that campaign has been the knock-on effect to local economies of putting salmon and trout back in cleaner rivers.
Alan Molloy of 'No Salmon Farms At Sea' said IFI need investment to develop and market their sector.
"In their aspiration to generate a billion and 1,200 jobs, BIM are trying to predict the future, whereas the jobs created by angling are an historical fact, jobs that could be jeopardised by irresponsible aquacultural development."
Strategies
Both sides believe that people with personal agendas are driving these issues. Those who fund the international opposition certainly have agendas. The people who work in BIM and IFI would not be human if they did not plot survival strategies. If agendas do exist, the Government must make a rational decision.
The opposition to Irish aquaculture want the farms placed further out at sea or put in closed containment systems on land. They favour one state department with control over all fishing and the licensing role being given to an autonomous agency.
BIM insist that the technology doesn't exist to grow large volumes of fish in salt water on land and it is too dangerous to place farms in the turbulent Atlantic. The Galway farm, if built, will be located to the leeward side of the Arans, where temperature, water exchange and shelter are perfect for fish farming and not perfect for wild salmon.
Ultimately, the Government must take the available information about the intricacies of aquaculture and angling, and work out a political strategy that will benefit both local industry and corporate industry, and deliver jobs, profits and revenue in equal measure.
This has now become the task of people who are not paid to deliver economic and political solutions. 'No Salmon Farms at Sea' are in Brussels to lobby informed MEPs and the Commission. Europe's salmon rivers are protected by EU legislation. They plan to press this and other salient points. And they might have found a loophole. When they return they will look at contesting the next round of elections while preparing a legal case, which will likely challenge BIM's Galway EIS and other issues.
Donal Maguire is unmoved by these actions.
"We are not going to displace one economy activity with another. Long-term jobs will be created. Marine Harvest Ireland have been employing people for 35 years. The Marine Institute did ten years' research and this conviction about sea lice, whether from farms or naturally occurring, is not supported by the research."
These truths are disputed except one, elegantly put by Galway's Walter Macken in his Brown Lord of the Mountain novel, ironically centred on salmon poaching in Connemara.
"You cannot hide real events and call them by another name, because men are not fools."
No one involved is amused by this fishy story. Each believes truth will out.