1 September 2013 Edition
Equality, not elitism
Former senator Pearse Doherty tells An Phoblacht why the Seanad needs to go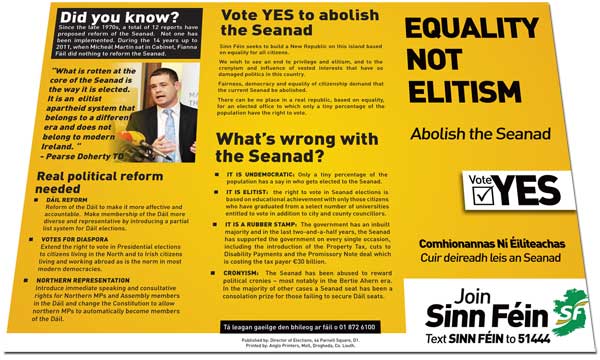 'In the last two-and-a-half years, the Seanad has supported the Government on every single occasion, from the introduction of the Property Tax to cuts to disability benefits. The Seanad also backed the disgraceful Promissory Note deal which has cost the taxpayer €30billion'
AS An Phoblacht goes to print, Sinn Féin is making final preparations for the launch of its campaign calling for a 'Yes' vote to abolish the Seanad. Finance spokesperson Pearse Doherty TD – himself a former senator – will lead the campaing under the slogan "Equality, not elitism – abolish the Seanad."
During the Seanad debate in the Dáil chamber, Sinn Féin repeatedly called for the Seanad to be put before the Constitutional Convention for discussion. That did not happen and now the public has been left with the decision between keeping the upper house as it currently stands, or abolishing it. Sinn Féin's manifesto in 2011 clearly stated the party supports "abolition of the Seanad in its current form".
"We've been very clear that we believe the Seanad in its current form has no role in modern Ireland and I was clear about this when I myself was a member of the Seanad," Pearse tells An Phoblacht. "It is an elitist, apartheid system that belongs in a different era."
He notes how – with its inbuilt Government majority – the Seanad has acted as a rubber stamp for Fine Gael and Labour's attacks on working people:
"In the last two-and-a-half years, the Seanad has supported the Government on every single occasion, from the introduction of the Property Tax to cuts to disability benefits. The Seanad also backed the disgraceful Promissory Note deal which has cost the taxpayer €30billion."
The undemocratic nature of the upper house, with only a tiny percentage of the population being able to vote in Seanad elections, has long been criticised, yet nothing has been done about it by Fine Gael, Labour or Fianna Fáil in power.
"The right to vote in these elections is based on educational achievement," Pearse says. "It is elitist. Only citizens who have graduated from a select number of universities, along with city and county councillors, have a right to vote. That is wrong."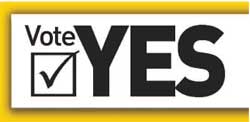 He also hits out at the blatant cronyism of the institution. This was rife under Bertie Ahern's government of which current Fianna Fáil leader Mícheál Martin was a high-ranking member at the Cabinet table.
The most notorious examples included short-term appointments to fill vacancies between Dáil and Seanad elections. These temporary appointments granted a month's wages, unrestricted life-long access to Leinster House (including the members' bar and restaurants), and free parking. In 2007, current Fianna Fáil General Secretary Seán Dorgan was appointed to one of these coveted positions, as were other close friends of then Taoiseach Bertie Ahern.
Pearse also blasts the hypocritical position taken by Fianna Fáil, who have announced they will be opposing the referendum on the basis that they want to see the Seanad 'reformed'. This rhetoric rings hollow to Pearse, who bridles at Fianna Fáil's posturing.
"Since the 1970s there have been 12 reports on the proposed reform of the Seanad," Pearse points out. "Not one has been implemented. During the 14 years of Fianna Fáil government up to 2011, when Mícheál Martin was in Cabinet, his party did nothing to reform the upper house."
Urging people to turn out and have their say in the referendum, Pearse says:
"On 4 October, people should vote to end elitism by voting 'Yes' to abolish the Seanad."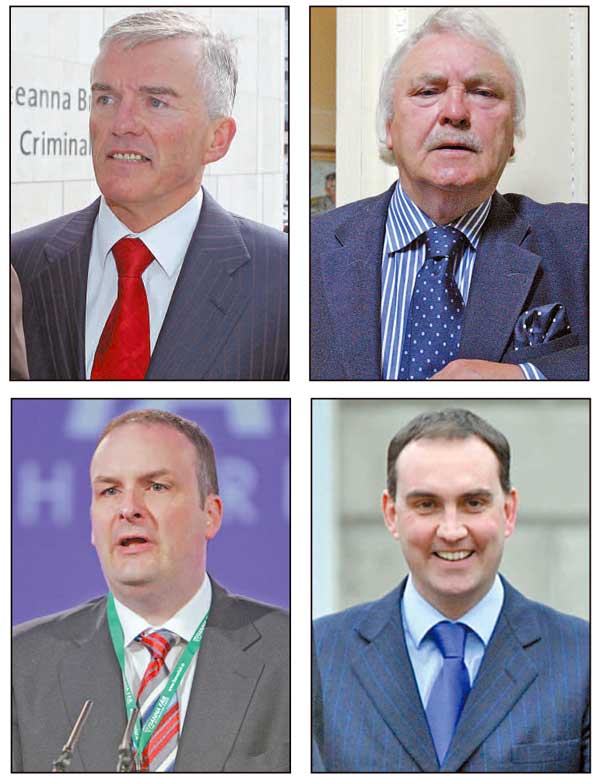 (clockwise from top left) Senator Ivor Callely – Expenses scandal, Senator Eoghan Harris – Rewarded for using his media position to big up Ahern, Senator Marc MacSharry – Demanded recall of Seanad but went on holiday and Senator Seán Dorgan – The weekend senator 
Sinn Féin wants REAL reform
SINN FÉIN believes that real political reform of the Oireachtas is needed.
The party says membership of the Dáil could be made more diverse by the introduction of a partial list system in elections.
Sinn Féin also says votes for Irish citizens living in the North and the Diaspora in Presidential elections is important, noting that this is permitted in most other modern democracies.
And Sinn Féin wants to see speaking and consulative rights for Northern MPs and MLAs in the Dáil, coupled with a change in the Constitution to allow MPs to automatically become Dáil members.