5 August 2013 Edition
Vote 'Yes' to abolish the Seanad
4th October 2013
With no option for reform, the choice is now between keeping an elitist and undemocratic institution or abolishing it
SINN FÉIN is supporting the abolition of the Seanad and is calling for a 'Yes' vote in the referendum on 4 October.
Fine Gael, Labour and the Socialist Party will also be advocating a Yes vote; Fianna Fáil and the Green Party have stated their opposition to the abolition of the elitist institution.
Sinn Féin TD Pearse Doherty, the party's Seanad referendum campaign spokesperson, has described the failure of the Fine Gael/Labour Government to refer the issue of Senead reform to the Constitutional Convention as a fundamental mistake.
With no option for reform, the choice is now between keeping an elitist and undemocratic institution or abolishing it
"In this scenario Sinn Féin believes that it should be abolished," says Pearse Doherty.
"The Seanad is out of touch. It has 60 members, 43 of whom are elected by county and city councillors, TDs and senators; six are elected by graduates of NUI colleges and Trinity College Dublin; and 11 are appointed by the Taoiseach. It is accountable to nobody. More than 99% of the population have no say in who gets elected to the Seanad."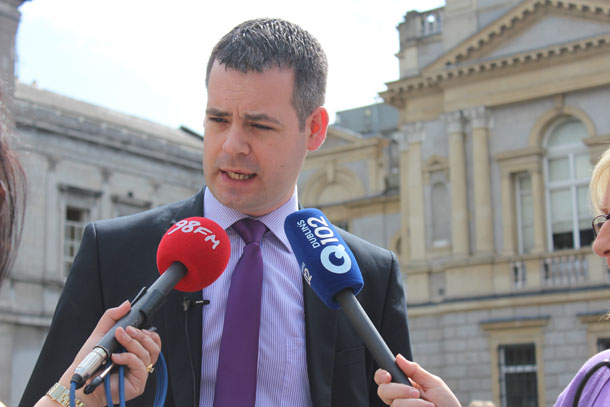 • Sinn Féin TD Pearse Doherty
Irish Times columnist (and failed Fianna Fáil election candidate) Noel Whelan and Youth Matters (which happens to have a large number of Ógra Fianna Fáil members as leaders) have claimed Sinn Féin's support for abolition was made by "Belfast bosses".
All have failed to mention (they ignored or didn't know the fact) that the Sinn Féin Ard Fheis voted to support abolition of the Seanad in its current form. It was a decision endorsed by the Sinn Féin Ard Chomhairle on foot of a recommendation by the 26-County Directorate.
Fianna Fáil's sudden support for reform of the Seanad has come as a surprise to many given that their 14 years in government (1997 to 2011, and leader Mícheál Martin as a senior minister) did not produce one single reform. Instead, Fianna Fáil used it as a vehicle to reward their political cronies.
Speaking on Morning Ireland after Sinn Féin announced its support for a 'Yes' vote, Pearse Doherty described the Seanad in its current form as "an affront to democracy. It has no place in modern Ireland and it should be abolished."