5 August 2013 Edition
'Trade unions must roll up their sleeves and get active'
New President of the Irish Congress of Trade Unions John Douglas talks to Daithí Doolan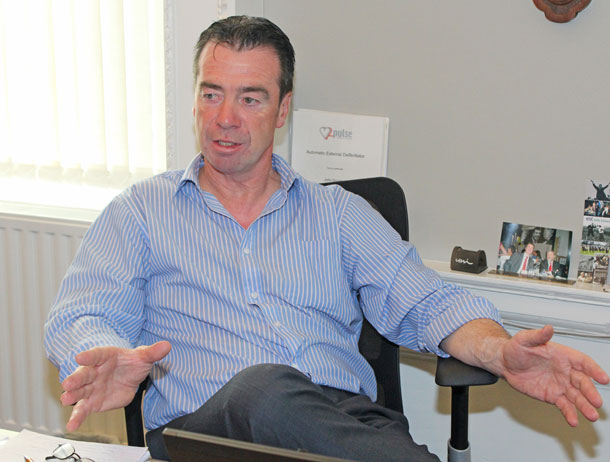 'Trade unions must become political otherwise they collude with austerity'
MEETING John Douglas in his General Secretary's office at the Mandate trade union HQ in Parnell Square is an education in history itself.
The building was the first one to be built in Parnell Square. Its walls are decorated with posters of Nelson Mandela, Palestine and previous Irish trade union leaders who were executed by the British Army during Ireland's struggle for independence.
Mandate is a campaigning union, representing workers in service industries, including bar work and shopfloor retail staff. Their conditions and livelihoods are some of the most uncertain, unpredictable and precarious.
They were low-paid going into the Celtic Tiger era and they were lower paid coming out of it.
It is this base that keeps John's politics focused on improving the conditions of the most marginalised workers on this island.
John is originally from Bray in County Wicklow. He has spent his whole adult life in trade unionism. Finishing college in 1979, he became a junior trade union official in the now defunct Bar Workers' Union. His parents were both trade union activists.
"I grew up in a trade union house, a republican house to be honest," John says.
His father, a shop steward in the Workers' Union of Ireland, was a republican activist in Bray. His mother was a shop steward in the Solas factory where they worked, eventually met and got married.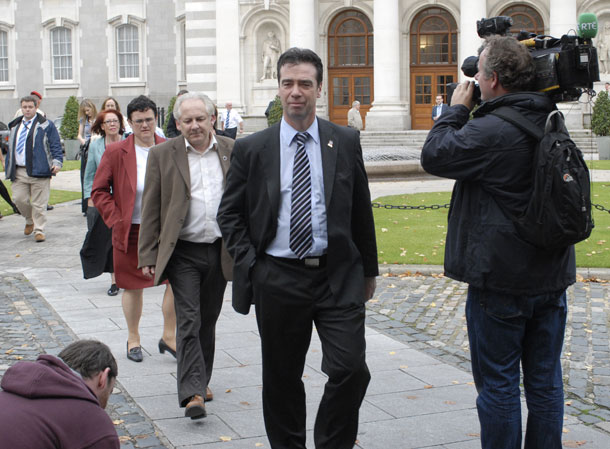 • John Douglas leaves Government Buildings after pay talks
John is the newly-elected President of the Irish Congress of Trade Unions and he is anxious to see more change in the trade union movement.
He sees the role of trade unions to be much more than 'an insurance policy' for workers. He believes passionately that unions need to organise in the workplace and also organise politically.
"Trade unionism is the thin red line," John says with passion. "Capitalism needs a counter balance. Without a trade union movement the free market would grind us down to the lowest common denominator. We already see that with the austerity policies being imposed on workers right across Ireland."
But he also understands that decades of social partnership make it difficult organising now. He sees the big challenge for him as President of ICTU to be "activism and mobilisation on the industrial front but also on the political front".
For John, it is now time for the membership to take over the unions.
John has never been afraid of linking both struggles: industrial and political. He sees them as complementary. While many in the trade union leadership try and shy away from the 'political', it is refreshing to hear someone say that unions need to "take a leap from the shopfloor to the political floor". In other words, there is no point in trade unions being simply reduced to a clientelist, self-serving  organisation. The trade union movement must challenge government and the parties in that government. This can only be done by organising in the workplace but also in our communities, he says.
"Trade unions must roll up their sleeves and get active. They must become political otherwise they collude with austerity."
One clear example of this is the recent financial emergency legislation, which John brands as "an abhorrence to free collective bargaining and an abhorrence to democracy". This legislation, introduced by Labour Party Minister Brendan Howlin, gives draconian powers to the state when imposing pay deals on workers. It gives the Government more powers to unilaterally cut pay, increase working hours and freeze pay increments of workers not signed up to the Haddington Road deal.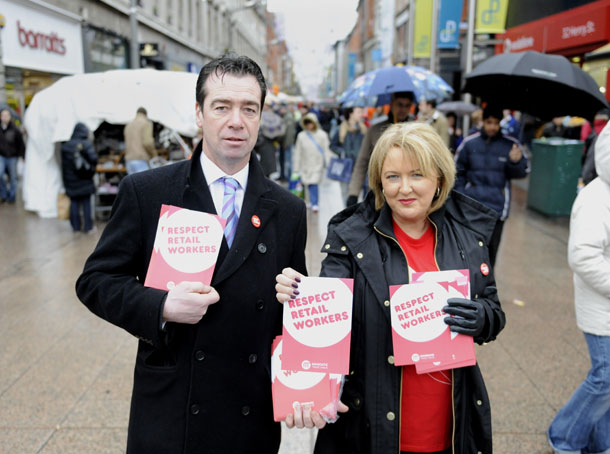 • John and Mandate's Sandra Browne launch a campaign to respect retail workers ahead of the Christmas rush
The new ICTU President fears that the legislation, while currently focusing  solely on the public sector, will creep into the private sector.
According to John, though, there are signs of hope.
He cites the recent debates and defeat of Croke Park 2 and the Haddington Road Agreement as being examples where the membership were centrally involved in the debates and the outcomes.
Each union had intense debates and, whether you agreed with the outcome or not, the members made the decision to support or reject the Haddignton Road Agreement. He also points to his own union, Mandate, who in the last year won pay increases for many of their members. According to John, this was because of "our members taking control and saying we will fight for pay increases. The membership were the driving force to succeed."
I put it to John that there is a credibility problem with the leadership of trade unions. On one hand the leadership are sabre rattling about government austerity while earning very high wages and not taking a strong enough stand. They are seen by many ordinary workers as part of the problem.
"Mistakes have been made but there has been an orchestrated campaign to demonise the trade union movement."
This campaign is fuelled by forces, he says, "who see the trade union movement as the only defence line against what they want to do and that is to deregulate everything, privatise everything and to rebuild their financial castles again".
Two unions, Unite and SIPTU, are officially affiliated to the Labour Party. This has led to a muted response, particularly by SIPTU, to many of the worst aspects of austerity, many people believe. Workers, their families and communities are frustrated by trade unions who are so closely associated with the Labour Party, a party in government enforcing an austerity agenda.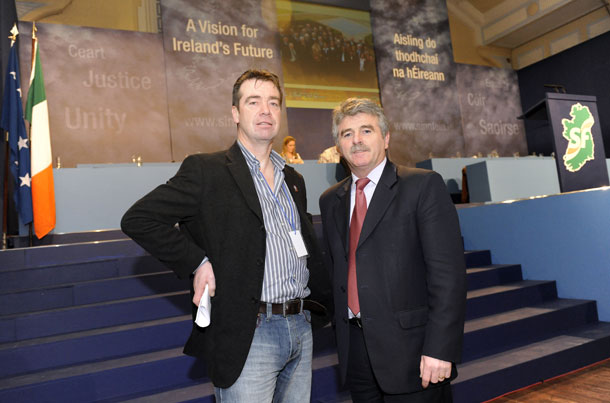 • John with Arthur Morgan TD at the Sinn Féin Ard Fheis in Dublin in 2009
John believes that trade unions should be independent of any one party but should work closely with progressive political parties, including Sinn Féin.
John reckons unions need to "reclaim their own space in conjunction with political parties".
"Trade unions should support political parties who espouse the same values as the trade union movement. We are going nowhere without a political wing."
To do this trade unions need to align themselves to progressive parties, communities and the community sector, the ICTU President says. John believes this will happen but the emergence of left wing progressive politics has been slow in Ireland because of our history. Like many post-colonial states, 'Civil War politics' has dominated the political landscape. John is optimistic that that is now changing.  He supports the evolvement of Sinn Féin as "a progressive left-wing party with the ethos and values that are working class".
In order to break the conservative axis between Fine Gael and Fianna Fáil, an alternative needs to be created – "A broad left alliance including progressive left-wing parties and left-wing Independents," he proposes.
That possibility was there following the last general election in 2011 but the Labour Party jumped into the bed made by Fine Gael, I say.
"Yes," John replies, "and now, unfortunately, the level of influence Labour were able to exert on the inside has been minimal." 
Looking to the future for a left-wing alliance, John maintains we have no alternative.
"There is no future in the cannibalisation of the vote on the Left. We need to target the Fianna Fáil and Fine Gael supporters, cogently saying to them it is not in your best interest to vote for these parties."
If these parties are not seriously challenged, Douglas predicts, Ireland will continue to be dominated "by the merry-go-round of right-wing conservative, Christian Democratic parties ruling in the interest of their own class".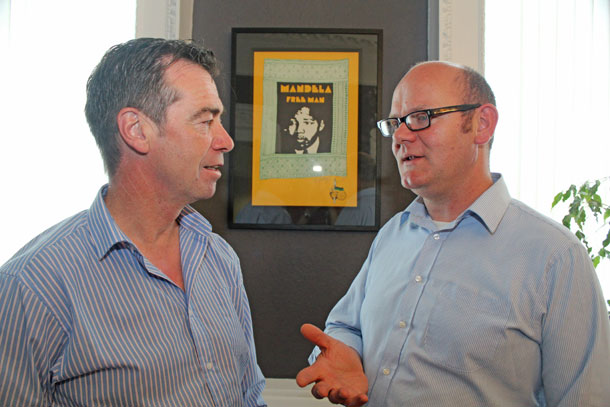 • New President of the Irish Congress of Trade Unions John Douglas talks to Daithí Doolan
Mandate was previously known as the Irish Distributive & Administrative Union. IDATU became a household name in 1984 when 12 Dunnes Stores workers refused to handle produce from South Africa, then under apartheid rule with Nelson Mandela and many more imprisoned and their people brutally oppressed. The strike lasted more than two years but it highlighted the issue of sanctions and the stand by young Irish trade unionists made worldwide headlines.
Challenging oppression at home in Ireland has been a thornier subject for the trade unions, particularly in the Six Counties.
"Trade unions had a tightrope to walk on. A lot of our members in Northern Ireland are of different persuasions, different political beliefs, different traditions, and in order not to alienate particular sections of our membership a middle ground was taken.
"Sometimes a more black and white stand should have been taken," he admits.
"Going forward, the only way we can unite the working class in Ireland is to become relevant. We have more in common together than divides us.
"We have a vested interest in uniting the working class, both North and South and regardless of those traditions, to fight for justice, decent jobs and decent wages."