5 August 2013 Edition
The Battle for Moore Street
James Connolly Heron – great grandson of James Connolly – on the tragic state of the birthplace of the Irish Republic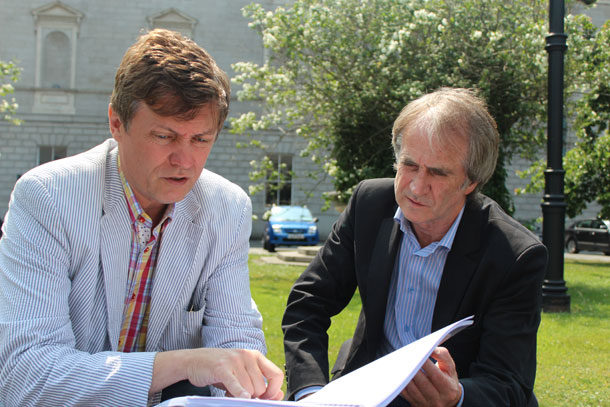 There is amazement amongst relatives of the 1916 founders of the Republic at the lack of interest by much of the media and Establishment politicians to the campaign to save Moore Street's history
I MEET Jim Connolly Heron – the great grandson of James Connolly – and Save Moore Street campaign spokesperson Patrick Cooney in Leinster House. Just four days earlier they were due to visit the National Monument on Moore Street alongside TDs Gerry Adams, Mícheál Martin, Joe Costello and Maureen O'Sullivan to see for themselves the awful condition the terrace is in. At the last minute, developer Chartered Land refused permission for them to visit, declaring the presence of Jim and Patrick was unacceptable. It was the third time that leaders of political parties have been denied access.
Jim says it's an extraordinary situation "where a golden circle developer, funded by the state and paid €200,000 per year can dictate to public representatives whether or not they can enter a designated National Monument that he has allowed fall into decay and dilapidation".
As a founder of the 'Save Moore Street Campaign', Jim has dedicated countless hours trying to protect the historical street – where the last meeting of the Provisional Government of the Irish Republic was held — with the ultimate aim of transforming it into a historical revolutionary quarter. It's something which has received great support from the public and most politicians. Yet the future of the birthplace of the Irish Republic remains uncertain. The developer who owns the site wants to demolish much of the street and stick a six-storey shopping mall in its place.
I start by asking Jim what he thinks of his grandfather's legacy.
"Well, it's unfulfilled," the revolutionary leader's descendant replies. "He saw himself as the disturber of the political peace and if he was around today I'm sure he would be still engaging in that sort of activity. It's ironic that, a century after his death, the issues he dealt with in his lifetime have come back to haunt us – unemployment, emigration and others. So he's still relevant today."
Growing up, Jim says he was conscious of having such a figure in the family.
"His picture was on the wall and his books were around but I discovered James Connolly myself."
Jim points out that, in his schooldays, the Easter Rising was not taught in the classroom so it was up to him to learn about his republican socialist great-grandfather. In the home, Jim has a medal which was presented to his great grandfather by the Independent Labour Party following the 1913 Lockout. A quote inscribed on it reads: "A felon's cap is the noblest crown an Irish head can wear."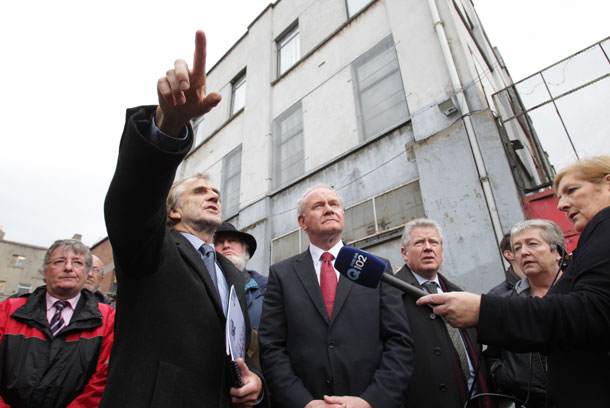 • Jim gives Martin McGuinness a walking tour of Moore Street during the 2011 Presidential Election campaign
Jim also tells me that he has a lock of his grandfather's hair which was cut off the night before his execution.
He also has the letter of proposal he sent to his then-girlfriend, Lillie.
"After the executions, Lillie went in to meet [British Army commander] General Maxwell – it must have been a very difficult meeting – and asked for his belongings but they only managed to get a watch and a pocket book. So there wasn't much left."
Jim says many people have an image of James Connolly as a dour type of character but those who knew him say he had a great sense of humour. "There was a very human side to him which often isn't recognised."
Jim's message to people who are not already involved in trying so save Moore Street is that they need to look at what could be lost.
The buildings in Moore Street were the last headquarters of the Provisional Government of the Irish Republic and the spot where the last Council of War was held. It was from here that Pádraig Pearse issued surrender orders to prevent the further loss of civilian life.
"Bulldozers are going to move in before our very eyes and obliterate a large section of the capital city which includes an area of such historical importance," says Jim.
There is amazement amongst relatives of the 1916 founders of the Republic at the lack of interest by much of the media and Establishment politicians to the campaign.
"It doesn't seem to embarrass anybody that relatives have to campaign to protect a monument designated in memory of our forebears. To me it seems there is no sense of sacrifice passed on through generations. The relatives of the 1916 leaders today inherit that sacrifice. There is a duty on our part to act to preserve and protect something designated in honour of our relatives. The fact the state can sit by and watch this is deeply insulting. I know relatives who cannot stand in Moore Street because the condition of the buildings upsets them so much. Would this happen in any other country?"
It's a question I've often heard asked by tourists and visitors in the bookshops and coffee shops near the offices of An Phoblacht at the top of Moore Street. After taking the walking tours which cover the buildings and lanes of the northside of Dublin City centre, most are shocked that nothing has been done to preserve or restore such an important part of Ireland's history.
"I wasn't too happy with the tours when they started," admits Jim. "I was embarrassed bringing anybody down there. I thought it was shameful. But I have to say that was a breakthrough. The walk has a visible effect on those who take it – it moves them."
For many, it appears as if the state is ashamed of its history, he says. Instead of the Easter Rising being presented to the world as a momentous event in Irish and world history – when a small nation stood up against the might of the most powerful empire on the planet and inspired others worldwide – it is hidden away with only a handful of tiny plaques marking some of the most important locations.
"We don't present our revolution," says Jim. "It's as if it didn't happen."
Jim recalls when Martin McGuinness took the tour of Moore Street during his Presidential campaign.
"He put it very well when he described it as a national treasure."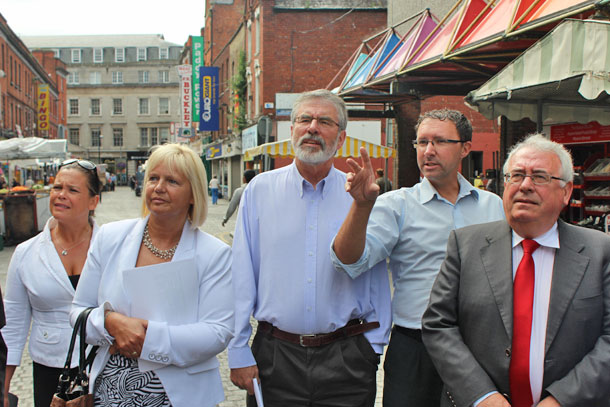 • Structural engineer Arthur Broderick points out damage to the National Monument on Moore Sreet to Sinn Féin TDs Mary Lou McDonald, Sandra McLellan and Gerry Adams and Labour Party Minister Joe Costello
Jim tells me:
"The state's behaviour on the issue of Moore Street is a microcosm of what's been happening during the Celtic Tiger years and since the collapse of the economy. We have a golden circle developer, we have Anglo Irish Bank directly involved [it was the developer's bank], city management, secrecy and contracts signed behind closed doors, the failure of those responsible for the heritage and history of the city to carry out their duty – everything is encapsulated in the campaign to save Moore Street."
Jim finds it astonishing that a NAMA developer would have control of a National Monument designated in honour of those who gave their lives for Irish freedom.
"It's the great contrast between those prepared to sacrifice their lives for their country and those prepared to sacrifice their country for their lifestyle. The golden generation versus the golden circle."
Patrick highlights how the National Monuments Service took over responsibility for monitoring Moore Street in 2007. Their headquarters is in the Custom House, just a ten-minute walk from Moore Street. When the campaign group gained entry to Moore Street six years later, the buildings were in a state of near-collapse. "You have to ask yourself, what were the National Monuments staff doing? The closest National Monument to their headquarters has fallen into a state of decay and dereliction before their very eyes. These are well-paid public servants. What have they done?"
Other questions surrounding the contract for the land and backroom deals between the developers and Dublin City Council officials have also been raised in a TG4 inestigative documentary.
So what does the future have in store for Moore Street?
"We want it to become a real 1916 historical and cultural quarter. A Temple Bar without the pub saturation, if you like," Patrick smiles, "a living quarter that presents the street as one of immense historical importance. In any other country in the world it would be cherished and presented properly. It wouldn't be handed over to a developer to create a shopping centre."
The Moore Street Campaign wants to take the Anne Frank House approach, presenting the buildings as they were at the time of Easter Week 1916. If the developer gets his way, up to two thirds of the monument will be lost and 30 feet from the rear of the historic buildings will be a seven-storey car park. Jim says there is no public support for sticking a shopping centre on the site and asks incredulously why Fine Gael Heritage Minister Jimmy Deenihan is even contemplating the idea.
He also points out that if there is evidence that a National Monument has fallen into neglect, the Heritage Minister must act. Exclusive photos from inside the buildings published in An Phoblacht in March showed the awful state of disrepair and neglect the terrace has been allowed to fall into. Even developers Chartered Land describes them as "derelict".
The great grandson of James Connolly describes it another way:
"It's a national disgrace what's going on."
 Show your support for the Save Moore Street Campaign www.facebook.com/savemoorestreetdublin