5 August 2013 Edition
Abolish the Seanad – Reform the Dáil
Editorial | Eagarfhocal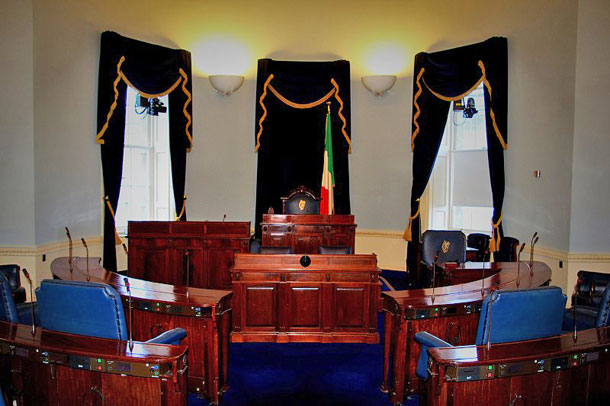 SINN FÉIN is supporting a 'Yes' vote for the abolition of the Seanad in the referendum on 4 October.
The Seanad is elitist.
There is no universal suffrage.
Only certain people have the privilege of electing senators; the overwhelming majority of citizens are barred from voting who sits in the Seanad to legislate on laws affecting their lives. The Taoiseach appoints 11 senators – the 'chosen few'.
The Seanad is accountable to nobody.
The Seanad rubber-stamps Government policy — the Government has an inbuilt majority, so instead of holding Fine Gael and Labour to account, the Seanad rubber-stamps their policies.
The Seanad has supported the Government on every single occasion (including the introduction of the Property Tax, cuts to disability payments and the promissory note deal which is costing the tax payer €30billion) in the past three years.
Fianna Fáil is leading the campaign for keeping the Seanad by calling for reform. Where was the reform over the 14 years of governments led by Fianna Fáil and Mícheál Martin, when it had the power to change the Seanad?
Since the late 1970s, there have been 12 successive reports produced proposing reform of the Seanad – not one has been implemented.
What is needed is real Dáil reform to ensure greater parliamentary oversight and accountability (including a new Dáil Committee to scrutinise the Department of An Taoiseach and the Economic Management Council), and representation in the Dáil for Irish citizens in the Six Counties and overseas.
On 4 October, vote 'Yes' to abolish the Seanad and campaign for Dáil reform.