2 June 2013 Edition
SMEs and EU funding
This is funded by the European United Left/ Nordic Green Left (GUE/NGL)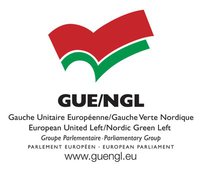 It is important that we recognise the contribution of SMEs, which account for more than 98% of Europe's businesses and provide more than 67% of jobs in the EU
SINCE the inception of the European Peace Fund initiative, the North has seen the funding of over 22,000 projects, benefiting hundreds of thousands of people. But it is not just Peace Funds that have assisted projects across Ireland.
While projects such as conflict resolution and victims and survivors' projects were helped greatly by these funds, infrastructural, transport, tourism, enterprise and knowledge-based projects have also been boosted by other EU funding streams, such as the European Regional Development Fund (ERDF) and the European Social Fund (ESF)
The financial package negotiated by Martin McGuinness and Peter Robinson with the British Government will see an additional €50million on top of the recent proposal for €150million Peace IV funding from Europe. While these funding streams will ensure the continued development of many worthwhile, community-based projects, there are many other opportunities presenting to assist small and medium enterprises (SMEs) and research and innovation projects.
The Horizon 2020 EU Funding programme, which runs from 2013-2020, is specifically targeting research and innovation. ERDF funding for integrated sustainable development is also available and these funding streams are an under-utilised potential financial resource for SMEs.
When EU Commissioner Máire Geoghegan-Quinn recently appeared before the European Parliament, I raised the lack of awareness or understanding of how to access this funding by SMEs. I pointed out that, in the North in particular, out of a pool of over 70,000 companies, only 400 invest in R&D with the majority unaware of how to access EU support.
I reiterated my position of encouraging a more joined-up approach on the policy of innovation, research and development on an all-Ireland basis.
As a low-performing area, I believe that the North would benefit greatly through increased co-operative planning and joint enterprise between Invest NI and Enterprise Ireland. I would like to see more evidence of the promised simplification of the application process. I would also like to see a strategic role for the Commission in encouraging and facilitating an all-Ireland synergy in this area.
Recognising the benefits of the all-Ireland synergies that exist should allow business and higher education and public research institutes to benefit from the strategic framework of Horizon 2020. I would like the Commission to encourage those interactions.
It is important that we recognise the contribution of SMEs, which account for more than 98% of Europe's businesses and provide more than 67% of jobs in the EU.
The future success of SMEs and their role in job creation over the coming years will depend on governments putting in place economic policies that will allow SMEs to flourish and to develop quality products and services. Ease of access and flexibility in EU funding allocations is essential so that SMEs can take full advantage of all financial assistance packages available.
On 25 June I hosted a cross- border delegation representative of Chambers of Commerce, other business organisations and partnerships in the European Parliament in Brussels. The purpose of the delegation was to investigate how best the European Union can promote social and economic development while delivering growth and jobs (particularly along the Border Corridor) by encouraging our local SMEs and independent retail sector to avail of much-needed EU funding streams.
The delegation's focus was on the areas that I had raised with Commissioner Máire Geoghegan-Quinn – the need for simplification as well as streamlining, flexibility and transparency regarding the funding application process.
» Martina Anderson MEP is a member of the GUE/NGL Group  in the European Parliament