2 June 2013 Edition
The Two Brendans: Soldiers of South Armagh
Book review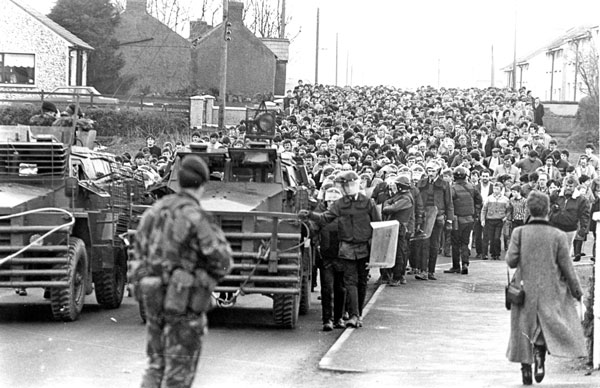 Legends in Their Time – 25 Years On Price: €9.99
THIS lavishly illustrated, full-colour publication marks the 25th anniversary of the deaths of IRA Volunteers Brendan Burns and Brendan Moley on active service.
Produced by South Armagh Sinn Féin, Legends in Their Time looks at the lives of 'The Two Brendans' as well as the most recent phase of the conflict in the south Armagh area, including previously unpublished photos.
As well as giving the reader an insight into the lives of the two Volunteers, some of their lesser-known exploits during the conflict are told in fascinating detail. We hear how Brendan Burns and his comrades, using evasion and some impressive driving skills, managed to give the slip to a pursuing British Army helicopter along the Border. And how, with the help of a sympathetic Dublin taxi driver, a remarkable ability to scale high garden fences and a friendly local TV installer, he managed to evade a very determined Garda Special Branch squad.
Brendan Moley also displayed an uncanny ability to avoid detection, whether tip-toeing past a British sentry or just 'hiding in plain sight'. The book recalls: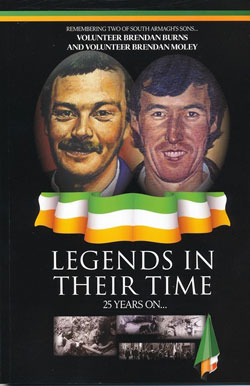 "When the Brits burst into the house, Brendan was sitting at the table reading the paper. He had long hair at the time and the Brits must have thought he was a woman. They left with all the men under arrest and Brendan remained at the table with his newspaper."
The reader also learns about the long history of resistance in the south Armagh area. From fighting against the Anglo-Norman invasion in the 12th century, resistance to the Ulster Plantations and the more modern battles with the British during the Tan War, it is not surprising that the area remains staunchly republican and completely opposed to foreign interference in Ireland.
Legends in Their Time  provides the reader with an in-depth analysis of the IRA in south Armagh, making it clear why a posting to Crossmaglen or Forkhill bases was something that struck fear into the most hardened of British soldiers. The book includes fantastic photos throughout along with news clippings and 'War News' reports from An Phoblacht.
Legends in Their Time is a fitting tribute to the memory of  Brendan Burns and Brendan Moley and comes highly recommended.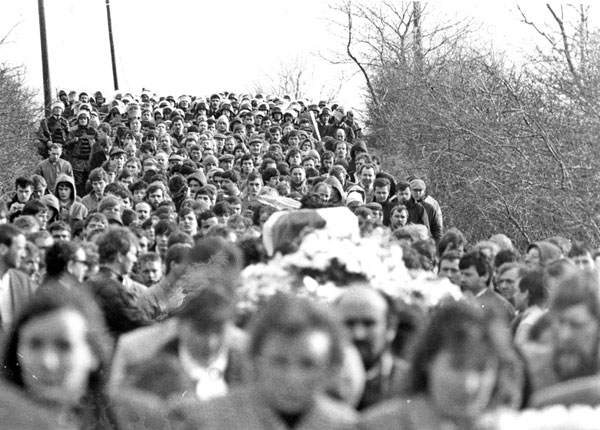 • Thousands of mourners attend the funeral of Volunteer Brendan Moley
Legends in Their Time – 25 Years On
Price: €9.99
Reviewed by Mark Moloney