2 June 2013 Edition
This is Don Baker
Time to come off the fence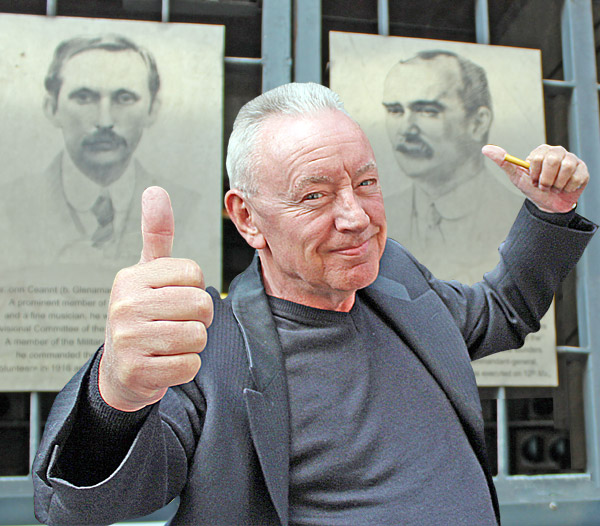 'The greatest harmonica player in the world' – Bono
DON BAKER is a remarkable man. Not just in terms of his musical talent (Bono called him "the greatest harmonica player in the world") but in his fight to emerge from an early life in Dublin's inner city dominatd by TB, an alcoholic father, juvenile crime and a brutal incarceration in an industrial school run by the Catholic Church.
Don Baker is a survivor.
He spoke to JOHN HEDGES as he releases a new number on iTunes – 'Woe to the Holy Vow'.
BORN into a Dublin Corporation house working-class Whitheall in 1950, Don's father was a waiter in the Gresham Hotel and regularly played snooker at the Cosmo Club in O'Connell Street. He was known for his habit of falling asleep under the snooker tables from a combination of drink and tiredness. He would often go straight to work from the snooker hall.
As a child, Don stole from neighbours' gardens – from vegetables and rhubarb and rabbits – to literally put food on the table.
He didn't thieve because it was easy; it was out of necessity. He was, he says, "driven by an intense survival instinct – a desire to see us through somehow or other". In between robbing, he sold jam jars and helped the grocery man on his Saturday deliveries. He got out of bed at 3am on cold, wintry mornings to do the same on a milk round. "I did anything to bring in the badly-needed shillings."
The family were evicted from their Whitheall home for rent arrears and dispatched to a flat in Corporation Buildings in Foley Street, near Connolly Rail Station. It was a tough neighbourhood. His teenage years were a catalogue of violence and crime.
"I couldn't rationalise it then, back in the 1960s," he tells An Phoblacht, "but I was going to either starve or become a juvenile delinquent. So I chose to be a juvenile delinquent."
At the age of 13, he was sentenced to two years in the now notorious 'reform home' at Daingean, in County Offaly, run by the Oblate Fathers.
He left Daingean – scarred physically and emotionaly – at the age of 15.
After six years in Corporation Street, the Bakers – then two parents and five kids – moved to a three-roomed flat in Common Street, close to Sheriff Street.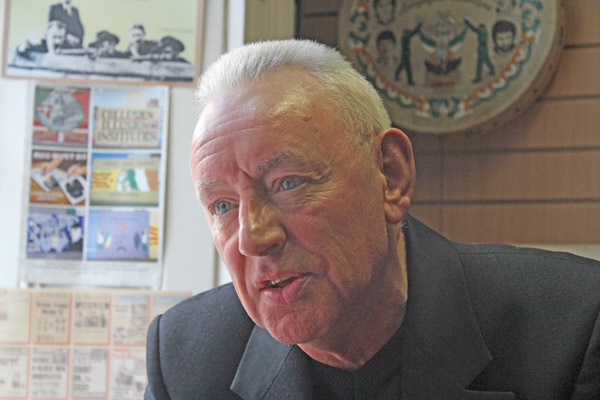 Daingean was supplemented by jail time in the juvenile prisons at St Patrick's Institution (adjoining Mountjoy Prison) and Shanganagh Castle in South County Dublin.
In later years, coming home from a gig in a Dublin pub where all he got for his night's efforts were his drinks, he met two pals and joined the Defence Forces the next day "on a whim" but with an eye to getting into the Army School of Music. Completing his nine months' training, he enthusiastically made his request only to be told, at the age of 23 or 24, that he was too old – he should have done it at 17.
Growing disillusionment with the army through the thwarting of his musical ambitions and the death of his father came to a head wth the arrest of IRA Chief of Staff Seán Mac Stíofáin in November 1972. Mac Stíofáin immediately went on a hunger and thirst strike and was taken from the Curragh Camp Prison to the Mater Hospital in Dublin. Protests took place outside the Mater for him to be freed. Don Baker's fellow soldiers were assigned to guard the republican leader against rising public anger. The Bloody Sunday massacre had been carried out by the British Army's Parachute Regiment in Derry in January of that year. Don Baker felt the tension.
"Some of my neighbours and friends were among the demonstrators," he recalls in his biography, The Winner in Me. "The prospect of Private Don Baker in full riot gear, shield and baton having to club his unarmed and defenceless mates was one which did not appeal to me in the slightest. I took the only reasonable course of action I thought was open to me: I disappeared over the wall of the barracks and went AWOL – Absent Without Leave."
Three-star Private Don Baker was arrested and returned to military custody. He then secured a medical discharge even though he was as fit as a fiddle.
The music
As a child with TB he spent a lot of time in the James Connolly Memorial Hospital in Blanchardstown.
"When I was six, then around nine, and again about eleven. When I was in there the second time, when I was nine, there was a guy in there who had TB of the spine and he was on his back all day long. He couldn't watch TV; all he could do was read a book or play harmonica and that got me hooked. My mother brought one up to me and I started playing.
"I took up the guitar in Shanganagh Castle when I was 17 and I've been playing music ever since."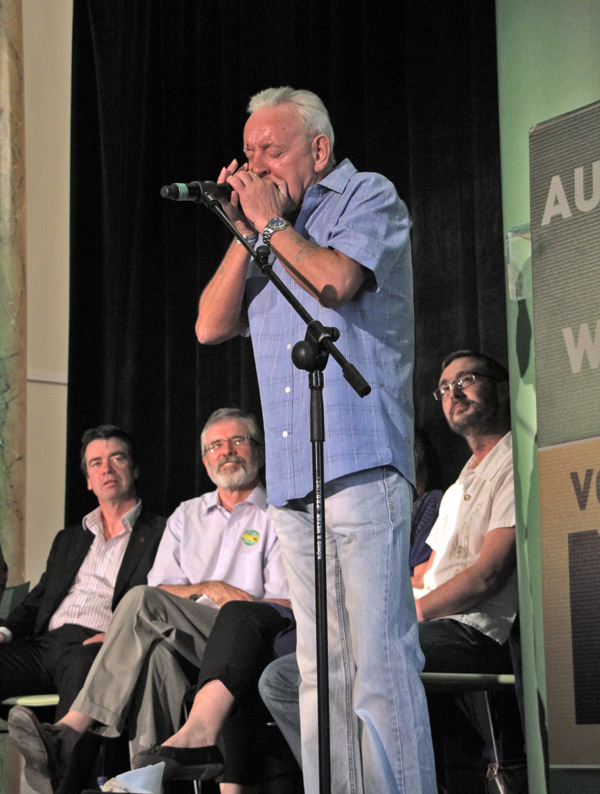 • Don plays at the Sinn Féin gig against the EU Austerity Treaty in the Rotunda in May 2012
But what got an inner city tearaway immersed in the blues, a genre with its origins in African-American slaves toiling away in the cotton fields of the Deep South?
"Blues are spiritual. It's nothing to do with the colour of your skin, You don't have to be black to sing the blues," he says, rattling off a string of famous white blues artists, including Janis Joplin and Eric Clapton. "And it's not about where you live. The blues are about feelings."
The first song he ever wrote was an anti-motorway protest song perhaps surprisngly commissioned by RTÉ's The Late Late Show in 1979 – and it was a Number 1 hit. It was called Dublin's Inner City and recorded by The Jolly Beggarmen,
"It was kind of in cahoots with Tony Gregory because I was living in the inner city at the time. The Government wanted to plough a motorway through the inner city and basically evict people living there. That's how the song-writing began. I didn't think I could write songs before that. I've been writing ever since."
His new album is called My Songs, My Friends. It's 20 tracks written by Don Baker sung by other artists, including Brian Kennedy, Eleanor McEvoy, Liam Ó Maonlaí, Damien Dempsey, The High Kings, Paddy Casey, Sinéad O'Connor and Finbar Furey.
As An Phoblacht is about to go to print, Don rings us to let us know his new song about the Catholic Church, Woe to the Holy Vow, featuring Sinéad O'Connor and Damien Dempsey, has just been released on iTunes. It's clearly aimed at the Catholic Church but, Don shows no bitterness and he doesn't want to offend anyone:
"I'm not into revenge; I'm very much into forgivess.
"I need to and I choose to forgive the Catholic Church for all the things done by them or in their name. I'm not looking to blame them; I'm looking to place responsibility."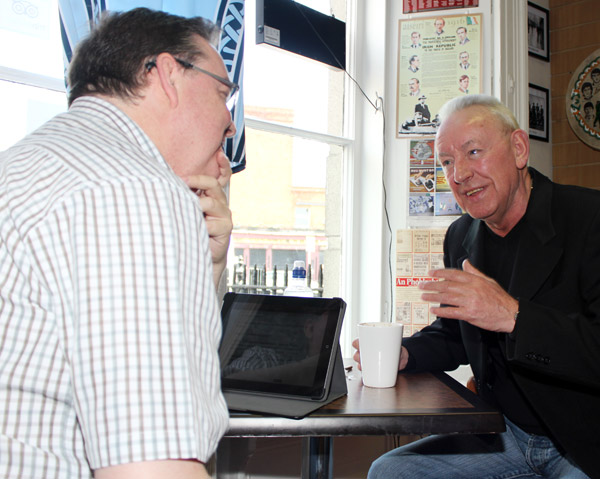 'I'm a rebel'
Don did a set at the Sinn Féin rally in May of last year at Sinn Féin's final rally in Dublin's Rotunda calling for a 'No' vote against the EU Austerity Treaty.
He told the audience after a barnstorming set that it was "time to come off the fence".
Why now?
"By sitting on the fence I wasn't doing anybody any good and I thought that, as an artist and a songwriter, some people might listen to me. I'm not trying to push my views on anyone; I'm just saying this is who I am, this is what I believe, this is who I support, this is Don Baker.
"I think Sinn Féin people are truthful and are honest. Not only that, they support the worker. They support the guy like me and where I come from. That is why I support Sinn Féin.
"I'm a rebel that wants to be associated with courageous people who will stand up and be counted.
"I've read Gerry Adams's books and I've met the man and, I won't deny it, I was impressed. I don't know any other politician that takes four bullets in the chest and gets out of bed and goes back to work."
Don is forthright in declaring that he does not endorse violence and did not support the armed struggle of the IRA. He can see why people took up arms even though he didn't agree.
Today, it's a different kind of struggle.
"I think we desperately need change in this country. I'm an ordinary Joe Soap when it comes to politics but I'm as intelligent as the next person and I can tell you this much – I know what's right, what's true as opposed to false, and what's good as opposed to bad."
"When I see Mary Lou McDonald on the TV, or Gerry Adams or Pearse Doherty or Martin McGuinness, I'm saying to myself:
"Do I believe these people? Yes, I do.
"Do I think these people are honest? Yes, I do.
"Do I trust these people? Yes, I do."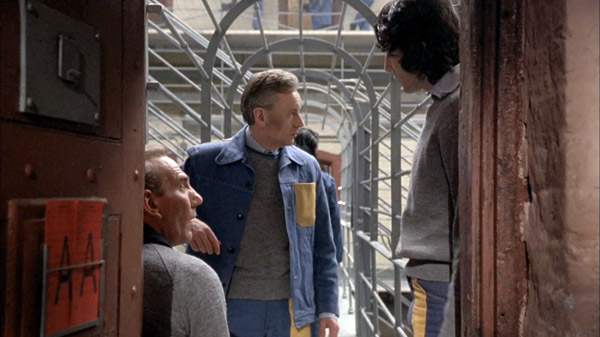 • Pete Postlethwaite, Don and Daniel Day-Lewis in the Oscar-nominated film, 'In the Name of the Father', about the framing of the Guildford Four
Daniel Day-Lewis
Don's first-hand experience of being in prison came in handy when he landed the part of jailed IRA Volunteer 'Joe McAndrew' in the Oscar-nominated 1993 biopic, In the Name of the Father, about the framing of the Guildford Four for IRA bombings of English pubs used by British soldiers. Daniel Day-Lewis played Gerard Conlon. (Director Jim Sheridan and Daniel Day-Lewis used to meet Don at his gigs.)
Film critic Barry Norman noted his performance as impressive. And Don still finds it hard to accept he is an actor despite savouring the glitz and the glamour of the star-studded Oscars with Daniel Day-Lewis, Pete Postlethwaite and Emma Thompson.
"The 'kid from the slum' gets to walk the red carpet in Hollywood – seen on worldwide TV with hundreds of camera flashes going off and helicopters flying overhead – after working with the greatest actor in the world. Come on! It was incredible."
He pulls me back to another special moment.
"For some people a prized possession is a work or art – a sculpture or a painting – for me, it's a belt. I wrote a song about being incarcerated, Been Alone Too Long, about being released from prison. Some of the prisoners in Long Kesh latched on to it, copied it and shared it, reaching the loyalist prisoners somehow, and it helped to create a bit of a bond with them."
When the Peace Process opened up, the ex-prisoners invited Don to the Red Cow Hotel in Dublin where they presented him with a belt in appreciation of that song and his music.
"It's inscribed Don 'Blues' Baker – From Long Kesh and that's my prized possession."