2 June 2013 Edition
Facebook, Twitter and YouTube – 'Sinn Féin wins hands down'
Political parties' social media efforts analysed in new expert report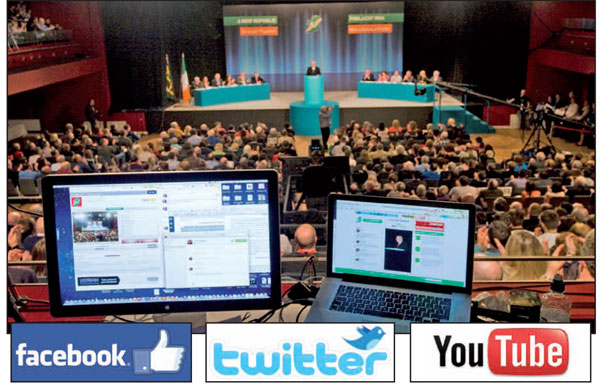 'There is huge potential out there for republicans to get our message out to tens of thousands of people on our own terms'
A NEW REPORT by SocialMedia.ie into the use of social media and online content by the four main parties in the 26 Counties shows Sinn Féin easily leading the pack.
The Dublin-based media and social marketing group said their study aimed to analyse the data and communication styles of the four main parties on Facebook and Twitter to spot trends, patterns and styles used by the main parties.
SocialMedia.ie co-founder and Chief Technology Officer Barry O'Sullivan describes Sinn Féin as the "clear winners, consistently posting engaging content" such as video clips and images and said "other parties could learn from this".
The report also noted that content from the Government parties  is viewed as misleading by a high number of users. Sinn Féin and other opposition parties are viewed more positively as users "feel like they are being told the truth".
On Twitter it is a similar story, with the report stating that "Sinn Féin wins hands down" with its consistent use of the platform to keep followers updated.
Michael Nolan of Sinn Féin's multimedia department told An Phoblacht (whose web content was also highlighted in the analysis) that the report is encouraging. He says that for a party that was subjected to draconian state censorship laws in previous years and is constantly misrepresented by the mainstream Establishment media today "the internet offers us the opportunity to level the playing field".
Michael added that he believes the party has held its top position because Sinn Féin offers a lot more than other parties in terms of content.
"We try to be as creative as possible in how we present our message – through videos, photos, infographics – and that resonates with pople. We also have a different story to tell compared to the Establishment parties and that plays a part in it."
Michael says there is still massive room for further development.
"We are only scratching the surface in terms of using the internet and social networks to mobilise people for action. Over the next number of months we will have an exciting number of new developments in terms of our online presence. Part of that will include a complete rebuilding of our main website.
"There is huge potential out there for republicans to get our message out to tens of thousands of people on our own terms and in our own words and images with an immediacy and directness that can change the way people think and act."
Facebook followers
Sinn Féin - 14,980
Labour - 7,804
Fine Gael - 7,206
Fianna Fáil - 4,664
YouTube video views
Sinn Féin - 1,357,645
Labour - 535,171
Fine Gael - 285,602
Fianna Fáil - 111,158