3 March 2013 Edition
What colour is the future?
Between the Posts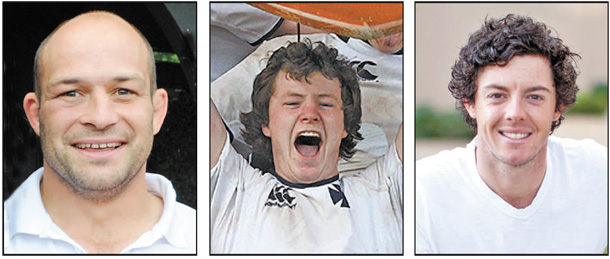 Maybe if Rory McIlroy had been following Ireland's rugby fortunes he would have caught on to the idea that playing for Ireland does not mean giving up on who you are
WATCHING ENGLAND beat Ireland in the Six Nations rugby international was not a pretty sight. But it wasn't a completely wasted afternoon.
The right boot of England's 21-year-old Eoghan Farrell decided the final scoreline. However, it was the flight of the ball as he kicked it between the Irish goalposts which gave the match a meaning more than Ireland's defeat.
For hoisted high above the despairing Irish fans were three flags: the Irish national flag, the Tricolour; England's red and white St George's Cross; and the gold and red provincial flag of Ulster.
This is not the first time the provincial flag of Ulster has been on display at Ireland's rugby internationals. In the 2011 Rugby World Cup, the Ulster flag and the Irish flag were carried by the country's team into competition. This is the way by which the Irish Rugby Football Union has come to terms with the divided identities on our island.
Many great rugby players who have worn the green shirt with the shamrock crest have come from Ulster. The match that day against England was no exception. Rory Best has been one of Ireland's stalwart players. Against England, he gave no quarter and on many previous occasions his sporting feats have done honour to Ireland. His brother, Simon, also played for Ireland but was obliged to retire from rugby because of heart irregularities. What adds another layer of complexity to their lives in sport is that the brothers come from an Ulster Protestant tradition. So their role in Ireland's national rugby team, and others with the same Ulster Protestant background, is one to celebrate.
There are other interesting dimensions to this mix of identities and culture in sport. When Ulster played Leinster in the Heineken Cup Final, there was a preponderance of red and white Ulster flags among the fans. That flag, in various forms, has been associated with unionist political militants from the time of Carson and Craig. But, in almost equal number, the provincial colours of Ulster in red and gold were also on display.

Last year, the schools rugby cup was played, as always, on St Patrick's Day. The team that triumphed was from Methody, a grammar school near Queen's University in Belfast that has long since been associated with middle-upper class Protestant (and unionist) families. The team that won last year's schools cup, though, was captained by a young Catholic called Rory Winters. Together with eight of his Methody team-mates, he is an enthusiastic Gaelic footballer whose father once played for Down.
Old assumptions are being challenged in a way in which census data in the Six Counties can never capture. Some sportspeople seem to struggle with the concept of changeable identities. The best example of this is yet another Rory — Rory McIlroy.
Having rocketed to success in his own sport of golf, McIlroy was asked whether he would play for Ireland or Britain in the next Olympics. He fumbled his way through the public fall-out that followed. Whether he hadn't thought his answer through or was badly advised, he has since edged back from initial comments that he felt more British than Irish. Perhaps it is not fair to put sportspeople on the spot in such a way, although the question is always likely to be asked if someone is in such a public role as McIlroy.
Maybe if he had been following Ireland's rugby fortunes, McIlroy would have caught on to the idea that playing for Ireland does not mean giving up on who you are.
The experience of the three Rorys — Best, Winters and McIlroy — should give us pause for thought. Even as towns and villages across Ireland hang out the Tricolour for St Patrick's Day this year, we do well to remember the significance of the colours on our national flag. It is supposed to mean peace between the traditions of green and orange on this island. That's something we should all do well to remember when we put it on display.
The green shirt and shamrock crest that Rory Best wears with pride for Ireland doesn't change the person he is, or the tradition he comes from. I'm glad it doesn't.