3 March 2013 Edition
The Civil War in Cabra
Remembering the Past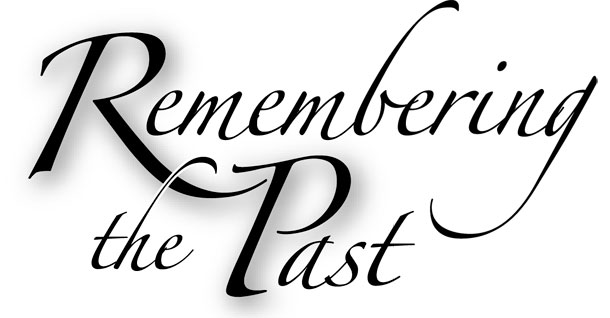 From August 1922 to October 1923, 25 republican activists and civilians were murdered in suspicious circumstances, murders linked to the CID group operating out of Westland Row and Merrion Square
NICKY KEHOE was a Sinn Féin councillor for Dublin North Inner City (including his home patch of Cabra) from 1999 to 2007. In 2002, he was just 74 votes from winning a Dáil seat in Dublin Central, coming third in first-preference votes in a constituency where the (then highly popular) Taoiseach Bertie Ahern habitually topped the poll.
Nicky retired from frontline politics in 2007 but has remained a committed republican. In this extended 'Remembering the Past', Nicky looks back at the Civil War murders in 1923 of two young men in his Cabra neighbourhood by shadowy Free State forces waging a dirty war against the IRA.
DUBLIN in April 1923 was coming to the end of the Civil War. The forces of the Free State Army were fighting the Irish Republican Army.
After the initial opening confrontation, the Free State Army had gained the initiative. With better weaponry such as artillery and more trained soldiers they had taken control of Dublin city. The Irish Republican Army resorted to a guerrilla war. This entailed ambushing patrols and attacking army barracks with snipers and explosives. To counter this threat, the Free State leaders relied on a new counter-insurgency force.
Before the outbreak of the Civil War in 1922, Michael Collins had set up an intelligence group made up of his old 'Squad' of assassins from the conflict with the British military, its police agents and spies. With the formation of the Free State Army, Collins's group was amalgamated with former members of the Royal Irish Constabulary and British Army to make up the Irish Free State Army Intelligence Department.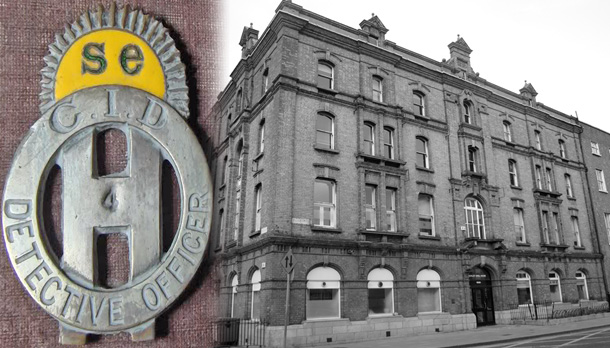 • The Criminal Intelligence Department was based in Oriel House on Merrion Square, near where the Davenport Hotel now stands
Free State Army Intelligence had their headquarters in Beggars Bush Barracks, Haddington Road, on Dublin's southside. A section from this group was called the Criminal Intelligence Department and based in the city centre, in Oriel House, on the corner of Merrion Square and Westland Row, at Number 88.
Also located in Oriel House were the Protection Corps and the Citizens' Defence Force (CDF), both of which guarded prominent Free State figures and buildings although the CDF, made up largely of ex-soldiers from the British Army, was funded under the budget of the Secret Service and carried out more clandestine activities.
There were 120 personnel in the CID in early 1922, expanding to more than 300 by their disbandment in November 1923. They had their own transport and weaponry. They collected intelligence on republicans around the city and would be part of the terror campaign against republicans right through 1922 till 1923.
In August 1922, a new Director General of Intelligence was appointed. Joe McGrath replaced Liam Tobin and the group was put directly under Kevin O'Higgins as Minister for Home Affairs. From August 1922 to October 1923, 25 republican activists and civilians were murdered in suspicious circumstances. Republican accounts, inquest evidence and eyewitness accounts would link some of these murders to the group operating out of Oriel House.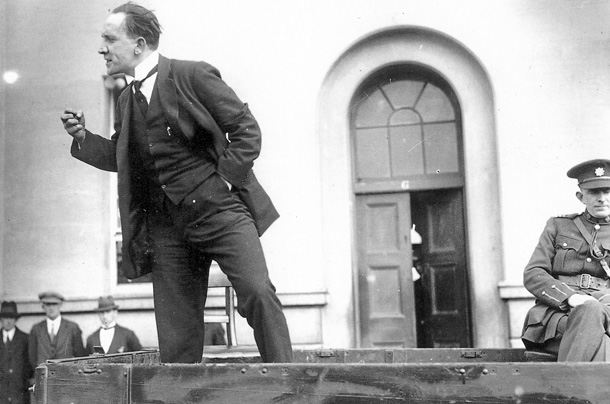 • The CID was placed directly under Minister Kevin O'Higgins's control – over the next year, 25 republicans and civilians were murdered in suspicious circumstances
Christopher Breslin, an intelligence officer with 'A' Company, 1st Battalion, Dublin Brigade, Irish Republican Army, was from a family that included Peadar, Thomas, Jamesey, Mary Margaret and Christy. They lived at 9 Mount Temple Road, off Manor Street. All the brothers were very active republicans. They were out in 1916 and Jamesey and Thomas were jailed in Ballykinlar and Frongoch in Wales. They were especially targeted because of their involvement in many actions against the British forces in Dublin. They took the republican side in the Civil War even though they were offered positions in the Free State Army by Michael Collins. Peadar was quartermaster of the IRA in Dublin while Christy was a section leader and became an intelligence officer during the Civil War. Peadar had been arrested after the fighting in 1922 at the Four Courts. He was shot dead in an attempted escape from prison in October 1922.
Within six months, 26-year-old Christopher would be buried with him in the Republican Plot in Glasnevin Cemetery.
After 11pm on the night of 3 April 1923, a group of four men raided the Breslin family home. In the house at the time were Mary Margaret, Christy and his 12-year-old nephew, Thomas. The raiders said they were from the CID and taking Christy away for questioning to Portobello Barracks.
A man living at nearby Flower Hill Cottage in Cabra heard eight to ten shots. When Michael Foley went to his gate, he saw a car travelling back towards Dublin City. On going to the spot where he believed the shots came from, he found the body of Christopher Breslin with more than 12 bullet wounds.
Joseph Kernan came from a family of 14. He lived in Mercer Street, near St Stephen's Green. He worked for Eastman's Ltd and seemed to have no political affiliation.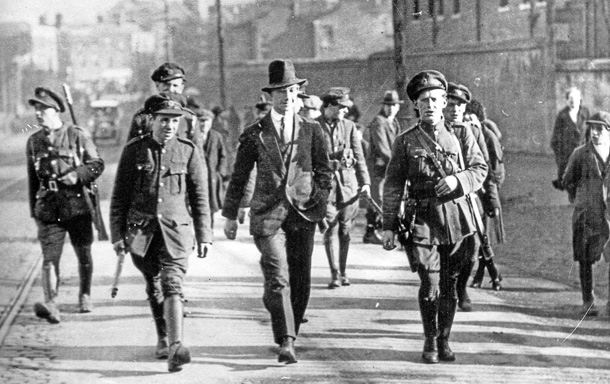 • A republican prisoner is marched to Mountjoy Jail under the escort of Free State soldiers
On 3 April, at 11:05pm, Joseph was standing on the roadway at Redmond Hill. He was talking to his girlfriend, Margaret Byrne, when a big 'military-type' car pulled up beside them. Two men got out and dragged him into the car, pistol-whipping him as they bundled him inside. His girlfriend protested but they ignored her. The car drove down Aungier Street, towards the city, speeding through a Free State Army checkpoint without being stopped.
At 11:20pm, on the Cabra Road, George Strachan heard what he thought were eight or nine shots. When he got to his gateway he saw a big car going towards the city along the Cabra Road. When he went to investigate he saw the bullet-riddled body of Joe Kernan in a nearby ditch.
Both bodies were found a little distance from one another.
Christopher Breslin was found on 'the convent road' (Ratoath Road) and Joe Kiernan not far away. Both bodies were taken to the Mater Hospital. The inquests into both killings were held two days later by the Dublin Coroner and some interesting evidence was heard.
In Christopher Breslin's case, his sister Mary Margaret and his nephew Thomas said they recognised one of the raiders. They said he had been at the house two months before but was then wearing a Free State Army uniform.
In Joe Kiernan's case, both his girlfriend and other witnesses said there was a Free State Army checkpoint down at the nearest junction from Redmond Hill and the car simply drove through it unhindered. The inquest brought in a verdict of wilful murder by persons unknown. The question of a public inquiry was raised by lawyers for the families of the victims but this was ruled out by the coroner, who indicated that the police would carry out any further investigations that needed to be done.
The cases were raised on 12 April in the Dáil by TDs Darrell Figgs and Tom Johnston asking for public inquiries. Liam Cosgrave, as President, maintained that the coroner's inquest was a public inquiry and said he had been told the Chief of Staff of the Free State Army would be holding his own inquiry into the killings. Asked if he would make this inquiry public, he did not answer.
Historians and political commentators on the 1922-1923 period have different opinions on who may have carried out the killings, two among 25 executions in a five-month period. Was it the Oriel House group or Free State Army Military Intelligence that killed Christy Breslin and Joe Kernan? Was it because of the large number of attacks by the IRA in the Cabra, Phibsborough and North Circular Road areas?
In November 1923, seven months after the IRA ended its campaign, the Oriel House squad was disbanded and its members moved on, some of them to other branches of the police, army or intelligence services. Although the assassins from Oriel House had served the Free State well as its iron fist against the IRA, they had also become an embarrassment.
Much of the evidence of the activities of Oriel House in CID files was destroyed at the time it was disbanded and at the change of government. There are, however, strong suspicions that some files may be held in secure military archives in Cathal Brugha Barracks or elsewhere in the Department of Defence that could help shed some light on Dublin's dirty war.
Are they there? And if they are, will they ever be opened to public scrutiny so we can have a fuller picture of this period and maybe discover who actually murdered Christopher Breslin and Joseph Kernan?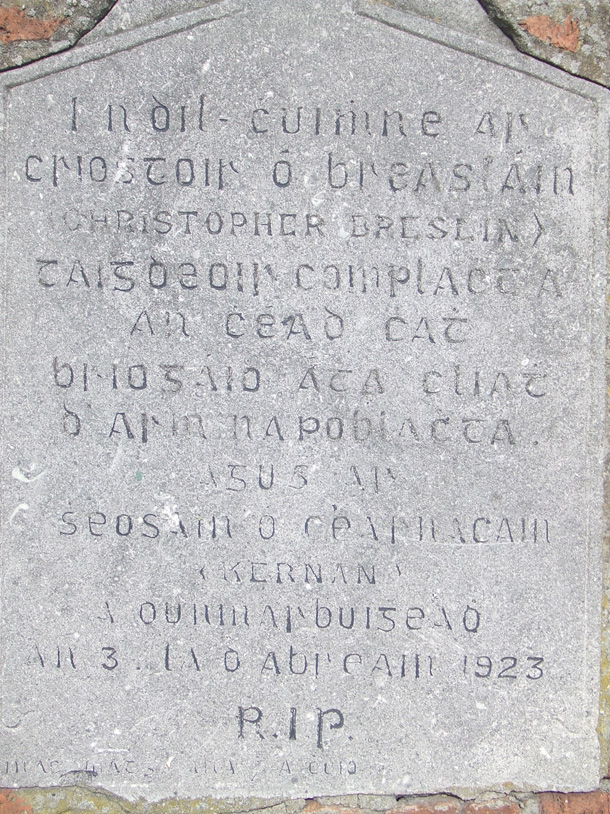 •  The faded plaque on Ratoath Road in remembrance of Christopher Breslin and Joe Kiernan