3 March 2013 Edition
Is Left unity an illusion?
If, however, Labour activists confine their dismay at the current devastation of their party to personalities and isolated issues, then no renewal of that party is possible.
THE opinion polls give consistently very comforting news for Sinn Féin, with the party's support nearly double what is scored in the Dáil general election in 2011.
This growth is very largely at the expense of Labour, whose support is nearly halved – a price which (quite rightly) Labour have paid for their betrayal of their voters in government with Fine Gael.
But it is obvious that Sinn Féin cannot change things on its own. Allies have to be found – either politically or in the broader working-class movement – to give real strength to the alternative challenge.
It is hard, however, to see a Labour Party that has so readily abandoned the working class and which has put the gold-plated pensions of its leaders above the interests of its voters playing any positive role in building the type of broad alliance necessary to defeat the forces of austerity.
A challenge to Eamon Gilmore's leadership is now quite likely, but will the alternative involve any change of policy?
The point has been made before that it is not enough for Labour activists to tinker around at the edges: they have to come up with a complete alternative to Labour's capitulation to Fine Gael. Replacing Gilmore by Joan Burton will not bring that about.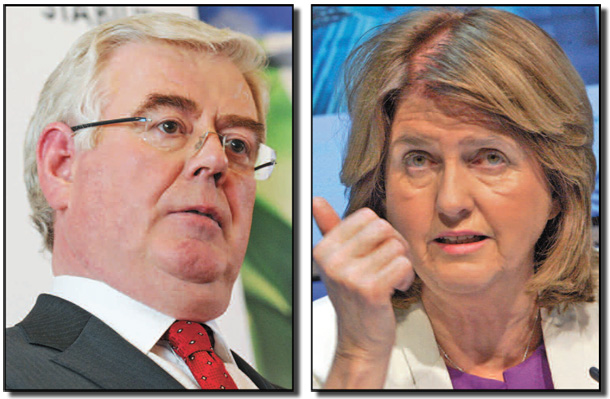 • Replacing Eamon Gilmore with Joan Burton will not bring about an alternative
Indeed, neither Roisín Shortall nor Colm Keaveney look to be serious leadership contenders and, in any case, are not themselves demanding a break with Fine Gael. Whether elements that will made that demand exist in Labour will be shown at the party's conference in the autumn. But without organised pressure from outside the party – in trade unions, community organisations and the broad movement of people affected by austerity – it is hard to see any challenge bearing real fruit.
The far Left is once again splintering into many factions with the potential of the United Left Alliance (ULA) being lost in bitter, internal recriminations.
At the same time, outside of the political parties, there is an almost quiescent working class, with many public sector unions, for example, afraid to take on the Government over the new round of pay cuts being proposed on the grounds that without negotiations the Government will impose even more stringent measures.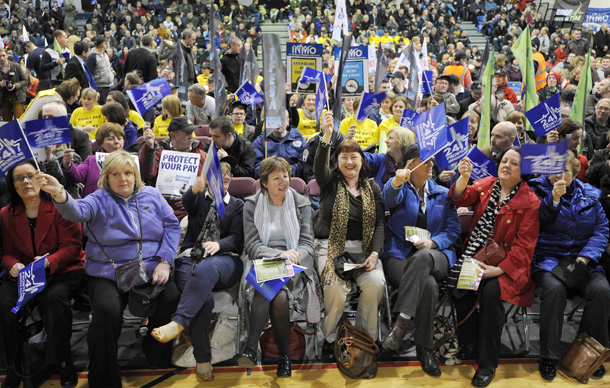 • Thousands pack into the National Basketball Arena for the 24/7 Frontline Services Alliance rally
It is astonishing that the gardaí have led the way in rejecting the idea of negotiating how stringent the wage cut will be. And they have set an example with the nurses, paramedics, firefighters and prison officers in the formation of the 24/7 Frontline Services Alliance to oppose any cuts.
The implication has to be that when push comes to shove the Government will be fought by industrial action. But will it be an isolated struggle, or will the broader movement join in?
So far, Sinn Féin is ploughing a lonely furrow, and it is rightly receiving increased electoral support as a result. But the real issue is winning enough support to make a change of policy: a rejection of austerity, a rejection of subservience to the EU and the bankers, and a rejection of putting the burden of the crisis on the ordinary working people while the rich get off scot free.
In the North, Sinn Féin has opened up what could be called the 'Difficult Conversation with Unionism' (or, more accurately, with those who presently support unionism). It is a vital part of overcoming sectarian divisions and building a broad democratic movement for national unity and independence.
It seems to me that a similar Difficult Conversation is needed in the South. A hand needs to be held out to those who consider themselves to be Left, genuine Labour or ULA, together with people active in resisting austerity at trade union and community level.
Left unity as an alternative to the succession of right-wing governments can only be achieved through breaking with the old ways of thinking, by reaching out with new ideas, rejecting old prejudices and building a coherent and comprehensive programme that will break both the cycle of Tweedledum and Tweedledee and the semi-permanent marginalisation of the Left alternative.
If, however, Labour activists confine their dismay at the current devastation of their party to personalities and isolated issues, then no renewal of that party is possible.
And if the Left in general wastes its time in internecine wrangles, the potential of capitalism's crisis will be lost also.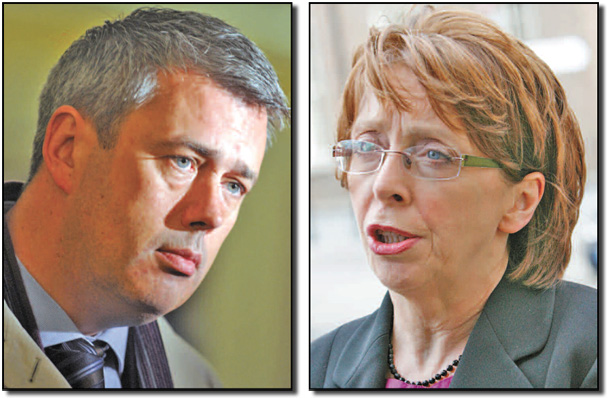 • Neither Róisín Shortall nor Colm Keaveney look to be serious leadership contenders