3 March 2013 Edition
Echoes of the Magdalene women
Taoiseach's Dáil apology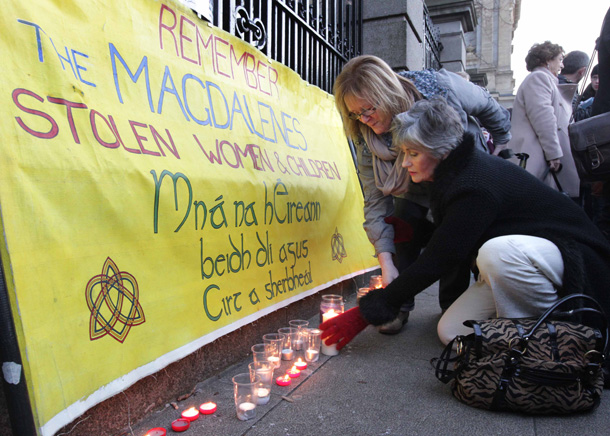 My family are by no means alone in our story and indeed my mother was very lucky to be adopted by a loving family; many other children were not so lucky.
THE EMOTION in the air in the Dáil public gallery was palpable when the Taoiseach at last made the long-fought-for apology to the women of the Magdalene Laundries. Tears of sadness, joy and relief started to flow. As the women held and supported each other through the speeches from TDs it was hard not to be overcome with the sense of sadness and hurt that was in the atmosphere.
For me, being there in the public gallery surrounded by these amazing women was an experience I don't think I'll ever forget and one which was deeply personal.
A year ago, my mother had a heart attack and was subsequently diagnosed with a heart condition. Family illnesses are tough on everyone. There's the hospital visits, the medication, adapting to a new diet, etc. In our case we learned that heart conditions are hereditary and that it is now important that my sister and I keep an eye on our heart health — all very normal for a family adapting to an illness. The difference for us is that we don't know if our family has a history of heart conditions, or any other illnesses for that matter. The reason is because my mother was adopted. 
On 28 November 1960, my mother was born. Unlike most people, she doesn't have a birth certificate. The only record of her birth in her possession is a piece of paper with the word "Female" and her date of birth written on it. There is no record of her parents. All her life my mother has been denied her records, including her medical records. In the murky world of Irish adoption in the 1960s this was the norm.
We don't know anything about my maternal grandmother. We don't know her story or what happened to her and despite a lot of research and phone calls to Government departments requesting records, we probably never will.
What we do know is that she was taken in by the Rotunda Girls' Aid Society, a Catholic adoption organisation that "saved many from shame, sin and sorrow" and carried out "God's own work of mercy and compassion". This organisation (of which there is very little record) took in young pregnant women under 21 and placed their children for adoption both in Ireland and in the United States. They were linked to a mother and baby home in Dublin and it is quite likely that that is where my maternal grandmother spent the first few weeks of my mother's life. What happened to her after that is a mystery. For all I know, I was sitting next to her in the Dáil gallery last night.
My family are by no means alone in our story and indeed my mother was very lucky to be adopted by a loving family; many other children were not so lucky.
The women in the Dáil gallery and indeed the thousands more who couldn't be there are an inspiration. They have seen what hell is like and yet they carried on fighting for justice, not just for themselves but for the women who came before them. They have lived through unimaginable pain but they never gave up.
For us, as citizens and as political activists, it is our job to make sure that society never forgets how this state treated its women in the name of control. The Magdalene Laundries were institutions with misogyny at their core, designed to keep us women in our place.
The Magdalene women will never get back what was taken from them. Nothing will ever ease the pain of so many years spent carrying that stigma, of being ignored by those in power. Enda Kenny's apology was a first step on the long road to justice. I know that these women will continue the fight and I hope in my heart of hearts that the ones gone before them can finally be at rest.