3 March 2013 Edition
Engaging with other republicans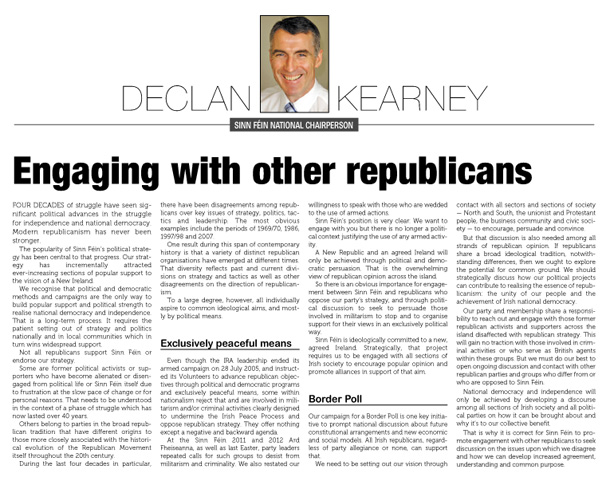 At the Sinn Féin 2011 and 2012 Ard Fheiseanna, as well as last Easter, party leaders repeated calls for such groups to desist from militarism and criminality. We also restated our willingness to speak with those who are wedded to the use of armed actions.
FOUR DECADES of struggle have seen significant political advances in the struggle for independence and national democracy. Modern republicanism has never been stronger.
The popularity of Sinn Féin's political strategy has been central to that progress. Our strategy has incrementally attracted ever-increasing sections of popular support to the vision of a New Ireland.
We recognise that political and democratic methods and campaigns are the only way to build popular support and political strength to realise national democracy and independence. That is a long-term process. It requires the patient setting out of strategy and politics nationally and in local communities which in turn wins widespread support.
Not all republicans support Sinn Féin or endorse our strategy.
Some are former political activists or supporters who have become alienated or disengaged from political life or Sinn Féin itself due to frustration at the slow pace of change or for personal reasons. That needs to be understood in the context of a phase of struggle which has now lasted over 40 years.
Others belong to parties in the broad republican tradition that have different origins to those more closely associated with the historical evolution of the Republican Movement itself throughout the 20th century.
During the last four decades in particular, there have been disagreements among republicans over key issues of strategy, politics, tactics and leadership. The most obvious examples include the periods of 1969/70, 1986, 1997/98 and 2007.
One result during this span of contemporary history is that a variety of distinct republican organisations have emerged at different times. That diversity reflects past and current divisions on strategy and tactics as well as other disagreements on the direction of republicanism.
To a large degree, however, all individually aspire to common ideological aims, and mostly by political means.
Exclusively peaceful means
Even though the IRA leadership ended its armed campaign on 28 July 2005, and instructed its Volunteers to advance republican objectives through political and democratic programs and exclusively peaceful means, some within nationalism reject that and are involved in militarism and/or criminal activities clearly designed to undermine the Irish Peace Process and oppose republican strategy. They offer nothing except a negative and backward agenda.
At the Sinn Féin 2011 and 2012 Ard Fheiseanna, as well as last Easter, party leaders repeated calls for such groups to desist from militarism and criminality. We also restated our willingness to speak with those who are wedded to the use of armed actions.
Sinn Féin's position is very clear: We want to engage with you but there is no longer a political context justifying the use of any armed activity.
A New Republic and an agreed Ireland will only be achieved through political and democratic persuasion. That is the overwhelming view of republican opinion across the island.
So there is an obvious importance for engagement between Sinn Féin and republicans who oppose our party's strategy, and through political discussion to seek to persuade those involved in militarism to stop and to organise support for their views in an exclusively political way.
Sinn Féin is ideologically committed to a new, agreed Ireland. Strategically, that project requires us to be engaged with all sections of Irish society to encourage popular opinion and promote alliances in support of that aim.
Border Poll
Our campaign for a Border Poll is one key initiative to prompt national discussion about future constitutional arrangements and new economic and social models. All Irish republicans, regardless of party allegiance or none, can support that.
We need to be setting out our vision through contact with all sectors and sections of society — North and South, the unionist and Protestant people, the business community and civic society — to encourage, persuade and convince.
But that discussion is also needed among all strands of republican opinion. If republicans share a broad ideological tradition, notwithstanding differences, then we ought to explore the potential for common ground. We should strategically discuss how our political projects can contribute to realising the essence of republicanism: the unity of our people and the achievement of Irish national democracy.
Our party and membership share a responsibility to reach out and engage with those former republican activists and supporters across the island disaffected with republican strategy. This will gain no traction with those involved in criminal activities or who serve as British agents within these groups. But we must do our best to open ongoing discussion and contact with other republican parties and groups who differ from or who are opposed to Sinn Féin.
National democracy and independence will only be achieved by developing a discourse among all sections of Irish society and all political parties on how it can be brought about and why it's to our collective benefit.
That is why it is correct for Sinn Féin to promote engagement with other republicans to seek discussion on the issues upon which we disagree and how we can develop increased agreement, understanding and common purpose.