3 March 2013 Edition
Government dresses up defeat as victory on Anglo Irish Bank
Pearse Doherty explains how the Government and Fianna Fáil have forced generations to pay back debts which aren't theirs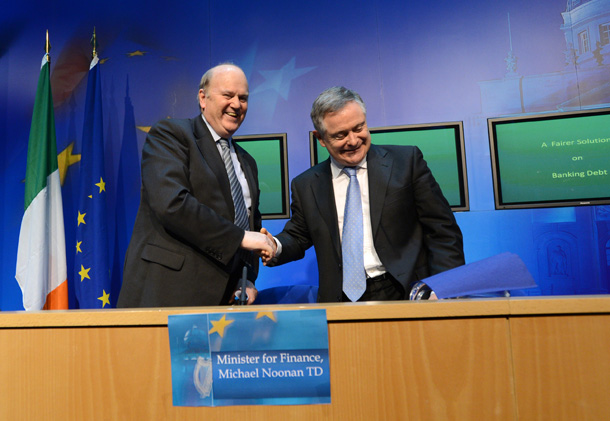 'The Government has turned a promissory note for €28billion of toxic banking debt into a sovereign bond which guarantees that the Irish people will pay this back over a 40-year period, meaning not only will it be this generation that bears the brunt of rogue bankers but also future generations'
AT THE beginning of February it was announced that the Irish Bank Resolution Corporation (formerly Anglo Irish Bank) was being liquidated. The debt 'deal' was greeted with enthusiasm by Fine Gael, Labour and Fianna Fáil while much of the mainstream media echoed that line.
In the Dáil on the evening of 6 February, rumours began to circulate that something was going to happen with Anglo Irish/IBRC. Soon after, small amounts of information began to trickle through that Anglo would be liquidated. The media based in Leinster House were none the wiser as they frantically rang around the offices of TDs from all sides, trying to find out what was going on. The 800 staff at Anglo Irish Bank would be notified that evening by email that their jobs were gone.
As the 10.30pm Government statement neared, opposition TDs were still not in possession of the 60-page Bill and only got their hands on it 10 minutes before Finance Minister Michael Noonan's speech announcing what was purported to be a major breakthrough and victory for the Government. It appeared to be a deliberate attempted to stifle debate. As Pearse Doherty stood up later to oppose the Irish Bank Reolution Corporation Bill, he was met with a torrent of heckling and abuse from Labour and Fine Gael TDs.
An Phoblacht's MARK MOLONEY met PEARSE DOHERTY to see what the 'debt deal' really means for the state and its people.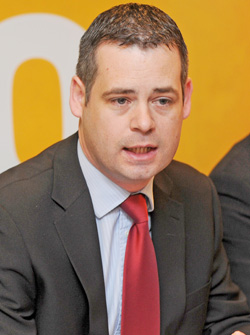 "THIS GOVERNMENT has reneged on its commitment to ensure the banking debt which was placed on the Irish people's shoulders by Fianna Fáil would be lifted," says Pearse.
"What they've done is turned a promissory note, which is €28billion of toxic banking debt, into a sovereign bond which guarantees that the Irish people will pay this back. And they've decided in their wisdom to extend this payment over a 40-year period, meaning not only will it be this generation that bears the brunt of rogue bankers but also future generations. There's no write-down, which the Irish people deserved and demanded. This loss was incurred by Anglo Irish Bank and there's no justification for the Irish people to pay it back." During his Dáil speech on the issue, Pearse noted how his baby son will be 40 years old when taxpayers finally stop paying back this debt.
So what about the frantic rush to bring this legislation through the Houses of the Oireachtas with the all-night sitting? Was it really required or was it just optics? Pearse is unconvinced:
"There is no evidence that there was a need for the panic that took place. It is not a million years ago that Fianna Fáil pushed through banking legislation without proper thought and scrutiny and we all know how that turned out for the Irish people."
As the deal began to filter through, some within the media were hailing it as a great success. 'It seems to be the best we could hope for' was the common theme amongst mainstream correspondents.
"The media has swallowed the line that IBRC is no more, that it's been liquidated," says Pearse. "But that's not the key issue. The key issue is whether the debt still exists. The Government liquidated the bank but they didn't liquidate the debt. For many years we in Sinn Féin called for the liquidation of this bank which would have burned many senior bondholders. The Government refused to do that and the media ridiculed our position, saying you couldn't have a default. In fact, what happened on the night was that senior bondholders did get burned and were defaulted on but, unfortunately, the number of them was quite small because the Government has payed out billions of euros of those bonds since they got into office.
"It just proves that what Sinn Féin has been calling for consistently was possible. That is what the Government did but only once the horses had bolted."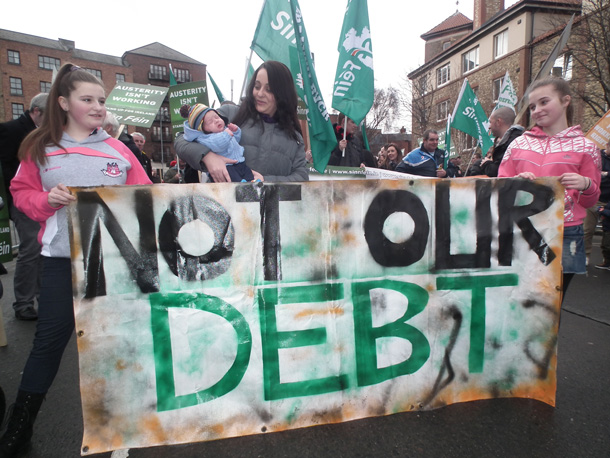 • The next generation will be forced to repay the debt of gamblers and toxic banks
Finance Minister Michael Noonan was fond of describing the deal as being like getting to repay your mortgage over a longer period. Pearse says this is a false analogy.
"When you are paying a mortgage you get a house to live in. In this deal the Irish people get nothing but the mortgage bills."
And what about Fianna Fáil's support for the Government on the Bill?
"It's no surprise that Fianna Fáil supported this deal. They couldn't do anything else but support it given that it was Fianna Fáil who heaped this burden on the Irish people without any consideration of the terrible austerity they would introduce to try and force people to pay this back.
"At the end of the day, this has not been a good deal for the Irish public. It was possible to do what we had been arguing for — which was separating sovereign debt and banking debt. Instead, the Government have latched banking debt onto us in a more formal way than ever before. That is a terrible failure and for the Government to spin it as a victory is ridiculous."