6 January 2013 Edition
Stamping out domestic violence
Original Rude Boys and 'Man Up' take a stand – Government must take a stand too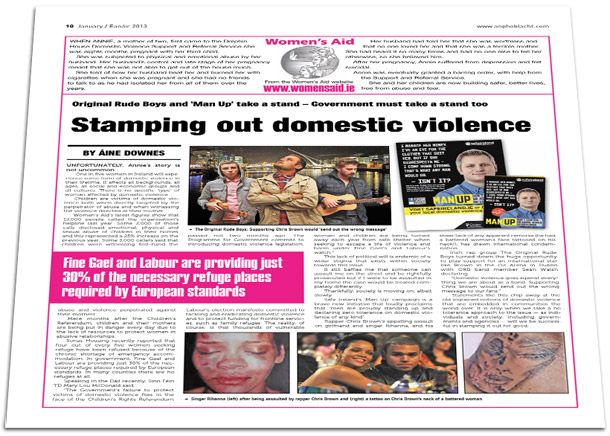 Fine Gael and Labour are providing just 30% of the necessary refuge places required by European standards
WHEN ANNIE, a mother of two, first came to the Dolphin House Domestic Violence Support and Referral Service she was eights months pregnant with her third child.
She was subjected to physical and emotional abuse by her husband. Her husband's control and late stage of her pregnancy meant that she was not able to get out of the house much.
She told of how her husband beat her and burned her with cigarettes when she was pregnant and she had no friends to talk to as he had isolated her from all of them over the years.
Her husband had told her that she was worthless and that no one loved her and that she was a terrible mother. She had heard it so many times and had no one else to tell her otherwise, so she believed him.
After her pregnancy, Annie suffered from depression and felt suicidal.
Annie was eventually granted a barring order, with help from the Support and Referral Service.
She and her children are now building safer, better lives, free from abuse and fear.

From the Women's Aid website
BY ÁINE DOWNES
UNFORTUNATELY, Annie's story is not uncommon.
One in five women in Ireland will experience some form of domestic violence in their lifetime. It affects all backgrounds, all ages, all social and economic groups and all cultures. There is no specific 'type' of woman affected by domestic violence.
Children are victims of domestic violence both when directly targeted by the perpetrator of abuse and when witnessing the violence directed at their mother.
Women's Aid's latest figures show that 13,000 people called the organisation's helpline last year. Some 2,000 of those calls disclosed emotional, physical and sexual abuse of children in their homes and this represented a 25% increase on the previous year. Some 3,000 callers said that children were witnessing first-hand the abuse and violence perpetrated against their mothers.
Mere months after the Children's Referendum, children and their mothers are being put in danger every day due to the lack of resources to protect women in abusive relationships.
Sonas Housing recently reported that four out of every five women seeking refuge have been refused because of the chronic shortage of emergency accommodation. In government, Fine Gael and Labour are providing just 30% of the necessary refuge places required by European standards. In many counties there are no refuges at all.
Speaking in the Dáil recently, Sinn Féin TD Mary Lou McDonald said:
"The Government's failure to protect victims of domestic violence flies in the face of the Children's Rights Referendum passed not two months ago. The Programme for Government commits to introducing domestic violence legislation. Labour's election manifesto committed to tackling and eradicating domestic violence and to protect funding for frontline services, such as family refuges. The reality, of course, is that thousands of vulnerable women and children are being turned away each year from safe shelter when seeking to escape a life of violence and harm under Fine Gael's and Labour's watch."
This lack of political will is endemic of a wider stigma that exists within society towards this issue.
It still baffles me that someone can assault me on the street and be rightfully prosecuted but if I were to be assaulted in my home the case would be treated completely differently.
Thankfully, society is moving on, albeit slowly.
Safe Ireland's 'Man Up' campaign is a brave new initiative that loudly proclaims that "men are proudly standing up and declaring zero tolerance on domestic violence of any kind".
Rapper Chris Brown's appalling assault on girlfriend and singer Rihanna, and his sheer lack of any apparent remorse (he had a battered woman's face tattooed on his neck!), has drawn international condemnation.
Irish rap group The Original Rude Boys turned down the huge opportunity to play support for an international star like Brown in the O2 Arena in Dublin with ORB band member Seán Walsh declaring:
"Domestic violence goes against everything we are about as a band. Supporting Chris Brown would send out the wrong message to our fans."
Statements like this chip away at the old ingrained notions of domestic violence that are embedded in communities the world over. It is only when we take a no tolerance approach to the issue — as individuals and society, including governments and agencies — will we be successful in stamping it out for good.