6 January 2013 Edition
Tide of protests against Dublin Bay oil rig
Labour Party Junior Environment Minister gives thumbs up to drilling off Dalkey Island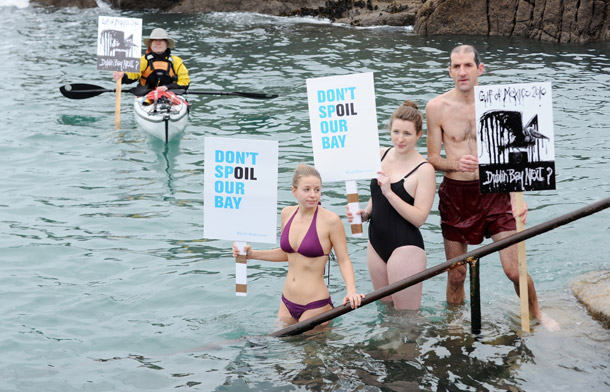 Dublin Bay includes the Bull Island nature reserve, which is listed by UNESCO as a biosphere reserve, and the Booterstown Marsh nature reserve
PLANS to plant an oil rig near Dalkey Island in scenic Dublin Bay are being energetically opposed by a raft of campaigners ranging from residents to fishermen, environmentalists and local elected politicians.
A foreshore exploration licence has been granted to Providence Resources by Labour Party Minister of State for the Environment Jan O'Sullivan.
Exploratory drilling could begin just 6kms off the Dublin coast as early as January.
The licence was granted despite 250 formal objections by concerned residents.
An Taisce, the National Trust for Ireland, criticised the move, saying:
"This is the first time that a licence with potential major threats of pollution so close to the shoreline has been granted. Overall, the assessment of the potential impacts of this exploration and drilling licence were not adequately evaluated to ensure the protection of a number of species and habitats."
The threat of pollution from an oil spill is a major cause for concern as an oil slick could travel 6kms within the first hour, depending on wind and tide.
Dublin Bay includes the Bull Island nature reserve, which is listed by UNESCO as a biosphere reserve, and the Booterstown Marsh nature reserve.
Dublin City 103.2FM radio journalist Paul Wright, has produced a special two-part documentary series, Dublin Bay Watch, on the controversy. Paul told An Phoblacht:
"I've met many local fishermen while making this series and they are deeply distressed over the planned drilling. They fear it will damage their fishing grounds."
Members of the Dún Laoghaire Fishermen's Association say they have only met briefly with Providence Resources earlier in 2012. Promises of further meetings never materialised and they were shocked when they learned a licence had been granted.
The fishermen say that seismic surveys planned for January pose a massive danger to fishing grounds. These surveys could have a catastrophic effect on whelk, scallop, crab and lobster populations — all of which have very low noise thresholds.
Fishermen also say adverse media coverage because of an oil spill or pollution could have a massive impact on Irish seafood sales and exports.
Dalkey resident and environmental campaigner Ali Hewson said:
"There are a lot of people scratching their heads thinking: 'Okay, you are going to do this in one of the most scenic, beautiful areas — without any research on the damage to the environment and without any benefit for the country?'
"The country won't benefit from it. I think it has to be reviewed and it certainly shouldn't go ahead the way it stands at the moment."
There are concerns too over what, if any, economic benefit an oil or gas find will have for the state. William Hederman, Editor of the Irish Oil & Gas blog, said there would be virtually no local or economic benefits from the find. "In environmental terms, this project is extremely close to the shore but in economic terms it might as well be off the coast of Malaysia," he said.
•  Residents, fishermen, environmentalists and others have opposed the decision to grant a drilling licence
At the beginning of December, Minister for Arts, Culture and Heritage Jimmy Deenihan said the Government may consider designating some of Dublin Bay, north of Dalkey Island, a Marine Special Area of Conservation (SAC) along with five other areas around Ireland's coast. Designation or proposals for a SAC will make development of the area extremely problematic and Providence Resources has since complained that it was not consulted on the issue. Deenihan's department says the designation around Dalkey Island is to conserve reefs and harbour porpoises. Providence has said, nevertheless, it will go ahead with "exploratory activities" off the coast. 
On 11 December, Dún Laoghaire/Rathdown County Council voted unanimously in favour of a motion calling on the Minister for the Environment to suspend the licence granted to Providence Resources pending a full review of proceedings.
Sinn Féin Energy and Natural Resources spokesperson Michael Colreavy told An Phoblacht that, apart from the level of tax that the state receives from oil and gas finds off the Irish coast, there is "a severe lack of democratic accountability" in the exploration of natural resources:
"The situation in Dublin Bay is deeply concerning. There are clear concerns from the residents along Dublin Bay and from those whose livelihoods depend on the bay's waters. Whether in Dublin Bay, Rossport or the Lough Allen Basin, the concerns and safety of the local community must be paramount."