6 January 2013 Edition
Act against bullying
Sinn Féin Education spokesperson publishes Dáil Bill to deal with school bullying

"Bullying can make a young person's life a living hell," Jonathan O'Brien told An Phoblacht, "leading to distress, mental breakdown, self-harm and even suicide, as we have seen recently."
DONEGAL TEENAGER Erin Gallagher ended her life in October 2012 after telling friends that she was considering suicide following an online bullying campaign against her. She was just 13 years old.
Six weeks later, her heart-broken sister, Shannon (15), died by suicide after a night spent wrapping Christmas presents. She had written on Facebook: "This is the hardest thing I've ever had to do, Baby Doll." 'Wee Baby Doll' was Shannon's nickname for Erin.
In September, Leitrim teenager Ciara Pugsley took her own life after being bullied online. She was just 15 years old.
Ciara's father, Jonathan, urged other teens considering suicide to pull back. "Just don't do it," the grieving father pleaded. "Your family and your friends need you."
Also in September, 15-year-old Amanda Todd, from Vancouver, in Canada, died by suicide. She posted a video to YouTube where she used flash-cards to tell people what she had endured in a sustained campaign of bullying by other teens.
Two YouTube videos by Amanda – titled 'My Story: Struggling, bullying, suicide and self-harm' – have been viewed by more than two million people worldwide.
Anti-bullying Bill launched by O'Brien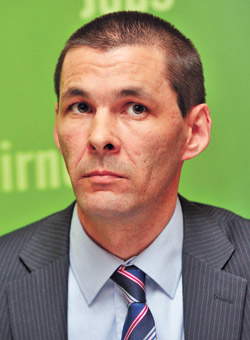 NEW MEASURES to help schools combat bullying have been put to the Dáil and Education Minister Ruairí Quinn by Sinn Féin Education spokesperson Jonathan O'Brien TD.
A Bill by the Cork North Central deputy wants existing guidelines used by schools about cases of bullying to be put on a legal footing.
The Bill seeks to amend the Education (Welfare) Act 2000 to:-
Provide a clear definition of bullying;
 Impose binding, mandatory measures that will have to be adhered to by school boards of management to ensure the welfare of children and teachers are adequately safeguarded when bullying occurs;
 Establish a standard code of practice that must be adhered to by placing a greater onus of responsibility on school boards through the mandatory implementation of recognised anti-bullying policies;
Address the different forms bullying can take as well as the motivations that influence this type of behaviour.
Bullying, Jonathan O'Brien says, has a ripple effect in that it affects the victim, the victim's family and friends, teachers and wider society, as well as tacitly encouraging others to become bullies if it's not vigorously addressed.
"Bullying can make a young person's life a living hell," Jonathan O'Brien told An Phoblacht, "leading to distress, mental breakdown, self-harm and even suicide, as we have seen recently."
The Cork Sinn Féin TD said authorities "can no longer pay lip service to what is happening and we need to strengthen the laws so schools are better equipped to deal with this issue".
He appealed for cross-party support for his initiative:
"I hope all of the political parties who sit in the Dáil, and who have on many occasions made clear their concerns about the impact of bullying on society will support this Bill which will provided enhanced protection for school children and teaching staff."