6 January 2013 Edition
Michael Mansfield: Forensic radical lawyer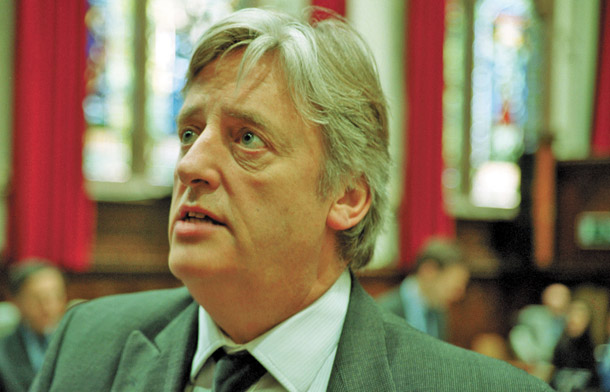 "The key thing is that you don't start killing lawyers unless somebody at a fairly high level knows that this is what's going to happen because the repercussions are not only serious for the family but serious in a much wider context. I find it impossible to believe that there was no member of the military or the police or the political hierarchy unaware of this possibility"
MICHAEL MANSFIELD QC is Britain's top international human rights lawyer. Born in 1941 into a staunchly Tory family in Margaret Thatcher's heartland in the north London suburb of Finchley (as a teenager, Michael even delivered leaflets for Thatcher!), his mother's innate sense of justice and his own education and experiences led to him becoming a radical defender in that most conservative and repressive bastion of the Establishment, the courts.
A Queen's Counsel since 1989, he has represented the Birmingham Six, Judith Ward, the Price sisters in the 1973 Old Bailey bombing, and some of the Bloody Sunday families at the Saville Inquiry.
He has also acted for the families of race-hate victim Stephen Lawrence, Jean Charles de Menezes (the innocent Brazilian citizen shot dead by Metropolitan Police at Stockwell tube station in 2005 after the 7/7 bombings), and Mohamed al-Fayed in the inquest into the death of his son Dodi and Princess Diana.
An Phoblacht Editor JOHN HEDGES spoke to Michael Mansfield in London on the day the de Silva report into the murder of Pat Finucane was published at Westminster. Michael Mansfield totally supports the call by Pat Finucane's family for a full public inquiry.
"An inquiry was promised by the Blair government essentially as part of the Peace Process," he told An Phoblacht, "and that promise has not been kept."
The de Silva Report was "a waste of time" unless it said where the responsibility did lie "for authorising an operation on this scale", he said.
"The key thing is that you don't start killing lawyers unless somebody at a fairly high level knows that this is what's going to happen because the repercussions are not only serious for the family but serious in a much wider context. I find it impossible to believe that there was no member of the military or the police or the political hierarchy unaware of this possibility."
IF Michael Mansfield was an American defence lawyer, there'd likely already be a TV series or movie based on his life and career. Seeing as a 1960s US TV legal drama called The Defenders captured the imagination of a young Mansfield, I think he'd like that.
He's the best-known human rights lawyer in Britain, a charismatic and dashing figure with shoulder-length hair who forensically demolishes prosecution cases marshalled by a powerful state. He's also very eloquent and formidable though affable and down to earth. His character seems made for TV.
The trouble is that — as well as being a republican, vegetarian and socialist — since he was called to the bar as a lawyer in 1967, Michael Mansfield has been something of a crusader in the best sense of the word, always asking awkward questions in the pursuit of justice, not afraid to fight against the odds and often against the might of an incredibly powerful state.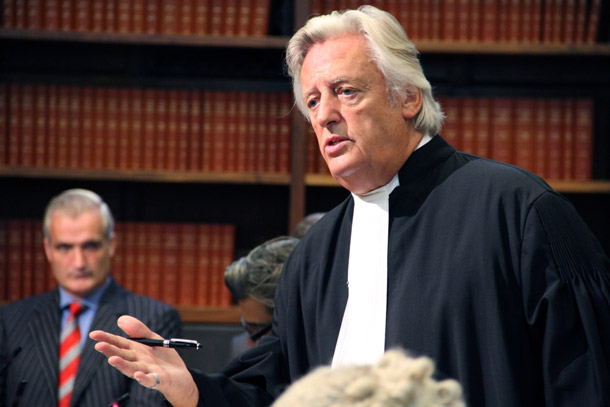 In his book, Michael Mansfield: Memoirs of a Radical Lawyer, he says of that old US TV series, The Defenders:
"Every week a father-and-son team took on seemingly hopeless legal cases, all of which contained a strong social or moral theme. Winning was rare, and the real point of it all was ensuring that people got the best representation possible and were able to air and explore their grievances in the face of institutional indifference."
That is part of Mansfield's make-up but he stands for much more.
'Never trust a man in uniform'
The policeman who tried to prosecute schoolboy Michael Mansfield's mother for a parking offence she hadn't committed not only made a big mistake but he helped to make a radical lawyer many policemen following him would rue coming up against. An outraged Mrs Mansfield challenged the policeman in court and won, something rarely done in those days by any ordinary citizen and even less so by women.
Michael tells An Phoblacht:
"Up to that point, my mother had no reason to question authority and particularly the police, but when she realised the extent to which they would lie about what she had done — and it's important to remember that the car was vital to my family as my father was disabled from losing his left leg in 1917 to Turkish machine-gun fire while serving on horseback in Palestine — she was deeply upset and angry.
"Ever afterwards she would repeat to me: 'Never trust a man in uniform'."
Michael was raised in what he describes as "a very stiff-upper-lip world . . . all thoroughly middle class and thoroughly English". It was an upbringing, he says, that encouraged unquestioning loyalty to 'Queen and Country'. Michael himself had been in his school's Army Cadet Force unit and was even invited to attend a course at Sandhurst at the age of 17.
Keele University, in the English Midlands, opened his eyes and his mind. Even today Michael Mansfield repeats how much he values the education he gained at university.
Bin man to barrister
He graduated in History and Philosophy and studied to be a lawyer, earning extra money to get by working as a council bin man.
He applied to Gray's Inn (one of the four professional associations for barristers and judges in London) in 1967. Michael told An Phoblacht that he'd heard that Gray's Inn "was a little more on the fringes and there was quite a large Irish contingent so I thought that's where I'll go".
But why was the Irish dimension important to the son of a true-blue Tory family?
"I have no Irish connections, none at all. It all started at Keele," he explains, pointing to his History degree.
"Reading about the history of Ireland, the one emotion that tends to rise up in me is one of anger. When I think something is outrageous, I don't just want to get angry — I want to do something about it. When I had read about Irish history and what the British had done, in the South and the North, I thought this was oppression of the worst kind. I couldn't believe what I was seeing and reading and I felt somewhat ashamed that I didn't know how much the Irish had basically been ravaged by the British, the Black and Tans, and so on. Everyone knows the history now but not so much back then. I thought that we have a lot to answer for and that's what captivated my interest in Ireland."
'The Belfast Ten'
That interest was to be tested on 8 March 1973 when a rail strike forced him to drive from his home off the Archway Road to the Old Bailey.
"Two hours later, an IRA bomb exploded in a car right in front of mine, and the Triumph was blown to smithereens," he recalls. "I was showered with glass while reading by the window in the library on the top floor. It was one of four bombs planted that day, two of which exploded (the other being at Whitehall army recruitment centre) injuring 180 people. I could so easily have been one of them. It was both frightening and edifying."
Ten people ('The Belfast Ten', including Sinn Féin Assembly junior minister Gerry Kelly MLA) were arrested. The Price sisters were amongst them and Mansfield was asked by a London solicitor to defend them. (The year previously, he had successfully defended one of the 'Angry Brigade'. "Britain's first urban guerrillas" had carried out 25 non-fatal bombings in 1970 and 1971 against the Tory Government's anti-trade-union Industrial Relations Bill.)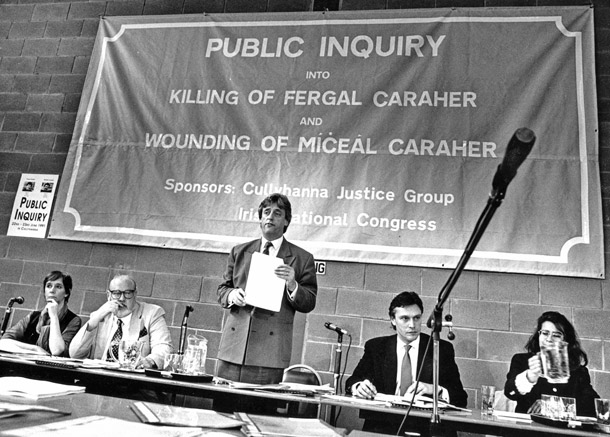 • Michael Mansfield addresses the public inquiry into the killing of Fergal Caraher in Cullyhanna, June 1991
"For people living in London, there hadn't been anything of this kind since the Second World War, since the Blitz," Mansfield tells An Phoblacht of the IRA attacks that rocked the English capital. "This was a severe intrusion into everyone's lives in London. There was a lot of anger and to be seen to defending people who had planted bombs in our midst was seen as some form of treachery. I found myself being ostracised by people I had thought of as friends and by colleague at the bar, in fact all over the place. In that British way, nothing was said to your face but there was a stony silence that descended everywhere I would go and I remember that distinctly."
Standing their ground
The "educative process" fed by the indomitable spirit of people facing oppression is another recurring theme in An Phoblacht's conversation with Michael Mansfield, who makes special mention of Britain's mining communities in the 1984-1985 strike up against Prime Minister Margaret Thatcher.
"The people who have educated me more than anything else — more than university, more than the bar — have been the victims, ordinary people, ordinary families who have been on the receiving end of a very unjust system and have not been prepared to simply go away and evaporate but have stood there, year after year. The Birmingham Six did it, the Bloody Sunday families did it, Stephen Lawrence's family did it, and I'm hoping Geraldine Finucane's family will do the same."
The Establishment backlash against tribunals may be dressed up as being about cost but it isn't so much about money, he believes, pointing out that the Leveson media inquiry was very different to the Bloody Sunday Inquiry in terms of scale and the 40-year period that had to be covered.
"Politically, governments of all complexions really don't want public inquiries because very often they uncover unpalatable truths about the political and judicial systems, which to some extent is what the Stephen Lawrence Inquiry did, and why Tony Blair, Gordon Brown and others absolutely did not want an inquiry into the Iraq War.
"The real problem for governments is that inquiries are too effective."
At the end of the day, Michael Mansfield says: "Justice doesn't come cheap."