6 January 2013 Edition
Turf wars: 'Trying to bulldoze communities into submission will not work'
A deal must be found before the next turf cutting season
Protests have come up against specialist Garda armed response units and hi-tech surveillance planes from the Defence Forces Air Corps
THE Fine Gael/Labour Government has a six-month window to negotiate a settlement with Ireland's protesting turf cutters.
Turf cutters in Laois, Offaly, Roscommon, Longford, Westmeath and Galway (and to a lesser extent in Leitrim, Cavan, Meath, Clare, Kerry, Tipperary and Kildare) are protecting  a generations-old tradition and dependency on the natural fuel.
Now they are in a stand-off with the state.
Their protests have come up against specialist Garda armed response units and hi-tech surveillance planes from the Defence Forces Air Corps aimed at preventing turf cutting that is now in contravention of EU rullings. There have been arrests.
Now, with the cutting season at an end, it is time for negotiations.
Under the European Commission's 1992 Habitats Directive, 53 raised bogs in the 26 Counties were designated Special Areas of Conservation (SACs) between 1997 and 2002. Of these bogs, a small number are contentious because turf cutters cannot relocate to undesignated bogs. The state is facing fines from the EU over breaches of the Habitats Directive while turf cutters are furious that their "turbury rights" (the right to cut and carry away turf from the bog-land and includes the right of preparing and storing on the bog-land any turf) are being ignored.
Speaking to An Phoblacht, Sinn Féin Environment spokesperson Brian Stanley TD says there were problems with the process from the start. "The initial newspaper advertisements about meetings and discussions only referred to 'commerical turf cutters'. Most domestic turf cutters believed they were not affected," he says.
Many of the bogs are located in some of the poorest communities of the state, where fuel poverty is a very real issue.
Compensation packages of €3,000 per acre of bog were offered to families who stopped cutting. This is described as "derisory" by the Turf Cutters and Contractors Association (TCCA), who say:
"€3,000 would heat the family home for little more than two years; the same acre of bog would heat the family home for 150 to 200 years."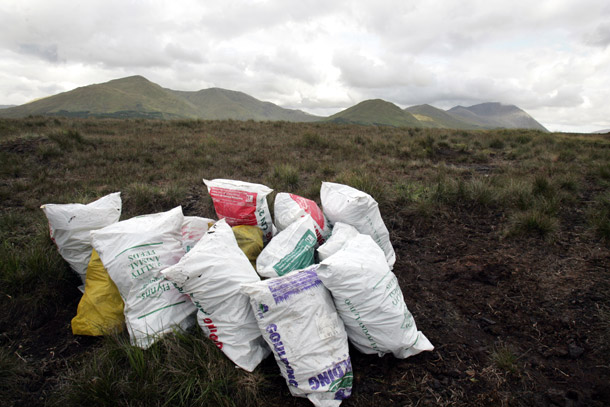 • Many of the bogs are located in some of the poorest communities of the state, where fuel poverty is a very real issue
Adding insult to injury was the news that commercial turf cutters received ten times that amount — €30,000 per acre — while the semi-state Bord na Móna places a €280,000 value per acre of bog.
Brian says the real culprits in the whole mess are Fianna Fáil, who presided over the flawed process. He also notes that for much of the 2000s they claimed there was a derogation allowing domestic turf cutting on SACs. When quizzed in depth about it, they could not produce any proof of such a derogation, finally conceding it was only a verbal agreement with the EU.
There is a feeling recently, however, that the Fine Gael/Labour Government is beginning to come around to the turf cutters' view.
In May, it indicated a willingness to look at the possibility of allowing turf cutting to continue within a small section of the 53 raised bogs. Heritage and Gaeltacht Minister Jimmy Deenihan sent a letter to Brian Stanley stating that the Government will "examine the feasability of allowing... some limited turf cutting within a small number of the 53 bogs, if it emerges there are no alternative solutions for certain bogs. There would also be a need for compensatory habitat..."
The TCCA have been open to the idea of compensatory habitats and proposed such a plan more than three years ago along with a plan known as "co-location" for turf cutters who have no nearby bog to move to. This would involve relocating all turf cutters to one small section of their bog (usually less than 1%) and leaving the rest as an SAC. Brian says Sinn Féin are also supportive of these plans, adding that "the amount of turf cut for domestic use is minuscule in comparison to the large-scale commercial operations. The continuation of turbary turf cutting for domestic use must be permitted."
Brian says the level of engagement from the Government with some affected communities has been abysmal.
"Some areas say the only Government representatives they have seen have been the spotter planes flying over their heads and gardaí arriving to seize machinery."
In November, Brian  led a delegation to Brussels (including Martina Anderson MEP, Galway Senator Trevor Ó Clochartaigh and Leitrim Councillor Martin Kenny) where they met with the European Commission on the Environment and outlined the difficulties facing turf cutters. They asked them to use their influence to move the situation forward.
• 'These are people whose forefathers fought for that piece of land and their right to cut on it' – Brian Stanley, Sinn Féin TD
Deputy Stanley also warned the Government against trying to railroad ahead with plans despite opposition form local communities.
"Turf cutters are going to resist. There have already been files sent to the Department of Public Prosecutions. If they are going to bring people to court and send them to jail, then they are really going to see opposition. These are people whose forefathers fought for that piece of land and their right to cut on it. Convictions and imprisonment will mean a significant hardening of positions with the dispute becoming more bitter. Trying to bulldoze the communities into submission will not work.
"There has to be a process of engaging with the affected communities. If the Government aren't seen to be making serious attempts that are fair and equitable then it is going nowhere.
"We absolutely must protect habitats and we have thousands and thousands of acres of raised bogs that there is no dispute over. We need real engagement from all sides, and now is the perfect time before we see more stand-offs in the next turf-cutting season."