6 January 2013 Edition
Bubbles, Bolsheviks, Bohemians and blaggards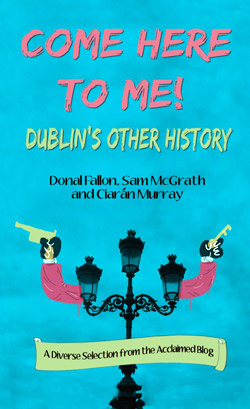 Come Here To Me! Dublin's Other History Sam McGrath, Donal Fallon and Ciarán Murray New Island Books, Price €19.99
Review by Graham Hooper
COME HERE TO ME! Dublin's Other History is an eclectic mix of working-class history and capital culture in the rare and not so rare auld times penned by popular bloggers Donal Fallon, Sam McGrath and Ciarán Murray.
The book (recently launched by no less a luminary than historian Diarmaid Ferriter) contains almost 70 tales of life in the old city, covering everything from football to politics, music and more
Does anyone remember the 'Bubbles Mod Revival' nights in the basement of what is now the Temple Bar Hotel, where poseurs danced to the theme tune from Match of the Day?
While there is much hilarity and amusement to be found in the book, many serious topics are covered such as 'The Dublin Cinema Manager Who Became the Only Irish Prisoner of Dachau', the early evolution of the drugs trade in Dublin, 'The Animal Gangs and the Battle of Tolka Park', and an interesting discussion on censorship and Irish feminism.
There's lots more here for republicans (including a story about An Phoblacht!).
Of note are the stories regarding Connolly House on Great Strand Street in 1933 and the long-running campaign to have Talbot Street renamed as Seán Treacy Street.
Overall, this is a cracking little book and will fascinate anyone with an interest in the politics, history and culture of Dublin. It's all here for you: from 'Bubbles' to Bolsheviks, Bohemians to blaggards. A book that will start — and end — many arguments. And with pictures too! Well done, lads.
Come Here To Me! Dublin's Other History
Sam McGrath, Donal Fallon and Ciarán Murray
New Island Books, Price €19.99