6 January 2013 Edition
Pitch battles against bigotry
'Show Racism the Red Card' Co-ordinator Garrett Mullan talks to An Phoblacht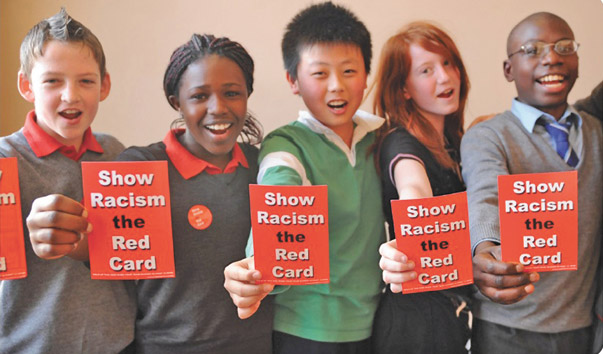 "We might have buried our heads in the sand previously and thought that it didn't affect our sport — that it was more a problem for soccer or just a general society-based issue — but it has raised its head previously; it will do so in the future. I think we need to be very forceful in how we deal with this as an organisation"
SHOW RACISM THE RED CARD is an anti-racist charity that has been growing from 1995 when Shaka Hislop donated £50 to a local anti-racism campaign in Newcastle upon Tyne, in the north-east of England. Show Racism the Red Card (SRTRC) now runs programmes and events in Britain, Norway, Sweden, Finland, Denmark and Ireland.
SRTRC works with schools, youth projects, clubs and sports bodies, producing anti-racist educational resources which harness the high profile of professional footballers to combat racism.
The campaigns in each country have education through sport as a common goal but draw on different local resources to get the message across. "In Ireland," SRTRC says, "the involvement of the Gaelic Players' Association and Irish Rugby Union Players' Association is of great importance to us."
RACISM in sport used to be an issue most associated with soccer in England and mainland Europe. In recent weeks, though, racism has again hit the headlines here in Ireland.
The Ulster Council of the GAA moved swiftly to act after reports of racist abuse of Crossmaglen forward Aaron Cunningham during the Ulster club football final in December. In Wexford, the GAA moved equally fast when an umpire made racist comments against St Joseph's player Eddie Lawlor. The umpire was immediately suspended for 26 weeks and he subsequently resigned from the GAA for what he called "just a slip of the tongue — I did not mean any offence".
Two Wexford club players received two-month suspensions earlier this year for racist remarks made to inter-county star Lee Chin while he was playing for Sarsfields in a senior football championship match.
Gaelic Players' Association Chief Executive Dessie Farrell said the GAA must adopt a "zero tolerance" approach. Racial abuse should be an automatic red card offence with tougher penalties beyond eight-week bans for "discrediting the association", Dessie said.
"We know that there can be no tolerance for racism within our games but there is an onus on everyone involved to be active in preventing abuse through education.
"Through our long association with Show Racism the Red Card we are part of that process with players acting as ambassadors and role models for education campaigns such as the GAA's 'Give Respect, Get Respect' initiative.
"We might have buried our heads in the sand previously and thought that it didn't affect our sport — that it was more a problem for soccer or just a general society-based issue — but it has raised its head previously; it will do so in the future. I think we need to be very forceful in how we deal with this as an organisation.
"I think the GAA are keen to try and eradicate racism but we have to come really, really heavy on it and there has to be a zero tolerance policy. I think we've an opportunity now to make some strong statements."
In the wake of these unsporting controversies, An Phoblacht spoke to GARRETT MULLAN, a co-ordinator for SHOW RACISM THE RED CARD, about the rise in racism in sport in Ireland.
What is your reaction to the recent reports about racism in the GAA?
It shows that racism is an issue for the GAA to deal with as well as other bodies. It is an issue for society. Addressing racism requires action from government as well as sport. The response of the Wexford County Board is welcome. They tabled a motion for their own AGM in December to make racism a red card offence.  As well as a rule change, there is a need for education that reaches all levels of the game.
Are sports chiefs doing enough to curb racist language and behaviour?
There has been some progress worth noting.
The GAA inclusion programme and the intercultural plan of the FAI in the South and the 'Football for All' programme of the IFA in the North are welcome actions on the part of each association. However, football, rugby and Gaelic games are mass participation sports. A response is needed by each sporting body that comes from the top all the way down to the grassroots.
In your experience, is this a phenomenon just in Gaelic games and soccer in Ireland?
Racism is now a feature in Irish society.
A survey by the Teachers' Union of Ireland in 2010 found that 45% — almost one out of every two — of teachers attending their conference had witnessed racism in the classroom in the month prior to their conference. There is other research that shows this is not an isolated phenomenon.
Other examples have highlighted racism affecting those working in public transport, including Dublin Bus, LUAS and taxi services.  
The ESRI carried out some research which pointed to discrimination in terms of selecting people for interview. So while immigrants can experience racist abuse on the street, they can also face it when applying for work.
We also have reports of incidents in school, at work and in the community.
Do you think the behaviour of famous players in the English Premiership and Champions League or World Cup matches has an influence?
Absolutely, but I think a positive is that the penalties administered by UEFA and the profile of cases in England like John Terry of Chelsea and Luis Suarez of Liverpool have raised the profile of the issue of racism within Ireland. 
What are the ramifications of unchecked racism for sports in schools and across society?
When we do workshops in schools, we take the opportunity to explore different forms of racism and how people are racist towards each other. We look at where racism comes from and how there can be a response.
Racism ranges from verbal abuse, exclusion and bullying to then perhaps physical abuse and vandalism and then up the scale where it is more institutional, rooted in society.
It is distressing to victims and can lead to violence against victims.
What could be done by sports bodies, schools, the media and high-profile figures to help reverse racism in sport and wider society?
Sports stars have a huge role to play and, from our experience, most are more than willing to offer their support when they can.
The two governments in Dublin and Belfast need to offer real and meaningful support so as to resource the campaign.
Through harnessing the role model status of sports stars and our partnership work with both the FAI, local sports partnerships and even the Garda we are able to reach up to 15,000 young people a year.
We hope that we will be supported to do work north of the border too as much of what we have done has impacted on cross-border and cross-community relations.
What is your advice to any player who is subjected to racial abuse?
Report it to your club, coach or league and expect that there should be a response.
Don't get in a fight and don't keep it to yourself but do report it.
Racism is a red card offence.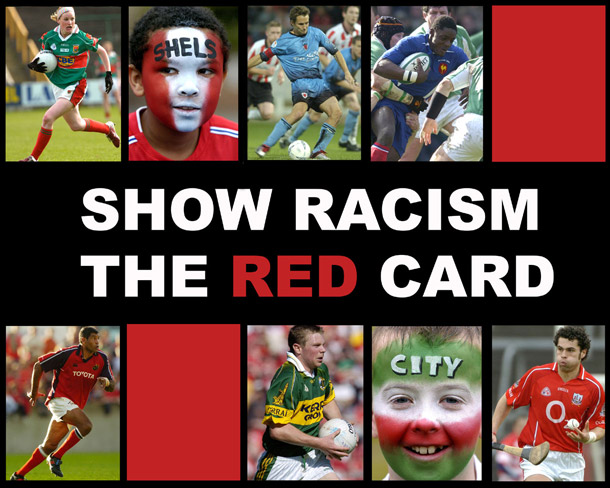 Show Racism the Red Card initiatives in 2013
SCHOOLS AND YOUTH SERVICES are being urged to register and participate in Show Racism the Red Card's Anti-Racism Creative Competition.
"It is a great opportunity for schools and youth services to showcase the good work they are doing," the charity says. It culminates in an award showcase exhibition presentation at the Aviva Stadium in April.
In February, there will be a new education resource suitable for schools in the North and the South. It is a new DVD education pack including lots of activities and is easy to use. The DVD includes interviews with Ireland's Simon Cox, Seamus Coleman, Seán St Ledger, James McCarthy, David Meyler, under-19 women's player Rihanna Jarret and former Shamrock Rovers manager Michael O'Neill, now managing the Northern Ireland team.
There's also top stars from GAA including the Dublin women's goalkeeper Cliodhna O'Connor and Barry Cahill from Dublin SFC as well as Dessie Farrell of the Gaelic Players' Association and Lee Chin, who talks about his experiences. Leinster rugby players Aaron Dundon and Sean O'Brien feature as well. 
Show Racism the Red Card hosts an intercultural summer camp each year in Ghleann Cholmcille for young people aged 11 to 15.  The camp is for boys and girls from all over Ireland and from different backgrounds. The purpose of the camp is to promote integration among young people through intercultural learning and fun activity. Last year, young people from Belfast, Derry, Donegal, Sligo, Mayo, Dublin, Kildare and Wicklow took part. "It is a great experience and we are recruiting volunteers now," SRTRC says.
Show Racism the Red Card,
Integration Centre,
20 Mountjoy Square,
Dublin 1.
Telelephone: (01) 645 3096 
Email: [email protected]
Twitter @TheRedCard