2 September 2012 Edition
Jack Crowe Memorial Dublin Mountain Challenge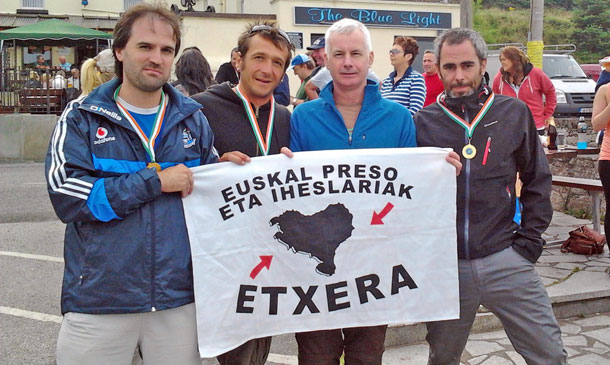 THE Jack Crowe Memorial Dublin Mountain Challenge was inaugurated on 11 August in respect and remembrance of Dublin republican Jack Crowe who passed away in July 2010.
A group of nearly 50 who gathered at the Blue Light pub in Barnaculia were joined by members of Jack's family and by republicans from across Dublin and from Meath, Westmeath and Cork. We were also joined on the day by three Basque comrades.
The trek was 14 miles from Bohernbreena to Barnaculia taking in Bohernabreena Lakes, The Hellfire Club, Massey's Wood, Tibradden Mountain and Two Rock Mountain.
While it was a long and hard trek, those who took part on the day all said it was very enjoyable and a fitting tribute to a lifelong republican who many on the trek knew well.
The Jack Crowe Memorial Cup was lifted for the first time ever by Philomena Denton of the Preacáin team from Tallaght and it was presented to them by 'Jack Junior', Séan Crowe TD.
First man across the line was John Nugent, also from Tallaght while second and third places went to Darren O'Rourke from Meath and Donncha Ó Laoghaire from Cork respectively.
The first team to get all its members across the line was the Basque team of Pablo Vincente, Ibon Murua and Imanol Hernandez, and all three were presented with medals from Seán Crowe on the promise that they would return next year.
A lot of work and organisation went into making this a successful event and big thanks must go to Chris Curran, Sorcha Nic Cormaic, Grace Costigan, Ray O'Kelly, Seán McGrath, John McGrath, Keith Sweeney, Adrian Corr, Brian Byrne, Janette Kavanagh and Kain Phoenix.
Oh behalf of the Martin Forsyth Sinn Féin Cumann in Glencullen/ Sandyford and the Bob Smith Sinn Féin Cumann in Dundrum, I would like to thank all those who took part, raised money, sponsored someone or helped out in any way at all.
Special mention must go to the Crowe family for allowing us to remember their father in this way, for buying into the project and for showing up and taking part on the day.
Here's looking forward to seeing you all and doing it all again next year.