2 September 2012 Edition
Inspiring a generation
Between the Posts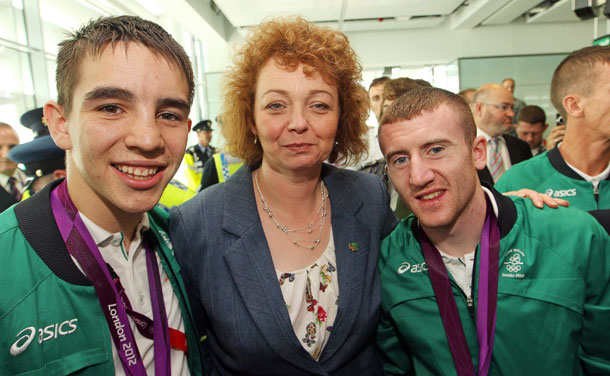 THE OLYMPIC GAMES, LONDON 2012
AFTER SEVEN YEARS' planning; an estimated £24billion spending; and 2,000 athletes from 204 countries participating, what is there to show for the 2012 Olympics? Where is the elusive Olympic legacy ?
Actually, it's not hard to find in Belfast. Take a walk from the Falls Road entrance of the Royal Hospital, head down Cavendish Street 100 metres, to the corner of Violet Street and there it is. On the wall is a fresh mural of 20-year-old Michael Conlon sporting the bronze medal he won for Ireland at his very first Olympics.
He wasn't the only Michael to win an Olympic medal. Another Michael — 'The Human Fish' — Phelps became the most decorated Olympian the world has ever known. His performances in London brought his total tally to a staggering 22 Olympic medals.
There was one medal in particular which will always stand out in my mind: the 200m butterfly in which Phelps was tipped to become the first swimmer ever to win the title at three consecutive Olympics. In a spell-binding race, Phelps led the whole way. However, in the final stroke a young South African, Chad le Clos, beat the reigning Olympic champion by a finger's length.
Stepping onto the podium, Phelps squeezed a smile onto his face, but his eyes could not hide his disappointment.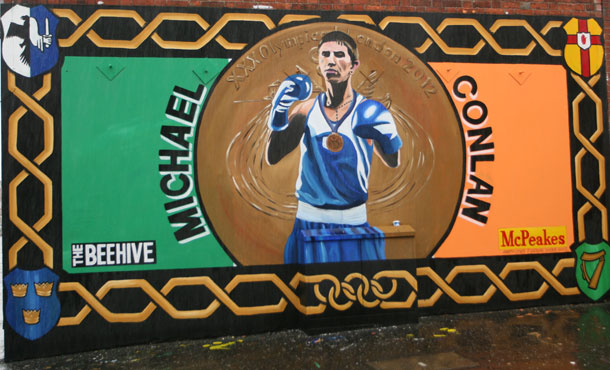 When new champion Chad le Clos stepped up to receive his gold medal, his eyes welled up with tears and his lips trembled as South Africa's post-apartheid national anthem, Nkosi Sikele Afrika, played. This was a window into the souls of two people, side-by-side, both great athletes but affected in utterly opposite ways by the same event
This chemistry of competition and companionship — of passion, sacrifice, honour and courage; of implausible performances; of victory and defeat — was epic drama of the most compelling kind.
Not alone did the 2012 Olympics break the embargo imposed by some countries (like Britain's long-time ally of Saudi Arabia) on women participating but every one of the 47 events was staged with female participation. Ireland's contribution to that breakthrough was spearheaded by Katie Taylor.
Exhibiting sporting ferocity combined with personal humility, Katie Taylor is a superb role model for young people in sport and in life in Ireland. Elements of the media singled out her faith in God as a target for ridicule. They would have done better to heed the remarks of Danny Boyle, film-maker and the person who directed the opening ceremony of the Olympics:
"I don't believe in God but I do believe in people who believe in God."
All of those who trained for the Olympics and Paralympics believed in themselves and had others who believed in them. Michael Phelps's mother believed in him so much she refused to give up when he was diagnosed at 10 years old with ADHD. Swimming became his outlet. Both Olympic champion Katie Taylor's and Irish paralympic athlete Michael McKillop are coached by their own fathers. Michael Conlon is coached by his brother. And now he is pictured among the famous murals of Belfast.
Within sight of Conlon's mural is one of another young Belfast man in his 20s. That mural is of Seán Savage, who was 23 years old when he and his comrades, Mairead Farrell and Dan McCann, were ambushed and killed by a British SAS death squad. When Seán Savage was growing up, the greatest fight facing young people his age was the war against British occupation.
Thankfully, Michael Conlon and his counterparts — Paddy Barnes, John Joe Nevin and Katie Taylor — can fight for Ireland  (even against the British) without putting their lives or their families at risk. That's something we should never take for granted.
Naturally, and deservedly, Olympic glory belongs to the medal winners. But the legacy of the Olympics is not, or need not be the number or colour of medals brought home to Ireland. It is not unlike every great sporting event. The Olympics have the power to inspire. To see ordinary people perform extraordinary feats is something which can encourage us all to do better. If that inspires only one young person who walks past the corner of Cavendish Street and Violet Street, it will have been worth it.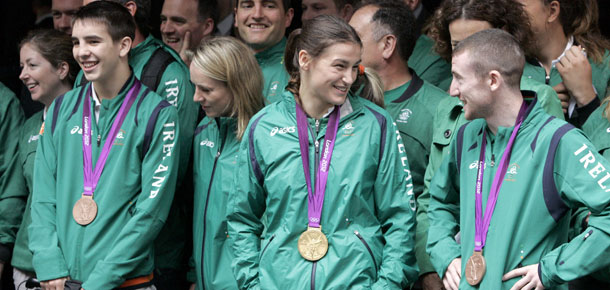 • Michael Conlan, Katie Taylor and Paddy Barnes at the Irish Olympic team homecoming event in Dublin