2 September 2012 Edition
Up for the challenge
The Brian Keenan Mountain Challenge | Saturday 15 September

At a time of great change we need to constantly lay out the republican vision. We need to constantly remind people we are for 'equality, liberty, fraternity'. We are against exploitation and inequality – Brian Keenan
BRIAN KEENAN joined the IRA in 1968. In the intervening 40 years he became one of the IRA's foremost strategists and a thorn in the side of British imperialism.  
Shortly after joining the IRA, Brian went on the run and spent the next 25 years living apart from his wife, Chrissie, his children and his grandchildren.
He served 16 years in various jails across England in Special Secure Units (SSUs).
He passed away in 2008.
INSPIRATION comes in many ways. As a teenager growing up in Sinn Féin, it was through Brian Keenan that inspiration came to me. He had an air of legend about him, a man with massive presence and a glowing persistent temperament. For me he personified the age-old Irish struggle for national liberation and reunification. When Brian Keenan spoke, you listened. Not because he was one for using the latest buzzword and not because he spoke as someone at the cutting edge of the struggle 'to keep the troops happy'. You listened because he had a remarkable talent for imparting knowledge. He was a revolutionary teacher in so many ways.
I went to visit him in the Mater Hospital in Dublin a few months before he passed away in 2008. Even throughout the tough cancer treatment he was still mentally sharp and politically tenacious. It was a turbulent time for the Movement during this period. Tough, unilateral decisions were being taken by the leadership to keep momentum behind our strategy. Members were uneasy. It was a time when Brian Keenan would have been sought out to answer questions and ease your mind. The last time I spoke to him at the hospital he offered words of encouragement and spoke of the need to trust the party leadership and not to heed to words and actions that the enemy would employ at this time. His last words to me, like many others, were inspirational. And, like for many others, it gave you the drive to continue on as an activist.
When he was buried, I remember wondering, 'How the hell will the Movement remember this man?' How could we come together to remember the man Tony Blair's Political Chief of Staff called "the single biggest threat to the British state" in a way that would remember him for the man he was?
A march, a gathering, a wreath-laying was never going to be enough. In August 2008, three months after Brian died, the party's Organisational Development Unit under Seán Hughes came together and put meat on the bones of an idea South Armagh man Declan Murphy had and that year the Brian Keenan Mountain Challenge was born.
The Brian Keenan Mountain Challenge is now entering into its fifth year. The challenge is a demanding but enjoyable trek across the Cooley Mountains. My first year doing it, I went at it with a pretty blasé approach. Sure, I was training regularly enough as a kick-boxing coach in Dublin: a little hillwalk wasn't going to cause me any bother, was it? About twenty minutes into the initial climb it struck me: "It's the Brian Keenan Mountain Challenge, dummy!" Nothing about this 'hillwalk' was going to be easy if it was to commemorate the life and struggle of the 'The Dog'.
On the break at the halfway stage, surrounded by weary but resilient walkers all munching their way through Moore Street Market's finest mandarins and apples, one of the Belfast walkers exclaimed, "Well, here's to Brian," which was followed by a series of whoops and cheers from the rest of the contingent. And with that cheer we made our way through the second half of the walk, taking in some of Ireland's most breathtaking scenery on a clear and beautiful day.
While the mountain challenge is demanding it is also very rewarding. As you make your way over the peaks you can't help but remember that during Armagh's militarised era these mountains were unaccessible to walkers. This was due to the ugly presence of the British military bases dotted across the terrain, destroying the local countryside, physically and aesthetically. The Brits now gone from the mountains as a result of the Peace Process makes it all the more relevant to be treking across these mountains in remembrance of the man that fought all of his life to remove that presence, not only physically but politically too.
After the first year's walk, I took some local teenagers with our team for the following challenges. They come from across Cabra and Finglas and they're part of our sports martial arts clubs that we run in the city. Many of them had no experience of the great outdoors and none of them had ever heard of the great Brian Keenan, so what better way to educate the younger guys about one of Ireland's greatest  modern-day fighters and influential figures while experiencing the outdoors at its best?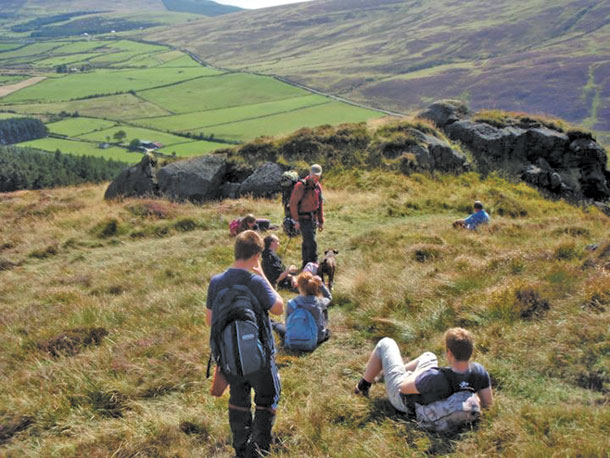 Last year, we had our biggest team attend the challenge with 25 Dublin teens all signed up, booted and geared up for the challenge. It was an immense day for them and they were well and truly challenged but armed with a certain Dublin fighting spirit they persevered the 20 rugged mountain miles to make it back to Carlingford. the team had a wonderful time on the peaks. The craic was ninety, even more so when their coach (yours truly) decided to show off his jumping skills over a narrow gully only to end up waist-deep in bog marsh on the far side. (This little episode has since become a YouTube hit, apparently.)
During the walk, when our teens were told about who Brian Keenan was and what he did, one of them asked "Was he like an Irish Che Guevara?" Without much thought or hesitation he was answered: "Very much so!"
This year the challenge celebrates its fifth anniversary and it continues to grow. The challenge is now supported by community groups, mountain walking clubs and sports clubs like our own in Dublin and members of the GAA. This year will be no different, we will meet at the starting point and greet past walkers, friends and comrades. Old stories will be told about Brian, famous quotes of his and special times that old comrades had with him will be respun. Even in death he continues to inspire. Halfway up the peaks we'll probably question ourselves as to why we put ourselves through this. Then we'll remember Brian and his struggle, his life and his commitment, tenacity and pugnacious commitment to ending inequality and discrimination on this island. Brian's legend lives on through the mountain challenge. There is no more apt way to commemorate his life.
Join us.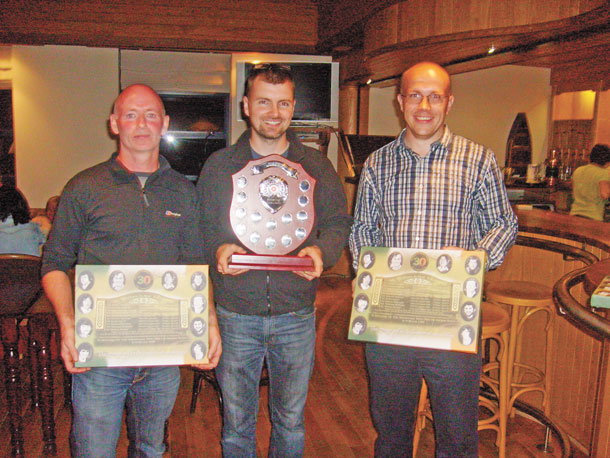 • Last year's winners Eamonn Nolan, Ruairi O Murchú, Darren O'Rourke and absent is Colm Rennicks. They completed the course of 25km in 3hrs 46mins
Time to boot up
THIS YEAR'S WALK –– an enjoyable 7-mile hike over the Cooley Mountains –– starts at 2pm on Saturday 15 September at The Long Woman's Grave, Glenmore, Omeath. The finishing point is The Four Seasons Hotel in Carlingford, where there will be food, ceol agus craic.
The team of Darren O'Rourke, Ruairí Ó Murchú, Eamon Nolan and Colm Rennicks will be defending their title as winning team. There will also be a winning individual prize this year.
Instruction packs and sponsor cards (€50/£50 per person) as well as details of local accommodation are available from Jane Martin at [email protected]