2 September 2012 Edition
Sinn Féin TD Pearse Doherty visits Australia
Generation Emigration: Ireland's Economic Crisis - Alternatives to Austerity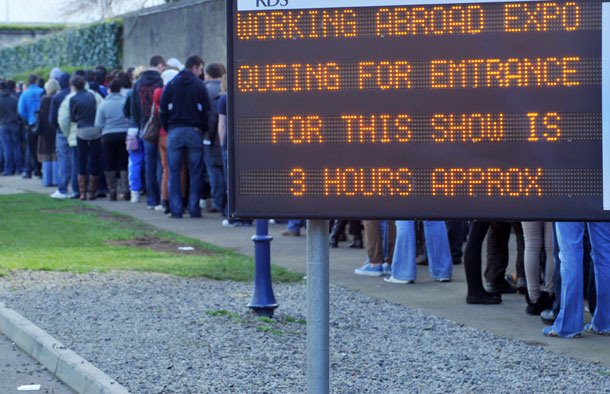 Issues facing Irish workers in Australia include underpayment; the denial of entitlements such as leave and workers' compensation; and diminished safety standards on sites where migrant workers are concentrated
Can you tell us a bit about your trip to Australia?
We have a packed itinerary. The plan is to hit Perth, Sydney, Canberra and Melbourne. I'll be speaking at public meetings and forums, and meeting local politicians, trade unionists and Irish organisations. Our main priority though is to engage with all those young Irish people who have been forced due to economic necessity to emigrate to Australia in their thousands.
I think the importance of reaching out and engaging with the Irish diaspora abroad cannot be overstated. Up to 70,000 young people from the South of Ireland will be forced to leave their friends and families this year alone and move abroad in search of work; in the North, 21.4% of those aged 18 to 24 were unemployed. So this is a very real issue for families across the country.
Anyone who has had loved ones emigrate will realise the heartache that goes along with it. GAA teams losing players, families with empty places at the Christmas dinner table, a wealth of talent and skills lost.
It's important though that we emphasise that there are alternatives. There is a better way. I will put forward Sinn Féin's alternative policy proposals at a number of engagements during the trip.
Sinn Féin is campaigning for an alternative approach based on stimulus measures to promote growth and create jobs. An important part of this campaign is to reach out to the new diaspora that has developed in Australia since the crisis hit — to outline Sinn Féin's plan for economic recovery and to campaign for the rights of those who have been forced to emigrate to Australia. This includes the right of the diaspora to vote in Irish Presidential elections; for Irish citizens in Australia to have their rights at work protected; and, above all, for Irish emigrants to have the right to a future in their own country among their friends and families.
Will you make a push for voting rights for the Irish diaspora while you are abroad?
Absolutely.
Irish citizens have a right to vote in elections regardless of where they are in the world. Northern citizens have a right to vote for the President, who represents all of Ireland, regardless of where they are in the world.
It is shameful that nothing has been done about this. Almost every other European country has voting arrangements in place for citizens living abroad. Almost one million French citizens living abroad and in its overseas territories have the right to vote in the French presidential election. Not only do Irish citizens in Australia, Canada and the US not have that right, citizens living in the North of Ireland don't even have that right.
This is something I feel very strongly about. The party has been pushing for the Taoiseach to include voting rights in the Constitutional Convention and I will be putting  this to the Irish in Australia and asking them to back this call for them to be allowed exercise their democratic right to vote. We will also launch an online petition on this issue while we are over there.
On the topic of rights, there has been some mention of abuses of Irish workers' rights in Australia.
There's no doubt that emigration works for some people (particularly where it's planned and not forced on them) but there is evidence that some Irish workers are being exploited in the workplace in Australia because they are dependent on their employer for their visa to be maintained, extended and possibly converted to permanent residency.
Any workers beholden to their employer for their residency rights are naturally going to be vulnerable to exploitation and reluctant to speak up if their rights are being abused. Australian trade unions have dubbed '457 visa' workers "bonded labour".
There are parallels between the way migrant workers are used in Australia with the way agency workers and posted workers have been abused in Ireland and across the EU. As we know from our own experience, the creation of a group of second-class workers can be used by unscrupulous employers to lower wages, conditions and rights across the board.
Issues facing Irish workers in Australia include underpayment; the denial of entitlements such as leave and workers' compensation; and diminished safety standards on sites where migrant workers are concentrated.
How do you propose this issue be tackled?
I think the key thing here in terms of safeguarding workers' rights, as in any country, is membership of a union.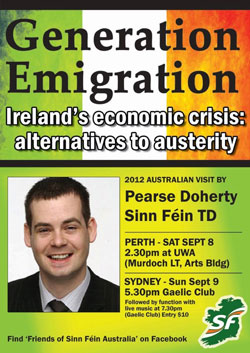 Sinn Féin encourages every Irish worker in Australia, and all those planning to emigrate there, to make sure their rights at work are protected. The best way to do this is to join the union as soon as they arrive in the country. Trade unions can provide protection against underpayment, denial of entitlements, unsafe conditions, and threats of deportation by an employer.
Australian trade unions are campaigning against the abuse of the migrant worker system by employers, and in favour of equal rights, conditions and protections for migrant workers. They are right to do so.
Sinn Féin has consistently defended the rights of agency workers in Ireland and Europe, and demanded equal rights for all workers in order to stop the 'race to the bottom' on wages and conditions. Just as we, together with the Irish trade union movement, have campaigned for legislation to combat the exploitation of agency workers in Ireland, Australian trade unionists are trying to prevent the creation of a group of second-class workers. The existing protections for temporary workers have only been achieved by union campaigns for equality.
The trade union movement has made an enormous contribution to improving the lives and wellbeing of working people in Australia, and the Irish community has played a vital role in building and leading that movement. We urge Irish workers in Australia to join their union not only to continue this tradition but to ensure that their rights at work are protected.
Other priorities for the trip?
The Uniting Ireland campaign is obviously another key priority for the party for the time ahead, especially towards 2016.
In Canberra, Australia's capital, I will address political representatives on the international Uniting Ireland campaign, aimed at building political support around the world for the reunification of Ireland under the terms of the Good Friday Agreement.
I will also call for nationally co-ordinated Easter Rising commemorations by republicans across Australia in the lead-up to 2016.
Above all else this trip is about keeping a link with all those people who have through no fault of their own been forced to leave their home country to earn a living. They have been forced to turn their backs on their country — let's not turn our backs on them.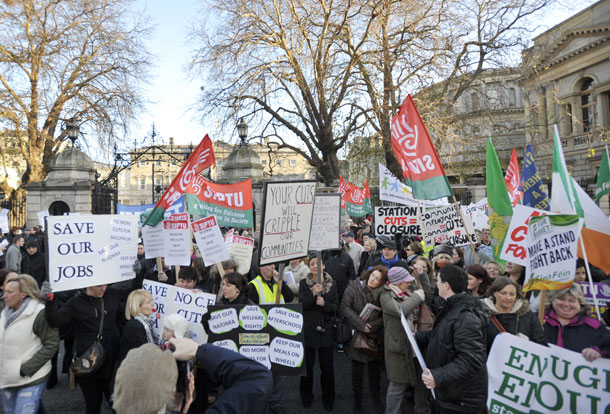 • Trade unions and Sinn Féin protest against austerity outside Leinster House