2 September 2012 Edition
Sinn Féin leading the way on marriage equality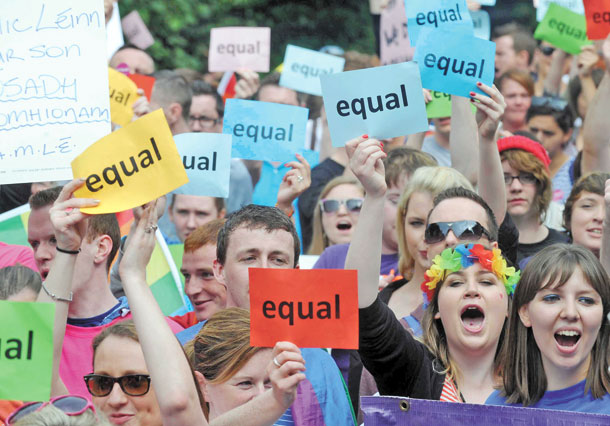 We are bringing these motions forward because this is a human rights and equality issue. LGBT couples should have the same rights as any other citizen on this island' – Dungannon Sinn Féin Town Councillor, Pádraig Quinn
SINN FÉIN is the party building support at local government level for marriage equality with six councils passing Sinn Féin motions in support of equal marriage rights for same-sex couples since July.
In September, councils in Dungannon, Dundalk, Fermanagh, Waterford and Derry will hear Sinn Féin motions on marriage equality. Louth County Council and South Dublin County Council will also vote on the issue.
Belfast made history at the beginning of July when it became the first council in Ireland to vote in support of gay marriage. The Sinn Féin motion stated that the council "supports the same rights and entitlements to civil marriages for all citizens of Belfast regardless of race, religion or sexuality".A week later, Cork City Council passed a similar motion tabled by Sinn Féin.
Speaking on 15 August, Marriage Equality Director Moninne Griffith welcomed the news that four more councils — Omagh, Down, Moyle and Magherafelt — had also passed the Sinn Féin motion.
"We are delighted at the response we've received from councils around the country," she said. "This is a wonderful step by district councils in the North of Ireland to raise awareness of this important issue at a local level."
Dungannon Sinn Féin Town Councillor Pádraig Quinn, who has put forward the motion for discussion in Dungannon Council in September, told An Phoblacht:
"We are bringing these motions forward because this is a human rights and equality issue. LGBT couples should have the same rights as any other citizen on this island. It is a positive step forward that so many councils have already shown their support for marriage equality and hopefully many more will follow."
Moninne Griffith of Marriage Equality added:
"Come September we look forward to seeing a dramatic rise in the number of local authorities voicing their support for marriage equality, and sending a powerful message from their communities to the Government that same-sex couples, our families and our children deserve equality."