2 September 2012 Edition
Chairman Meow
New columnist 'Chairman Meow' gets their claws out for some political tit-bits around the house
Julian Assange's neighbour
IF JULIAN ASSANGE wasn't stuck in the Embassy of Ecuador in London, he could have popped round to have a chat with Belgravia neighbour Margaret Thatcher about Britain's wrangles with extradition requests.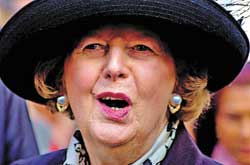 Chilean ex-dictator General Pinochet came to power in 1973 after an army coup ousting socialist President Salvador Allende. Pinochet's reign of terror was to last 17 years.
When Pinochet was in Britain for medical treatment in 1998, Spain sought his extradition for human rights abuses against Spanish citizens in Chile. Former Conservative Prime Minister Baroness Thatcher publicly visited Pinochet at the home where he was staying under house arrest near London to show solidarity on live TV with the old fascist and call for his release.
Sixteen months later, Home Secretary Jack Straw eventually blocked the extradition on humanitarian grounds. There was no 'legal obligation' to extradite him, Jack (and Maggie) said.
Blueshirts and Bolsheviks: Beál na mBláth bombshell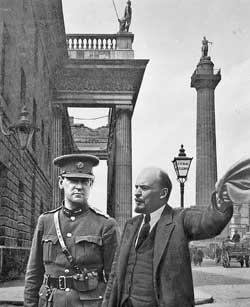 ENDA KENNY dropped a bombshell at the 90th annual commemoration for Michael Collins with the shock revelation that the Blueshirt hearth-throb brought Bolshevik leader Lenin to Ireland to show him how to handle money.
An Taoiseach told the crowd at Beál na mBláth on 19 August of Michael Collins:
"Today, we honour his civilian legacy: the brilliant Minister for Finance, the outstanding organiser who brought Lenin himself to Ireland to see how the National Loan worked."
It was a real shock to old Fine Gaelers fond of Franco and Eoin O'Duffy because it was unreal — it never happened!
Lenin had certainly heard of Collins's Loan Scheme, and he had also defended the Easter Rising, but the communist revolutionary never visited Ireland. Unless, of course, Enda Kenny knows something we don't about reds under the bed.
Spain's Robin Hood
SAY HELLO to Spain's Robin Hood. Juan Manuel Sanchez Gordillo, mayor of the small Spanish town of  Marinaelda for the past 30 years, has been tackling austerity by running his own version of 'Supermarket Sweep'.
He carries out revolutionary expropriations of supermarkets where everyday basics are taken for nothing in a mad trolley dash out the door and given to food banks, soups kitchens and poor families. As a member of the Andalusian parliament, Juan has immunity from prosecution.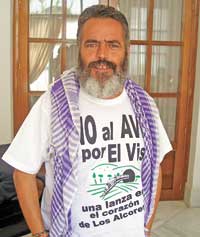 Facing down outrage from the media and conservative politicians, Juan says simply:
 "The crisis has a face and a name. There are many families who can't afford to eat."
Sporting a Fidel Castro beard, Juan has survived two assassination attempts by right-wing death squads and has been jailed seven times for political actions and protests.
With a population of 2,600 people, Marinaelda has virtually full employment while surrounding regions have employment rates of 66%. The town has also abolished its police force, claiming it's not needed nor wanted by the people who live there.
And, after 12 years of struggle, Juan has secured 1,200 hectares of unused land belonging to a duke and turned it into a co-operative farm.
The Duke of Edinburgh and Crown Estates won't be big fans of Juan's then.
Jack & Jill's big band silence
EVERYONE is a big fan of the work charities do, particularly children's charities. Who wouldn't be?
Take the Jack & Jill Foundation in County Kildare. They work with families of children with disabilities and raise money so they can access respite care. (I've supported Jack & Jill in my own small way.)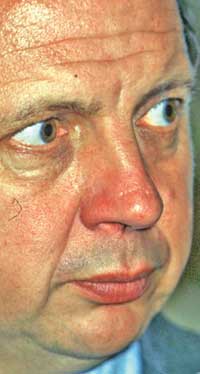 Jack & Jill's Old Etonian CEO, Jonathan Irwin, has now booked a band for their 5 October fund-raiser in the upmarket K Club. Excellent. Who doesn't love a good band? What's not mentioned in the pre-publicity is that the boys behind this particular band have a history of drowning teenagers in rivers and battering prisoners.
It's the British Army's Band of the Irish Guards.
A 15-year-old Iraqi boy, Ahmed Jabar Karhem, drowned after being forced into a canal at gunpoint in May 2003 by Irish Guards on the orders of their officers. The prosecution said that Ahmed, who could not swim, was ordered into the Shatt al-Basra canal after allegedly being caught looting.
Even though a British military court martial found them not guilty of manslaughter, two of the Irish Guards who had been prosecuted resigned from the British Army in disgust at being 'scapegoated'.
Guardsman Joseph McCleary said afterwards: "We were told to put the looters in the canal. I was the lowest rank and we were always told we weren't paid to think. We just followed orders."
On its website the Jack & Jill Foundation proclaims that the Irish Guards were founded to "commemorate outstanding involvement of Irish soldiers in the Boer War". That's the Boer War where the British Government invented concentration camps and exterminated 26,000 women and children.