2 September 2012 Edition
Firefighters' alarm over emergency services
Red Tape Bureaucrats are putting lives at risk, Fire Service sources tell An Phoblacht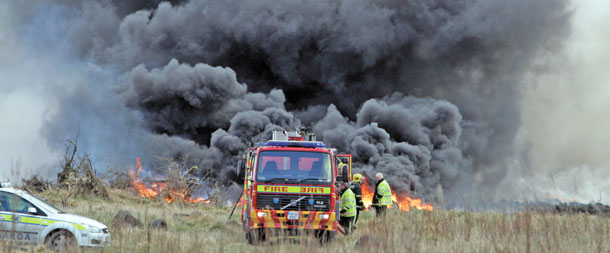 'The public see problems with the service as the firefighters' fault when in reality it's red tape from above'
A FAMILY WAS SAVED from a blazing house fire in Bray's Kilbride Grove estate on Sunday 12 August by neighbours including Wicklow Sinn Féin Councillor John Brady, who was hospitalised for smoke inhalation.
MARK MOLONEY met John in Bray to discuss problems affecting the local fire service, problems that have been ongoing for years and which sources within the service in County Wicklow say are putting lives at risk.
SEVEN YEARS AGO, John Brady was one of the very few elected representatives in the area who stood with local fire officer Brian Murray when he led a picket outside Bray fire station in opposition to a practice operating there known as 'call vetting'. 'Call vetting' means that a senior fire officer is first called by the control room to assess and get approval whether a fire team should go to the scene of an emergency call. It  delays response time and the fire officer often has little knowledge of what is actually happening on the ground. Two years later, Brian and another local fireman Mark O'Shaughnessy, died in a blaze at a disused factory on Adelaide Road. Their families have always maintained that their deaths were not the result of an accident but the consequences of policies pursued by Wicklow County Council.
The council is currently facing criminal proceedings over the deaths. The charges against it allege that, between September 2005 and 2007, it failed to discharge its duty to ensure the safety, health and welfare at work of its firefighters. No effective system of control and communication was established or co-ordinated by the council, the charges claim, "as a result of which Brian Murray and Mark O'Shaughnessy suffered personal injury".
Unlike the similar-sized towns of Drogheda and Dundalk, Bray does not have a full-time fire station. Instead, they have what are called 'retained firefighters' who are on-call 24 hours a day, 365 days a year. Most work in full-time jobs and when their pager goes off they have to drop whatever they are doing and rush to the station.
There are poor relations between the community and the fire service in Wicklow. John Brady says this goes back a long way.
"The public see problems with the service as the firefighters' fault when in reality it's red tape from above. It goes back a long time. On St Stephen's Day 1988 a mother and four children died in a blaze in the Oldcourt estate. It's just 100 yards from Bray fire station. Residents were up banging on the doors of the station saying, 'Where the hell are you?" The fire crews's hands were tied though. They had to get the calls at their various workplaces or homes, then all get to the fire station, get kitted up and then get to the fire. By that time it was too late: the family had perished."
When I ask my fire service sources why procedures such as the 'call vetting' system are in place, they are in no doubt as to the reason. One of them rubs his thumb and index finger together: "Money," he says. The others nod in agreement.
They tell me that an order was issued prohibiting firefighters from travelling in the back of ambulances on the grounds that they were not insured. It is the only authority in Ireland with such a rule. As a result, in one incident in February, firefighters could not help ambulance staff at an emergency in a Wicklow nursing home where a woman had gone into cardiac arrest. The Advanced Paramedic had requested they get in the ambulance and continue to carry out CPR while he administered drugs but they were not authorised to travel. The Irish Fire and Emergency Services Association said the decision "puts lives at risk" and firefighters are clearly pained by the possible consequences of such nonsensical restrictions on them.
Fire service sources say the move is another attempt by the council to save money. Because of cutbacks in Loughlinstown Hospital, most ambulances head straight to St Vincent's hospital in Dublin. "Delaying a call for ten minutes and then throwing the lads into a blazing inferno is alright but they can't be let stand in the back of an ambulance," says one incredulously. "If it wasn't so serious it would be funny. The reason they don't want them in ambulances is simple: if they end up at Vincent's then the officers will have to be paid for an extra couple of hours, and they don't want that. Whatever way you look at this, that's what it comes down to. It's all about money."
In Dublin City, if an emergency call goes in about a cardiac arrest, an ambulance and the nearest fire brigade will be sent. That doesn't happen in Wicklow. One local told me (half-jokingly) that if you do have a heart attack in north Wicklow: "You should get somebody to put you in a car and dump you on the Dublin road, as you'll get a quicker response."
The control room also contains a list of "Pre-Determined Attendances": types of incidents which the fire service must attend and others they cannot go to. The service in Wicklow does not, for example, aid in water rescue despite Wicklow being a coastal county with major harbours, rivers and lakes. Firefighters point out that the much smaller, and landlocked, County Carlow has such capabilities. Much of Wicklow must rely on a volunteer coastguard service.
The damage these cost-cutting measures do to the relationships between the fire service and the community is highlighted by the heavy flooding across Ireland several winters ago. In Arklow, the river burst its banks and much of the town was under water but the fire service was not deployed. Instead, they were despatched to Gorey in Wexford to pump out a private supermarket – the reason: the county council were going to get paid for the job.
"So you had Arklow fire officers driving out of their own flooded town, where their neighbours' homes were under three foot of water," one fire service source says, "to get to Gorey because the higher-ups were thinking about how much money they could get from it. What type of message does that send out?"
In another event, firefighters based in south Wicklow near Carnew faced disciplinary charges after they attended a fire at a shed storing kerosene tanks and fuel. Living nearby, they decided to respond as they feared lives were at risk and believed the team from Gorey who had been dispatched would take too long to get there.
John Brady says:
"In any other country these guys would have been given medals for bravery, whereas here two of them were brought up on charges and lucky to keep their jobs."
Sources within Wicklow fire service are also worried that the unreliability of the service will lead to fatalities.
"People here feel they have no option but to try and have a go themselves like those residents did in Kilbride in August because the fire service just isn't reliable here. It's a gamble whether or not it will show up. It's going to happen sooner or later where we will end up taking three or four bodies out of a house instead of one. You're a second-class citizen here. I'd like to see them run the Garda or the ambulance service in the same way. There'd be uproar."
John Brady says the solution is simple. In the 26 Counties, there are 37 fire authorities each under the control of a chief fire officer (many on wages in excess of €100,000); in the North, there is one fire authority and one chief fire officer.
"I've always argued – and I think many of the guys who work in the fire service would agree – that we need a state-wide fire authority," he says. "99% of the time I argue that more powers neeed to be given to local authorities but unless there is a dedicated budget with resources allocated by need then we are going to have this ridiculous scenario which puts lives at risk. No two fire services anywhere in the state have the same training, equipment or anything else."
John points to the fact that Dick Roche, a former TD for Wickow, was Minister for the Environment between 2004 and 2007.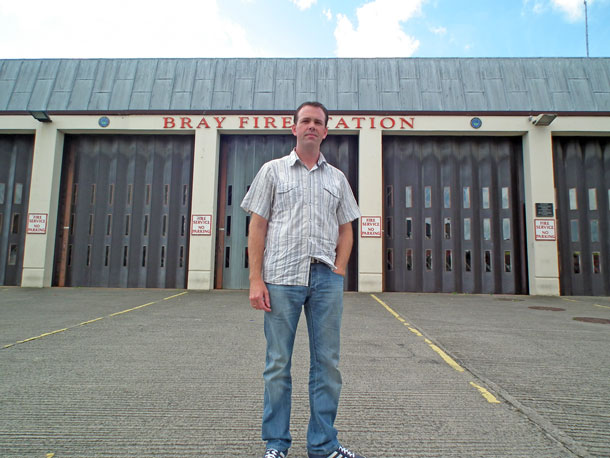 • Councillor John Brady at Bray fire station
"He had the power to sort this out and was well aware of the situation. He did absolutely nothing to bring forward any changes. People thought after we lost those two brave firefighters in Bray that something would happen but, unfortunately, there has been nothing. His Green Party successor, John Gormley, sat on his hands and Fine Gael's Phil Hogan is doing likewise."
The Wicklow firefighters I spoke to say the restrictions and cost-cutting measures are making it impossible for them to respond properly to emergencies:
"Just let us do our jobs. We've been lucky for the last while but we can't be lucky forever."