29 July 2012 Edition
Israel cannot reconcile democracy with occupation
INTERVIEW : Palestinian Ambassador to Ireland, Dr Hikmat Ajjuri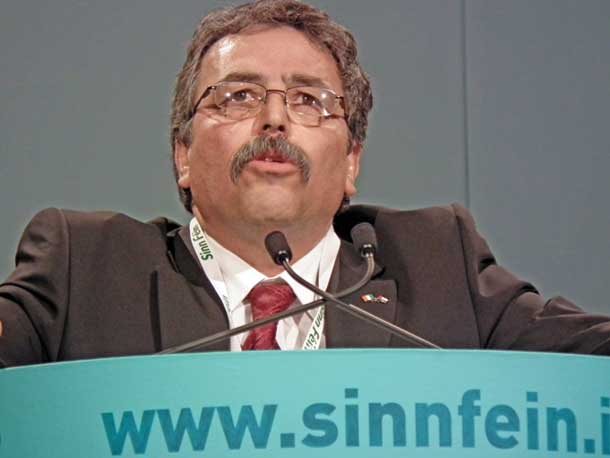 'In my younger years I was totally against even talking to representatives from Israel. There was no difference for me between Jews and Zionists but gradually I began to realise there's a big difference'
HIKMAT AJJURI is a man deeply committed to his work representing Palestine abroad. As the Palestinian Ambassador to Ireland he has travelled to every corner of this island to highlight the ongoing occupation of his country and outline solutions to the conflict. He received a standing ovation for his speech at the Sinn Féin Ard Fheis in Killarney. I meet him shortly after he spoke.
As I arrive at his table in the café, he is already deep in conversation with representatives from South Africa's African National Congress (ANC) and members of the Basque Country's Abertzale Left. He looks up and smiles before excusing himself from the conversation and heading for a nearby table with me for the interview.
As we begin to move across the room he starts talking about the situation in Palestine even though I haven't yet got round to asking him any questions!
Originally from Tulkarem in the northern West Bank, he is a medical professional, having obtained a degree from Baghdad University in 1975. He was appointed Palestinian Ambassador to Ireland in 2005.
"I joined the Palestine national movement when I was in secondary school. From then on I managed to organise my time between study and politcs. When I graduated, the Palestine Liberation Organisation (PLO) sent me to work as a medical doctor in Tunisia, where I stayed for four years, and then I went to London for post-graduate training."
While in England, Hikmat met his wife and became involved in bringing people from Jewish and Palestinian backgrounds together to discuss and learn from each other. He was a founder member of the Jewish Palestinian Dialogue Council in London in 1985 but he admits he had not always been so accepting.
"In my younger years,", he says, "I was totally against even talking to representatives from Israel. In my early days, there was no difference for me between Jews and Zionists but gradually I began to realise there's a big difference. Now I have many Jewish friends and I rely on works and studies by a number of Israeli academics such as Ilan Pappé when I go about my work."
In 1994, Hikmat was asked to return to Palestine to take over the Palestine Higher Health Council.  He was overjoyed: "It was my first time to be back in more than 20 years. It looked as if time had stopped. It felt as if I had never left Tulkarem."
Explaining the situation on the ground, Hikmat says he does not believe there is any need for the continuation of armed struggle but says the brutal Israeli methods make moving forward difficult.
"We declared armed struggle against Israel to liberate our land," he says. "But we came to a stage where we decided that non-violent means would do the job. So that is why we decided to compromise and accept only 22% of our historic land in 1988. And when we signed the Oslo Agreement we signed it on that basis. But, unfortunately, we have the most oppressive enemy. Even the South Africans who visited Palestine and saw the situation on the ground said it is much worse than the apartheid regime."
While Israel pulled out of the Gaza Strip in 2005, following the Second Intifada (Uprising), the situation there has continued to deteriorate. Access in and out of the coastal territory is controlled by the Israeli armed forces by land, sea and air. Water and electricity to the Strip is often switched off as a form of collective punishment. The ability of those living there to build dwellings or infrastructure is halted by an Israeli-imposed blockade which forbids the importation of even basic supplies.
Some of the products barred from being imported into the region range from concrete and building materials to foodstuffs, toys and sweets. Medical supplies are also in short supply. On a number of occasions, seriously-ill Palestinians who require advanced medical aid, which is only available in Israel due to the restrictions, have died in the back of ambulances as they are held at border checkpoints by Israeli forces.
"The health system is under the mercy of an occupier — the worst enemy on Earth," says Hikmat.
"The importation of lentils and pasta have not been allowed into Gaza because the Israelis believe these could help the Gaza people develop arms," he says. "What military uses are there for lentils, black pepper or children's toys? It's appalling that this is happening under the eyes of the international community."
Hikmat goes on to highlight the large number of broken promises, agreements and breaches of international law by Israel. There are far too many to list here.
"They have never respected any agreements," he says. "Netanyahu said that the Oslo Agreement had to be destroyed and he went on to become the Israeli Prime Minister. After him came Ariel Sharon who was described as 'unfit for public office' after the Sabra and Shatilla massacres in 1982."
More than 2,000 Palestinian and Lebanese civilians were murdered in the Sabra and Shatilla refugee camps by Lebanese militia death squads backed by the Israeli Army. Ariel Sharon was Minister for Defence at the time and was found "indirectly responsible" for the atrocities.
Another massacre, by Israeli commandos on the aid flotilla bound for Gaza in May 2010, saw uproar across the globe. Hikmat said the attack, which left nine activists dead, was a perfect example of Israel's lack of respect for human rights and international law.
The Palestinian Ambassador praises those activists who have taken it upon themselves to try and break the siege of Gaza.
Recently, Tánaiste Eamon Gilmore said he would seek to block the importation of Israeli goods from illegal Israeli settlements. The Ambassador welcomes the announcement and says he "hopes the Tánaiste's words become deeds" but points out that, under the Euro-Mediterranean agreement of 2009, this type of ban should have already been implemented across the EU.
"Why do some people accept to buy products which are illegally produced on stolen land?" he asks. "Where are the European values? Israel is a rogue country. It has breached utterly all international law. Treating Israel as above the law sends the wrong message to both sides. It makes people in the Middle East think that Europe is an accomplice to the occupation and it sends the message to the Government of Israel that Europe is supporting their actions."
The Ambassador says he believes Ireland punches above its weight when it comes to foreign affairs, adding that we have particular leverage with the USA due to the strong links between the two countries.
I ask Hikmat what he does in his time off to relax, or if he ever even takes time off. "I don''t know, to tell you the truth," he smiles. "For two years I haven't gone on a holiday. I'm hoping this year that I might take the children and my wife for one week in Malaga. I'm under pressure and I'm stressed because I feel that this unfairness and injustice is still imposed on us by everyone. I don't blame the international community but I cannot ignore the silence. Unless they say to both parties, 'Here is the solution, now do it!' — he lightly bangs the table with his fist — "if we give Israel the choice to respect a law, they won't do it.
"They have been living since Day One by the sword and obviously they want to live that way always. But I am telling them, through you, that nobody can live by the sword forever. If they think they are a democracy then I want them to know: you cannot reconcile democracy with occupation. How can you call yourself a democracy when you control the lives of five million people against their will and by force? You can't!"