29 July 2012 Edition
IRA legend Tom Barry's story on stage
'Guerilla Days in Ireland' dramatically brought to life in theatre tour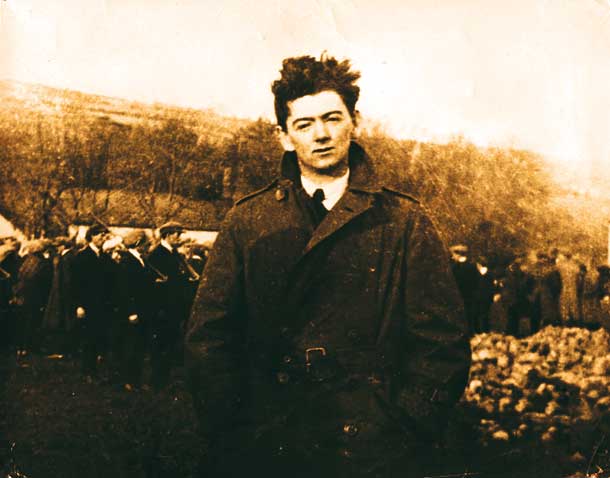 They said I was ruthless, daring, savage, bloodthirsty, even heartless. The clergy called me and my comrades murderers; but the British were met with their own weapons. They had gone in the mire to destroy us and our nation and down after them we had to go. – Tom Barry, IRA Tan War leader
IRA TAN WAR LEGEND TOM BARRY has inspired freedom fighters not just in Ireland but all over the world, including international revolutionary icons such as Che Guevara.
When Ronnie Kasrils– a founder member of the ANC's military wing, Umkhonto we Sizwe – visited the Sinn Féin Bookshop in Dublin last year to publicise his wife's story, The Unlikely Secret Agent, the man labelled by South Africa's apartheid regime as "Armed and Extremely Dangerous" and nicknamed 'The Red Pimpernel', told young Irish republicans how he has a portrait of Tom Barry in his home. He sat enthralled by tales of Tom Barry from the Sinn Féin Bookshop's resident historian, Pat Finlay. Tom Barry's Guerilla Days in Ireland, Ronnie told me, was a core training manual for the fledgling underground military arm of the ANC.
Now the stage production by Neil Pearson of the story of Tom Barry, legendary commander of the famous West Cork Flying Column, is back in an extended tour in Ireland after receiving standing ovations in its premiere shows in Cork last year. The show
The Irish Examiner gave the stage production Guerilla Days in Ireland five stars, describing it as "a shattering experience . . . you won't see theatre of this quality very often". The daily newspaper urged: "Beg, borrow, steal a ticket, but get to see it."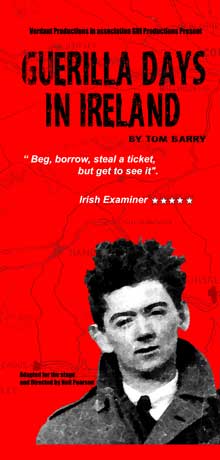 The Cork Evening Echo called it "A beautiful war drama."
Producer Donal Shiels told An Phoblacht that he was "excited" by the prospect of bringing an important part of Irish history to wider audiences.
"What attracted me to this is that it's not often you get to see very many parts of Irish history played out on the stage except for maybe the likes of Seán O'Casey and Brian Friel's Translations."
"And what really excited me is that the production is based on the words of the man himself, Tom Barry, who lived through the thick of it and wrote about it. It's from the horse's mouth, so to speak, and that gives it a great currency. It is Irish history by someone who lived it."
And Donal would like to see it performed for schools for that reason.
He told An Phoblacht that Guerilla Days has had "a great reaction" in Tom Barry's rebel Cork heartland and that has prompted the current tour taking in more than a dozen venues across Ireland (see listings on this page). The absence of venues in the Six Counties is due purely to theatre schedules there being set 12 months or so in advance, Donal said, but it's possible Guerilla Days will still be shown in the Six Counties in the future when the opportunity arises.
Presented by Verdant Productions and GDI Productions
Venues confirmed to date:
Cork
Gouganebarra - Tuesday 31st July to Sunday 5th August 
Everyman Palace, Cork City - Wednesday 8th August to Saturday 25th August 
Skibereen & Fermoy - Monday 27th August to Saturday 1st September
Dublin
The Olympia Theatre - Monday 3rd September to Saturday 8th September
Galway
Town Hall - Tuesday 11th September to Saturday 15th September
Limerick
Lime Tree Theatre - Thursday 20th September to Saturday 22nd September
Kilkenny
Watergate Theatre - Tuesday 25th September to Wednesday 26th September 
Kerry
Siamsa Tire, Tralee - Thursday 27th September to Saturday 29th September
Clare
Ennis: Glór - Friday 5th October & Saturday 6th October 
Tipperary
Thurles: Source Arts Centre - Tuesday 9th October & Wednesday 10th October
Waterford:
Garter Lane - Thursday 11th October to Saturday 13th October    
For further information, contact Ciara at Verdant Productions
Telephone (01) 804 4743  [email protected]