29 July 2012 Edition
Labour lets moneylenders charge 210%
Labour and Fine Gael vote down Dáil motion by Sinn Féin to cap loan interest rates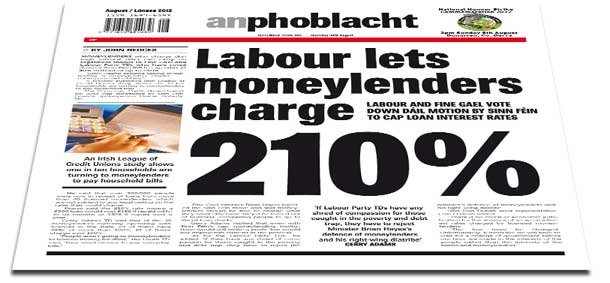 'If Labour Party TDs have any shred of compassion for those caught in the poverty and debt trap, they have to reject Minister Brian Hayes's defence of moneylenders and his right-wing diatribe' – Gerry Adams
MONEYLENDERS who charge sky-high interest rates can carry on regardless thanks to Fine Gael and Labour Party TDs who have voted down a Sinn Féin Bill to cap rates at 40% instead of up to 210%.
Gerry Adams accused Labour of supporting "a moneylenders' charter . . . state-sponsored robbery".
A recently-published Irish League of Credit Unions study shows one in ten households are turning to moneylenders to pay household bills.
The Consumer Credit (Amendment) Bill 2012 was introduced by Sinn Féin Finance spokesperson Pearse Doherty TD.
He said that over 300,000 people were now in receipt of loans from more than 40 licensed moneylenders which are not subject to any legal ceiling on the rates they could charge.
Pearse said the 210% rate means a €500 loan would cost €186 if repaid within six months or €375 if repaid over a year.
Gerry Adams TD said that of the 46 moneylenders currently operating with licences in the state, 29 of them have APRs of more than 100%; 14 of these charge over 150%.
"People aren't going to moneylenders to borrow money for drink," the Louth TD said, "they need money to pay everyday bills."
Fine Gael Minister Brian Hayes rejected the Sinn Féin move and said moneylenders should be free to charge what they want otherwise they'd be forced out of business, compelling people to go to illegal loan sharks.
Gerry Adams replied that even with Sinn Féin's cap, moneylending institutions would still make a profit "but would not impoverish citizens in the process".
"As for the Labour Party TDs," he added, "if they have any shred of compassion for those caught in the poverty and debt trap, they have to reject the minister's defence of moneylenders and his right-wing diatribe."
Sinn Féin Dublin West representative Eoin Ó Broin added:
"There is no moral or economic justification for the absence of a cap on interest rates charged by licensed moneylenders.
"The law must be changed. Unfortunately, it looks like we will have to wait for a change of government before our laws are made in the interests of the people rather than the interests of the banks and moneylenders."