29 July 2012 Edition
Developing a culture of tolerance and respect
An Phoblacht talks to Tierna Cunningham, Sinn Féin Deputy Mayor of Belfast
The next year presents many opportunities to promote Belfast as a shared and inclusive city
WHEN Sinn Féin were first approached Tierna Cunnigham about taking on the role as Deputy Mayor of Belfast, her first thoughts were of Marie Moore, the first Sinn Féin woman to hold the position. Marie died in March 2009.
"She was the first person that came to mind," says Tierna as we talk in City Hall. "She was a role model for many women involved in the struggle. She carried out her duties with great dignity and pride, including her role as Deputy Mayor. I mentioned Marie in my acceptance speech and she will be the benchmark in everything I do this year."
Tierna is very clear that "republican politics and community development are one and the same". She explains:
"The work that we do is based on empowering people, striving to deliver equality and social justice. I believe that being an elected representative is another form of activism. As Bobby Sands once said: 'Everyone has a role to play no matter how great or small.'
"I am originally from west Belfast I moved to north Belfast in 1999. Good relations were at an all-time low. I lived on an interface and our home and street were attacked on numerous of occasions. Sinn Féin were at the heart of supporting people and promoting positive work in the community. I joined the party at that time, inspired by the role that elected reps like Margaret McClenaghan, Kathy Stanton and Gerry Kelly were playing on the ground during a really difficult period."
All three Sinn Féin politicians mentioned by Tierna were once political prisoners and as she works with ex-prisoners' group Tar Isteach she speaks of her admiration of the republican ex-prisoner community and the role they play.
"Ex-prisoners have been at the forefront of positive community development work and initiatives for decades now. I am very proud to work for an organisation such as Tar Isteach. I have been the youth worker since 2005 and the young people that I work with continue to inspire me on a daily basis. Some of the work we have been involved in includes anti-racism, anti-sectarianism/good relations, anti-bullying, multicultural, historical . . . the list goes on.
"Tar Isteach Youth have won numerous awards for their active citizenship work. I have no doubt that I am working with tomorrow's leaders, and if these young people are our future, we are in safe hands."
As a young mother, Tierna speaks of her determination to promote more young women into politics.
"I was first elected in 2005 to represent Sinn Féin in the Castle area of north Belfast. It has genuinely been a privilege to represent the people of that area.
"I am looking forward to the year ahead, excited about meeting new people, and perhaps visiting parts of the city that I haven't been to before.
"Nial Ó Donnghaile was a fantastic Mayor of Belfast and he'll be a hard act to follow," Tierna smiles, "but with his support and the rest of the Sinn Féin group on Belfast City Council I'm excited by the challenges."
Marie Moore, the first Sinn Féin woman to hold the position of Sinn Féin Deputy Mayor of Belfast
The most important role Tierna has in life is "being mother to my beautiful baby son Seán", and she's keen to open up avenues for more women to be given an opportunity to influence the politics that shapes society for future generations. 
"A key element of my role in the coming year will be to encourage women into leadership roles. I understand the demands on women, I recognise the barriers to participation, but I believe that women have a very important role to play in the social and civic life of this city and I hope that my role can play a part in encouraging them to do so."
The first question she asked when she was approached about the possibility of being Deputy Mayor was: "Can the car be fitted with a child seat?" Tierna wasn't been funny. "People thought I was joking but they now know I am serious. Women are vastly under-represented in politics and in leadership roles. This has to change."
As for the times ahead and working with the new DUP Mayor, Tierna is positive.
"I am looking forward to working with Gavin Robinson in the year ahead. Gavin is a proud unionist and I am a proud republican.
"The next year presents many opportunities to promote Belfast as a shared and inclusive city. Hopefully, the Mayor and I can present a positive image for Belfast and deal with any sensitive issues within a developing culture of tolerance and respect."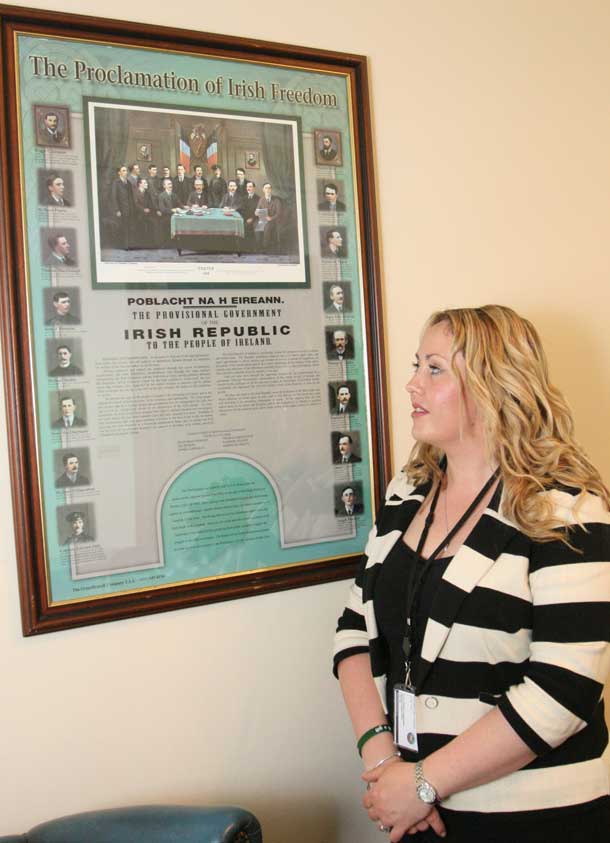 Tierna Cunningham in the Deputy Mayor's parlour