29 July 2012 Edition
The first Sinn Féin Mayor in Dublin since the Tan War
Interview: Cathal King, The new Mayor of South Dublin County Council
The Sinn Féin team on South Dublin County Council has also followed the initiative of Cork and Belfast councils with a motion supporting the extension of marriage equality to same-sex couples
CATHAL KING made history on 19 June when he became the first Sinn Féin mayor in Dublin since the Tan War.
Cathal has made a name for himself in his home constituency of Tallaght South as a no-nonsense councillor deeply committed to standing up for ordinary people. An Phoblacht's MARK MOLONEY caught up with him at South Dublin County Council to find out more about the new mayor and his plans for the fourth-largest population centre in the 26 Counties after Dublin City, Cork County Council and Fingal County Council.
CATHAL KING, the new Mayor of South Dublin County Council, meets me in County Hall in Tallaght just after he's been to "a very successful" local event for Youthreach, the state education and training programme for unemployed early-school-leavers.
We head up to the Mayor's Office on the first floor of the building and pass by the office of fellow Sinn Féin Councillor Máire Devine. She waves to us but is busy on the phone dealing with a constituent's case about housing.
Cathal is a lifelong Tallaght man, a father to Dillon (6) and Lily (1) and soon-to-be husband to Kim on 5 August. He's also clearly a very busy man in his new role as Mayor of South Dublin County Council.
In June, Councillor King became the first Sinn Féin mayor in the capital since the Tan War, a war in which his own grandfather fought as a member of the 2nd Battalion, C Company, Dublin Brigade, Irish Republican Army. "I have his medal back at home," Cathal adds quietly but clearly with pride.
Cathal was brought up in a very political household, both his parents taking a keen interest in current affairs and politics.
"My father was a republican," he says. "While in school I was very politically minded. I joined Sinn Féin myself in my early 20s after seeing the work they were doing on the ground. Before that I never really had much time to get involved because every bit of my time was taken up with Gaelic football and hurling." In his teens, Cathal played for the Dublin under-age county football team for almost three years, as well as a year on the county hurling team. His very promising GAA career was cut short by his other passion: motorbikes. He used to be the proud owner of a Honda NSR125 sport bike. "I had a crash on it and I chipped a bone in my big toe, which is worse than a break as it never really heals, so anytime I went to kick a ball for a prolonged period it'd do damage. It kind of ended my sporting career."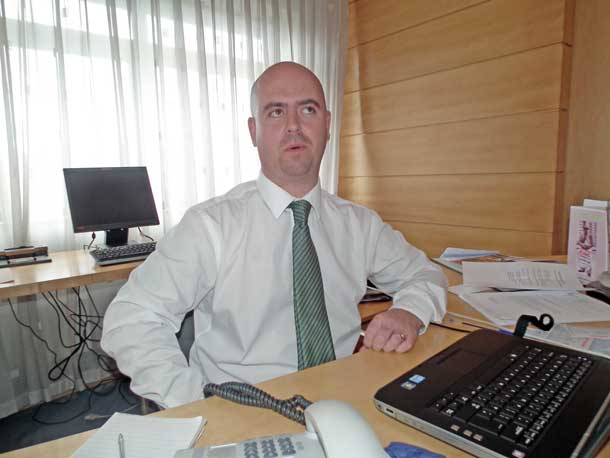 While he doesn't have the bike anymore he still holds out hope of getting back into bikes. "My dad used to drive a lovely old Honda CB650 cruiser until he passed away in 2003. It's still in the family (a cousin of mine has it), so maybe if I get a few quid down the line I might be able to buy it back," he laughs.
After becoming heavily involved in local issues with Sinn Féin in Tallaght, Cathal was selected to replace Seán Crowe as a councillor for Tallaght South following Seán's election to the Dáil at the 2002 general election. Cathal retained his seat in the 2004 local elections and topped the poll  in 2009.
"At the time I was elected, in my constituency there were four RAPID areas, areas officially recognised as being socially disasvantaged," he says. There are only 46 of these areas designated throughout the whole state under RAPID (Revitalising Areas by Planning, Investment and Development). "That there was four of them within one small electoral ward was unheard of," he says. Some of the major issues in the area include unemployment issues, social housing, housing maintenance and social welfare.
Over the last decade, Sinn Féin and the Labour Party, along with Independent councillors, have built up a close relationship on the South Dublin Council as a progressive alliance, known as 'The Alliance for Change'.
"On local issues, ourselves and Labour have been very progressive and Left-leaning with joined-up thinking, so we saw a chance to build an alliance and progress certain issues." At the start of this term of the council, one of the first things the Alliance did was announcing that its members would not draw down the €4,000-per-year annual expenses allocated to each of them for conferences. Instead, the Alliance's 13 members put the money into a fund to deliver an emergency homelessness and accommodation programme in the county.
For his term as Mayor, Cathal says promoting positive mental health is a key issue he'd like to address, particualrly among schoolchildren and young people. "There's a project called Jigsaw, developed by Headstrong, 'The National Centre for Youth Mental Health'.
"Jigsaw gives children the tools to be able to cope with stressful situations and difficult events so when they do encounter these situations in their teens or later, they can deal with it and not become depressed or distressed, which can lead to suicide."
Cathal also says he has hopes for new powers coming down the line for councils which would allow them to deal with problems of anti-social behaviour from tenants in private-rented accommodation.
"At the moment, the council has no powers to deal with these people even though they are applicants on our housing list. Cheques for rent supplement are divied out by the HSE through the Social Welfare. It is planned that this power will be transferred to the councils. I'm hoping that these new powers will give us the ability to tackle the serious problem of anti-social behaviour. If there are tenants engaged in such behaviour and we are giving them rent supplement then we should be able to withhold it if they are causing problems in the area. We also need to tackle anti-social behaviour in our own local authority housing a bit more stringently."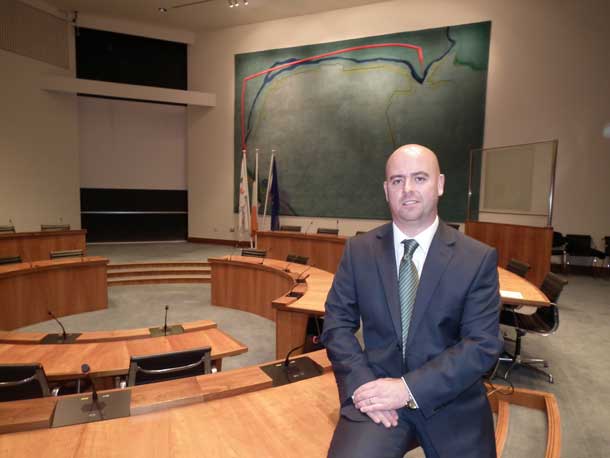 Cathal says there is also a major issue locally around single men who have partial custody of their children.
"These fathers are normally entitled to a two-bedroom accommodation rent supplement so that their kids can stay over with them. In some cases this is being cut down with Welfare saying these fathers are only entitled to a one-bedrom supplement. This means they cannot fulfill their obligations of bringing their children over and staying with them. There's a lot of talk about people having responsibility for their children yet these men who want to have responsibility for their kids, who have continued their relationship with them and have overnight access, are being denied this and forced into unsuitable accommodation. It's just crazy. I know this isn't national stuff but it's huge for people on the ground here and that is what local authority is about: dealing with these issues."
The Sinn Féin team on South Dublin County Council has also followed the initiative of Cork and Belfast councils and will vote on a motion put forward by Cathal in September supporting the extension of marriage equality to same-sex couples.
As the first Sinn Féin mayor in Dublin since the Tan War, Cathal is aware that there will be a lot of eyes on him and he says his priority is to ensure that he represents the people of South Dublin to the best of his ability. "I think it's very important to to show the people that a Sinn Féin mayor can deliver."