29 July 2012 Edition
'I have never needed you more than I need you now'
Kevin Lynch to his parents when he was replacing Patsy O'Hara on the 1981 Hunger Strike
ON THE EVE of the National Hunger Strike Commemoration, GERALD LYNCH, Kevin's brother, spoke to DALE MOORE about Kevin, his early life, his political involvement and his legacy.
KEVIN WAS A BUDDY as much as a brother and we did a lot of things together growing up, things that young boys get up to. Kevin was a big strong lad for his age and in the early 1970s we had two brothers, Mícheál and Pat, who were working in England.
As we were getting harassed we decided to go across to them for a while for a holiday but we got some work and stayed a bit longer. Even though Kevin was only 16 at the time, when we moved to Bedford we had a great time together, working and partying and meeting loads of new friends from across Ireland.
We shared a flat together and got on really well and became really close. Kevin had a great sense of humour, full of bedevilment, always taking the Mickey or pulling practical jokes. We became great friends with a bunch of lads from Connemara who we worked alongside and played Gaelic football with.
Kevin quickly made a name for himself on the pitch both as a footballer and a hurler. Under Benny McCafferty's management, he went on to be part of the team that won the GAA Championship in Britain in the early 1970s.
Kevin loved the craic and I can't remember a time when he was down or anything that made him angry — apart from the British occupation of Ireland.
I saw how politically aware he was becoming after Bloody Sunday. Like most young men at that time, the events of that day in Derry City had a huge bearing upon him, especially as that evening a friend stopped him to give him condolences as they had been told I had been shot dead. Kevin joined the Fianna Éireann [republican youth organisation] around this time.
Although we had moved to England, Kevin was still conscious of what was happening back home and we often discussed the politics of how people were suffering at the hands of the British forces. After our flat was raided a couple of times he decided to return home.
When Kevin returned back home he played for St Cannice's and St Patrick's GAA teams (St Patrick's was renamed after his death in his honour). Kevin was a member of the Dungiven team that won the Féile na nGael in 1971 and 1972, and he captained the County Derry hurling team to an Under-16 All-Ireland title at Croke Park in Dublin.
He continued to endure attention from the RUC and the British Army, receiving two bad beatings.
Kevin joined the local resistance and by all accounts was a brave and active Volunteer who had the admiration of his comrades. Unfortunately, Kevin was captured and sentenced to ten years in Long Kesh's infamous H-Blocks.
When Patsy O'Hara died, my mother and father heard that Kevin would be replacing him. Like all parents would be, they were against the idea. They went into the prison to talk to Kevin and my father told him he didn't want him going on hunger strike. Kevin turned to my mother and said: "I have never needed you more than I need you now." Both my parents then promised him he would have their full support and both of them worked tirelessly on behalf of the Hunger Strikers to get a settlement. I have been told from former prisoners that when Kevin returned to the Block he was so determined now he had the backing of his family.
One of the saddest memories in the jail is when I had to divert the prison officer so my father could ask Kevin for his burial arrangements. As we were from Park, but grew up in Dungiven, my father asked Kevin where he wanted to be buried. "Wherever the family wants as long as I get the final salute of a soldier," is what Kevin told him. My father promised he would be laid to rest with full military honours and not to worry. People had said after the funeral that our family was unhappy with the shots being fired but this is totally untrue — it was the one aspect of the funeral we wanted to fulfill Kevin's wishes.
When the anniversary comes around I feel a sense of pride in Kevin as well as sadness in losing a brother and friend. I believe that the Hunger Strikers had no choice. Apart from enduring horrendous conditions for years, the British Government was attempting to criminalise them and our entire history. Margaret Thatcher failed and she failed miserably.
On the 30th anniversary I attended an event to commemorate the Blanketmen and women as well as the Hunger Strikers. I was to receive a medal on behalf of Kevin and as I rose to go forward the hall erupted with the cry of "Barabbas!" from all of Kevin's comrades. Barabbas was Kevin's nickname and I was so emotional as I knew from the shouts the impact that Kevin had had with his comrades. I was so proud.
During the event Seamus Kearney told me a story about Kevin during the strike. He said that one day at Mass Kevin came out and wasn't looking too well and a chair was produced so he could sit down. Kevin was sitting with his head in his hands and the prisoner approached Kevin and told him he was feeling guilty. Kevin asked why and the Blanketman said because he was still eating and living while Kevin was dying. Kevin told him not to be feeling guilty but to eat to live so he could tell the story for further generations. That was the measure of Kevin.
When I see the Kevin Lynch GAA team doing so well now (the under-14s have again won the Féile na nGael) it makes me feel really good at how Kevin's name is being taken across the country in a positive manner and more and more people learn about the Hunger Strikers and Kevin.
Today I believe there have been massive strides made towards a united Ireland through great sacrifices and compromises. I know some people constantly talk about what has not happened as opposed to what has but I tend to look at the positives and the achievements. I think republicanism is stronger now than ever before and we are closer to achieving the goals of uniting Ireland.
On the tenth anniversary of the 1980/1981 Hunger Strikes, I was presented with a charcoal portrait of Kevin. It hangs on my bedroom wall so he is the first thing I see every morning and the last thing I see at night. I will never forget Kevin and I am so proud to be able to call him my brother.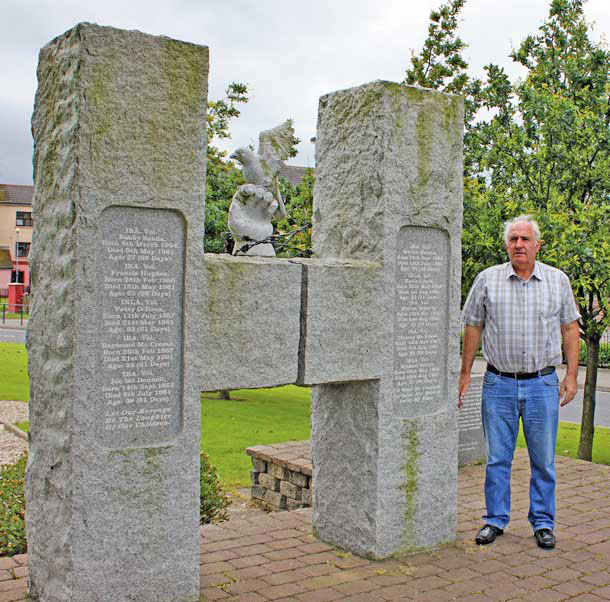 1981 Hunger Striker Kevin Lynch's brother, Gerald, at the Hunger Strike Memorial in Derry City
Kevin Lynch
KEVIN LYNCH was the eighth republican to join the hunger strike for the restoration of political status. He joined on 23 May, the day after the death of Kieran Doherty and following the death of Patsy O'Hara on 21 May. Kevin was 25 years old.
The youngest of a family of eight, his great passion was Gaelic games and he led the Derry Under-16 hurling team to All-Ireland glory against Armagh at Croke Park.
He was arrested in December 1976. Following a year on remand in Crumlin Road Jail, Belfast, he was tried and sentenced to ten years in December 1977.
He immediately joined the Blanket Protest in H3. He was one of 30 men to join the first hunger strike in December 1980.
He died in the Long Kesh hospital at 1am on Saturday 1 August after 71 days on hunger strike. He was the seventh of the ten Hunger Strikers to die.